Part of a special report on solutions for housing affordability in San Francisco. A version of this story ran in the summer 2014 print edition.
San Francisco is not the only city in a housing crisis. The multi-year plan proposed by Mayor Ed Lee bears some similarities to those proposed by Bill de Blasio, the new mayor of New York, where even last week a major initiative advanced to fix older affordable buildings.
The San Francisco Public Press compared the two plans as part of its summer print edition, which researched potential solutions to the local housing crisis.
Mayor Ed Lee's six-year plan would build or restore 30,000 total units by 2020, with a goal of keeping one-third designated affordable.
De Blasio's 10-year housing plan would create 80,000 new permanently affordable homes and preserve 120,000 existing ones. The plan would cost $41.1 billion in state, federal and private funds.
De Blasio's proposed reforms address what he called "the affordability crunch" — the median rent has risen 75 percent while the median income has dropped 4.8 percent. Last Wednesday he unveiled a $350 million fund, which will get contributions from 16 private and public entities, including loans at a 2.75 percent interest rate. It would rehabilitate existing affordable housing and retrofit buildings for energy efficiency.
"We cannot have a city with enclaves for the very very rich and also enclaves for the very very poor," de Blasio said. The money would go toward renovating 7,500 units of affordable housing in midsize buildings, those with 20 to 100 apartments. "Those are the backbone of so many neighborhoods that working people live in in this city."
With all this in motion, we thought it was a good time to compare highlights from the affordable housing plans from the two mayors:
San Francisco and New York: Two Mayors' Affordable Agendas
| | | |
| --- | --- | --- |
| | NEW YORK CITY | SAN FRANCISCO |
| INCLUSIONARY HOUSING mandates a percentage of new construction set aside for people with low and moderate incomes. Units are priced below market rate to encourage a mix of economic strata. | Would require developers to set aside 20 percent of units as permanently affordable in all new developments. Rezoning would create mixed-income, mixed-use neighborhoods, so affordable housing sits beside market-rate apartments in pricier areas. | Nothing new is planned. Current program requires developers with 10 or more units to pay into a city affordable housing fund, designate 12 percent of units on-site as affordable (15 percent in some areas) or build housing equivalent to 20 percent off-site. |
| MIXED-INCOME HOUSING PROGRAMS juxtapose market-rate housing with set-asides for lower income brackets. Can be priced exclusively for low and moderate incomes. | De Blasio would subsidize new mixed-income developments targeting 20 percent of units to low-income households (50-80 percent of area median income, or AMI), 30 percent for moderate-income (81-120 percent of AMI), and 50 percent for middle-income (121-165 percent of AMI). | Nothing is planned. |
| NEW HOUSING PROJECTS on underused land. | Identify vacant and inefficiently used sites where affordable housing and mixed-use developments can be built. The city would amass sites for one- to four-family homeownership clusters and buildings up to 20 rental units. | Now under development: market-rate projects with an affordable housing component at Hunters Point Shipyard, Parkmerced, Visitacion Valley and Treasure Island. |
| RENT CONTROL limits the rate of rent increase of a house, apartment or other dwelling. But price ceilings in many cities exempt apartments built after their reforms. | Work with housing groups to protect tenants from deregulation and rent hikes. De Blasio pushed the Rent Guidelines Board to freeze rents; the board instead voted in favor of a very low rent increase. The mayor plans to push to reform state law to allow more stringent rent regulation as soon as 2015. | Nothing new is planned. Existing rent control applies to buildings constructed through 1979. Condos and single-family homes where tenants moved in after January 1996 are exempt, so landlords are free to increase rents any amount. |
| NEW AND REFURBISHED PUBLIC HOUSING for low-income families by working with the city's housing authority. | Housing Authority and surrounding communities would preserve existing units and find developable land. Includes retail and community facilities to serve residents and others in the neighborhood. | HOPE SF would replace some public housing with mixed-income complexes. Under development: Hunters View, Sunnydale-Velasco, Westside Courts, Potrero Terrace and Annex, and Alice Griffith. Will create 5,000 public, affordable and market-rate homes. |
| TAX INCENTIVES give developers tax credits or deductions to spur investment in affordable housing. | Create and revise incentives for owners and nonprofit developers, targeting buildings at risk of rent deregulation or conversion to condominiums. | Nothing is planned. |
| REFORM ZONING to reduce impediments to new housing and update building codes and the administrative process. | Re-examine building size constraints and restrictions on transferability of development rights. Reduce parking requirements to give encourage larger structures that include affordable housing. | Streamline the permitting process in city departments. The Planning Commission will recommend a simplified and consolidated planning code on Sept. 4. |
| ENERGY EFFICIENCY RETROFITS reduce long-term operating costs and encourage affordable housing development. | Tie retrofits for small and midsize buildings to affordable housing creation. The city would work with utilities and existing subsidy programs to rein in high utility bills. | Nothing new is planned. Sustainable Financing Program of 2009 offers building owners money for energy efficiency, solar and renewable energy projects, and water conservation. Money is paid back to the city via property taxes over 20 years. |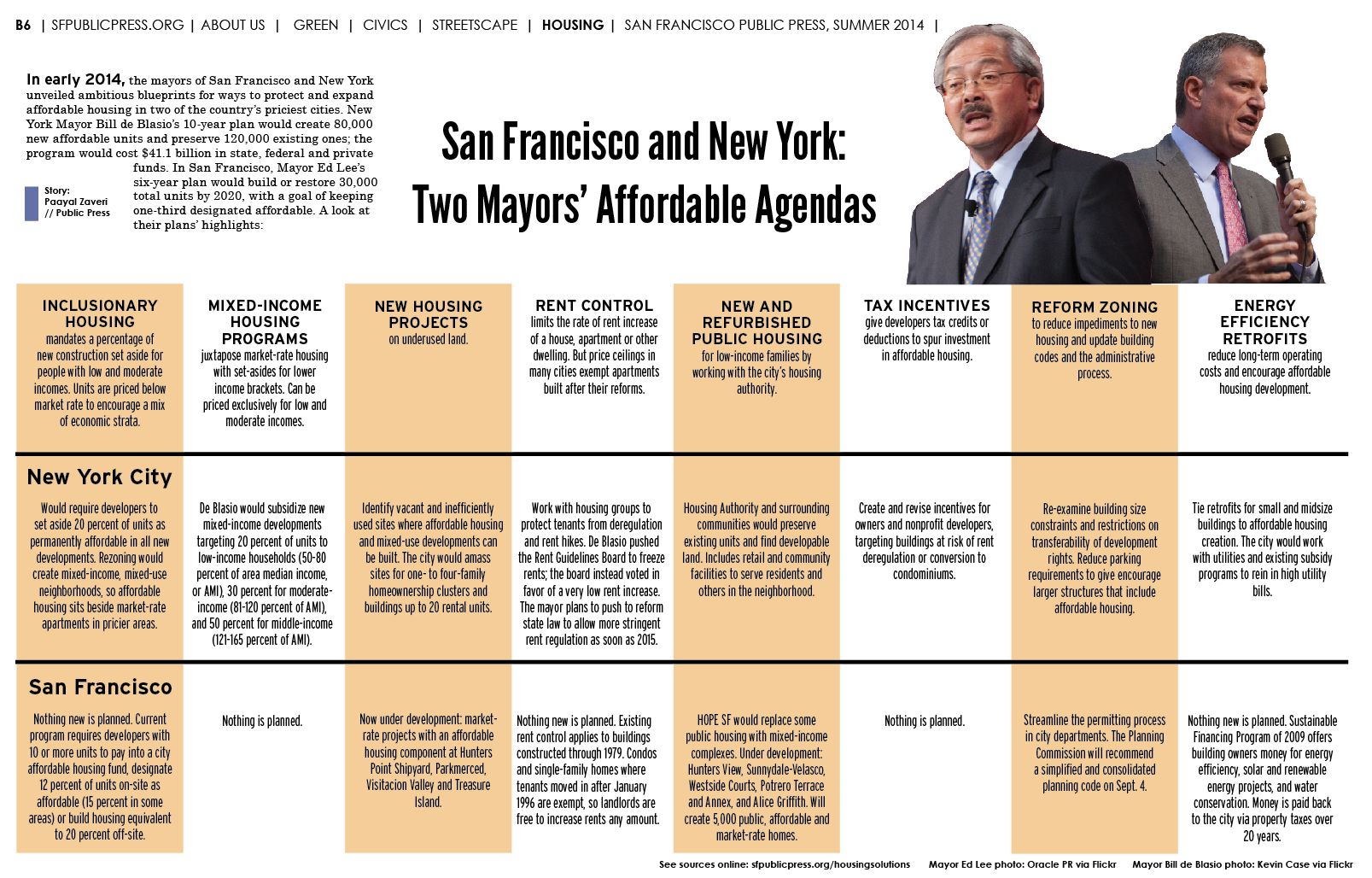 ---
Part of a special report on solutions for housing affordability in San Francisco. A version of this story ran in the summer 2014 print edition.
SOURCES:
Housing New York: A Five Borough, Ten-Year Plan
Key Policies and Programs for the Ten-Year, Five-Borough Plan
De Blasio Sets a 10-Year Plan for Housing, Putting the Focus on Affordability, New York Times, May 5, 2014
De Blasio's Affordable Housing Plan: Too Little, Too Late?, Gotham Gazette, May 7, 2014
Mayor Lee Outlines Bold 2014 Agenda in State of the City Address, San Francisco Office of the Mayor, Jan. 17, 2014
$150 million to pay for greener S.F., San Francisco Chronicle, Dec. 23, 2009
Mayor Newsom Introduces San Francisco Sustainable Financing Program with Supervisor Eric Mar, San Francisco Office of the Mayor, Dec. 14, 2009
Mayor de Blasio Urges Rent Freeze, Doesn't Get It, Wall Street Journal, June 23, 2014
Analyzing the Mayor's Housing Plan parts 1-5, Association for Neighborhood and Housing Development blogs