Jubilant in blue and gold, downtown workers made the post-work dash to bars or home to watch Game 1 of the NBA finals between the Golden State Warriors and Cleveland Cavaliers.
As everyone else buzzed by along Market Street, one man stood still.
He held a handwritten sign and a paper cup, hoping someone would drop in a little spare change, maybe hand him a hot meal.
For 17 years, Michael Kenny, 54, has lived on San Francisco's streets, mostly in the Tenderloin. Nobody bothers him — not the police, not even outreach workers. Anyway, he prefers to keep to himself.
"The police don't bother me. Thank God," Kenny said.
For others living on the street, police are a daily presence whom the city has relied on as front-line responders to homelessness for decades. But even as police respond to more calls, citations have declined sharply in recent years, and the courts have been throwing out warrants for "quality of life" violations, quietly decriminalizing homelessness citywide, a Public Press analysis of police reports in 10 categories since 2003 shows.
Begging Citations Peaked Under Newsom
Citations for begging, which had been sporadic for several years, peaked between 2007 and 2008 under then-Mayor Gavin Newsom, now the state's lieutenant governor. As a city supervisor in 2003, he sponsored a voter-approved measure to ban aggressive panhandling. Since June 2015, no begging citations have been reported.
Nearly three-quarters of citations and arrests since 2003 have been for public drinking and intoxication. Under Mayor Ed Lee, they have declined 80 percent since late 2013.
Tickets for general loitering began steadily declining after peaking at nearly 40 in January 2005. Since early 2010, Newsom's final year, the monthly total has been fewer than five.
Frustrated by seeing homeless people on sidewalks, voters approved Newsom's November 2010 ballot measure banning sitting or lying in public spaces. Lee became mayor two months later, and during his first term "sit-lie" arrests quadrupled, from just under 200 in 2011 to nearly 800 in 2013. Just over 700 arrests were made the next year.
'Sit-Lie' Enforcement Relaxed
But police started backing off sit-lie enforcement by 2015, and citations plummeted two-thirds during the first year of Lee's second term. In the first five months of 2017, only 43 were reported.
A Budget and Legislative Analyst's report commissioned in 2016 by then-District 1 Supervisor Eric Mar showed a 30 percent increase from 2013 to 2015 in the number of times police responded to quality-of-life calls. Fewer than 9 percent resulted in a citation or arrest in 2015.
At the same time, judges started throwing out warrants for these types of nonviolent violations. That irked San Francisco Police Department brass, even though rank-and-file officers had already been issuing fewer citations for several years.
A police spokesman told KRON 4 News in May that "police have no intention of issuing less of them" and that "citations can push the homeless to seek services through the court or nonprofit groups."
In an interview with the Public Press, police spokeswoman Grace Gatpandan said the department "understands that being homeless is not a crime" and that "the ultimate goal for the department is for these individuals to receive the services or medical care they need."
More calls to police or 311 do not necessarily mean activity is increasing, a top city homelessness official said.
"There are more reports of certain things, and it doesn't mean there isn't more of it happening. It's just being reported more because there was a change in technology or demographics or community expectations," said Sam Dodge, deputy director of the Department of Homelessness and Supportive Housing.
Nearly $20 Million For Police Labor
While the number of incidents may be rising, an increase in police calls does translate into time and money.
The 2016 report, "Homelessness and the Cost of Quality of Life Laws," found that the city spent more than $20 million on quality-of-life enforcement across six agencies in 2015; 90 percent of the cost was for police labor. The emergency 911 call center accounted for 9 percent of the cost, with fewer than 1 percent absorbed by the general 311 call center.
"The Board of Supervisors should consider implementing a new strategy to address these issues that shifts response to quality-of-life incidents from the Police Department to other City agencies," including Homelessness and Supportive Housing, the report found.
We must go back nearly 30 years to begin tracking the evolution of the city's response to the homeless.
In the early 1990s, Mayor Frank Jordan instituted the so-called Matrix program, which used police officers as outreach workers. Jordan had been the city's police chief since the late 1980s under mayors Dianne Feinstein and Art Agnos. Jordan and his police chief, Anthony Ribera, targeted key districts and tourist areas to discourage panhandling and loitering.
"On Aug. 1, Mayor Frank Jordan launched a crackdown on street people," according to a 1993 story in the Los Angeles Times. The efffort gave the "homeless the distinct impression they are no longer welcome here. Since the operation began, police have arrested more than 400 people for crimes ranging from urinating in public to lodging in a city park, panhandling in an aggressive manner or obstructing a sidewalk."
Voters Approve 'Care Not Cash'
Homelessness continued to increase throughout the mid to late 1990s and into the new millennium, when Willie Brown was mayor and Matrix was scrapped. In 2002, voters approved "Care Not Cash," sponsored by Newsom. The new approach cut General Assistance stipends to several thousand homeless San Franciscans in exchange for more housing, shelters and services. The aim was to take away cash payments often used to buy alcohol and drugs, and push people into treatment and stable housing.
In November 2003, voters chose Newsom to succeed Brown and approved his tough-on-panhandling measure, Proposition M. Citations issued for begging started ramping up by fall 2004, and peaked in 2007 and 2008 under Police Chief Heather Fong.
Citations for loitering and obstructing sidewalks also peaked during Newsom's and Fong's tenures. Public drinking and intoxication citations remained more or less steady through 2012, then briefly spiked for about a year.
Newsom promised to abolish chronic homelessness within 10 years, a formidable goal that remained unrealized during his two terms ending in 2010, when he was elected lieutenant governor.
Police Create 'Operation Outreach'
In 2004, then-Deputy Chief of Police Greg Suhr implemented a homelessness unit called Operation Outreach to deal with quality-of-life issues. Officers focused on connecting homeless residents to services and collaborating with other agencies to address people's needs.
It was supposed to produce more outreach, less enforcement.
But even with Newsom's policy shift to a housing- and services-first approach, Operation Outreach did not significantly dent the homeless population.
Now, under George Gascón, the District Attorney's office has set up community courts to divert low-level offenders from jail.
While Gascón was police chief, before 2010, the city launched its Community Justice Center, which serves the Tenderloin, Civic Center, Union Square and SoMa. The program refers homeless defendants to social services and other agencies.
Lee Boosts Spending
Since Lee took office in 2011, the homeless adult population has grown 8.2 percent, to 6,986, according to biennial counts through 2017, which was released in early June. That represents a rise of 11.8 percent since 2005 —matching the city's overall growth during the same period.
Lee increased spending on homelessness-related programs by 54 percent during his first elected term as mayor, when he focused heavily on growing the local tech sector and expanding affordable housing. In 2016, he created a Department of Homelessness and Supportive Housing.
Last January, Police Chief William Scott was sworn in, replacing Suhr, who had resigned several months earlier after a series of scandals including several police-involved shootings.
In May, the Police Department announced a new homeless unit consisting of 10 officers trained in critical-response techniques. It builds upon Operation Outreach.
More Than 23 Quality-of-Life Codes
The city has at least 23 quality-of-life codes on the books — Mar's report lists 36 — including drinking in public (except during permitted public events), obstructing a sidewalk and sleeping in a park between certain hours.
Other violations include trespassing, living in a car, erecting a structure to live in a park, obstructing streets and sidewalks, loitering near an ATM or public restroom, aggressive panhandling, creating a public nuisance, urinating in public, parking large vehicles where prohibited, and smoking in city parks and recreational areas.
Out of more than 14,000 citations, 68 percent were related to public drinking and intoxication. Of those 9,500 incidents, most involve a small number of the same people day to day, according to officers on the street.
Panhandling accounted for 6 percent and general loitering made up about 5 percent of all reports since 2003, the earliest data available online.
"Drinking in public is a detention. SFPD does not always cite/arrest people for" that, Gatpandan wrote via email. "Individuals in violation of this penal code can either go to the hospital to receive care, be released to the care of another (friend, family, etc), or be held at the station to be released when they sober up."
Only about 3 percent of the citations fall into five other categories: obstructing a public way, loitering near an ATM, loitering near a public toilet, loitering near a school or playground, and "lodging" in a park.
City code prohibits erecting tents or any structure, or "modifying the landscape" for housing in a public park, as well as sleeping in parks between 8 p.m. and 8 a.m. Parks are officially closed from midnight to 5 a.m.
No Proposition Q Citations
Proposition Q, which voters passed in November 2016, bans tents and structures on sidewalks, a response to the proliferation of encampments. Opponents argued it did not create tangible solutions — neither housing nor funding for services — and would only give police officers more authority to target homeless residents. But no citations had been issued by late June, records show.
Dodge said this detail deserves another look. "One thing that's underappreciated in Prop. Q is that it is a noncriminal offense," he said.
Obstructing sidewalks and other public ways, however, is an infraction. The most such citations — just 26 — came in June 2004, under Newsom and Fong. Enforcement dropped to nearly zero for four years until late 2008, when the Great Recession hit and Newsom was in his second term.
Police steadily reported sidewalk obstruction incidents between 2010 and 2013, but since then enforcement has been sporadic, with fewer than five incidents reported in any given month.
Much like sit-lie, Proposition Q, sponsored by Supervisor Mark Farrell, bans blocking public thoroughfares. While sit-lie prohibits sitting or lying on a sidewalk, it also bans "any object placed upon a public sidewalk" between 7 a.m. and 11 p.m., with a few exceptions made for benches, medical emergencies and "assistive devices" like wheelchairs.
But obstructing streets and public sidewalks has been illegal since 1979.
Police Record Is Barrier to Housing
Criminal records and outstanding warrants often prevent homeless people from qualifying for the scarce supply of permanent supportive housing units.
"Sometimes one of the biggest problems for people is their past history, when they were unstable," said Rodrigo Avila, a former caseworker at the Mission Street Navigation Center.
Something might have happened several years ago that led to a criminal record, but "that kind of thing is still a big barrier for a lot of people when they're trying to get housing now that they're more stable."
The last time Kenny stayed in a shelter was 15 years ago. He hated the curfews and the obnoxious, and sometimes dangerous, behavior of the other residents.
For sleep? "Anywhere I can lay my head down," he said.
How has he survived on the streets for so long?
"Just panhandling," Kenny said.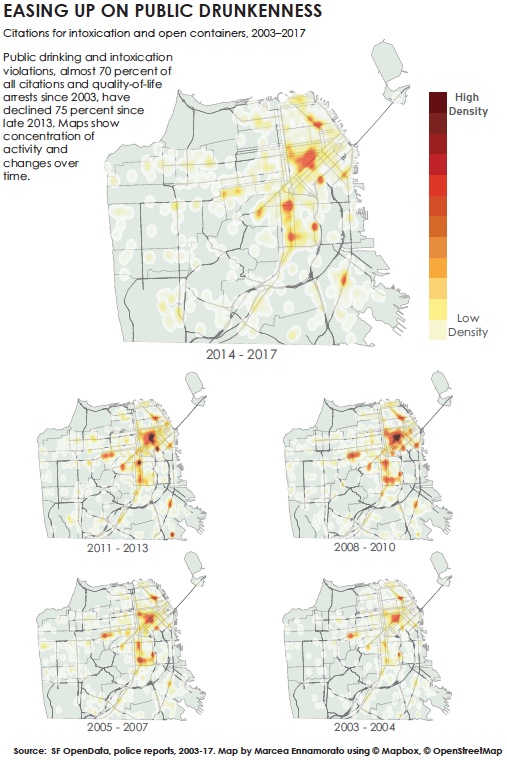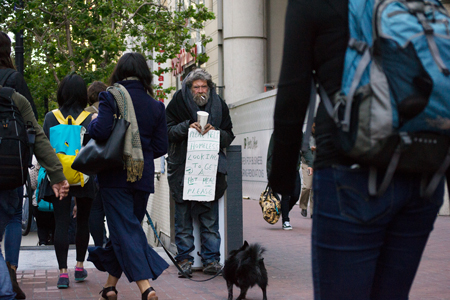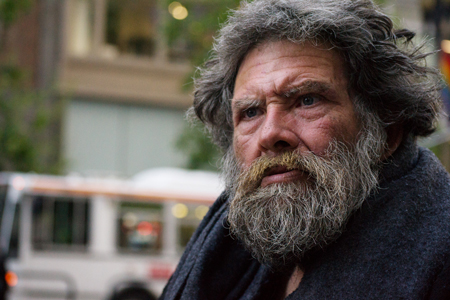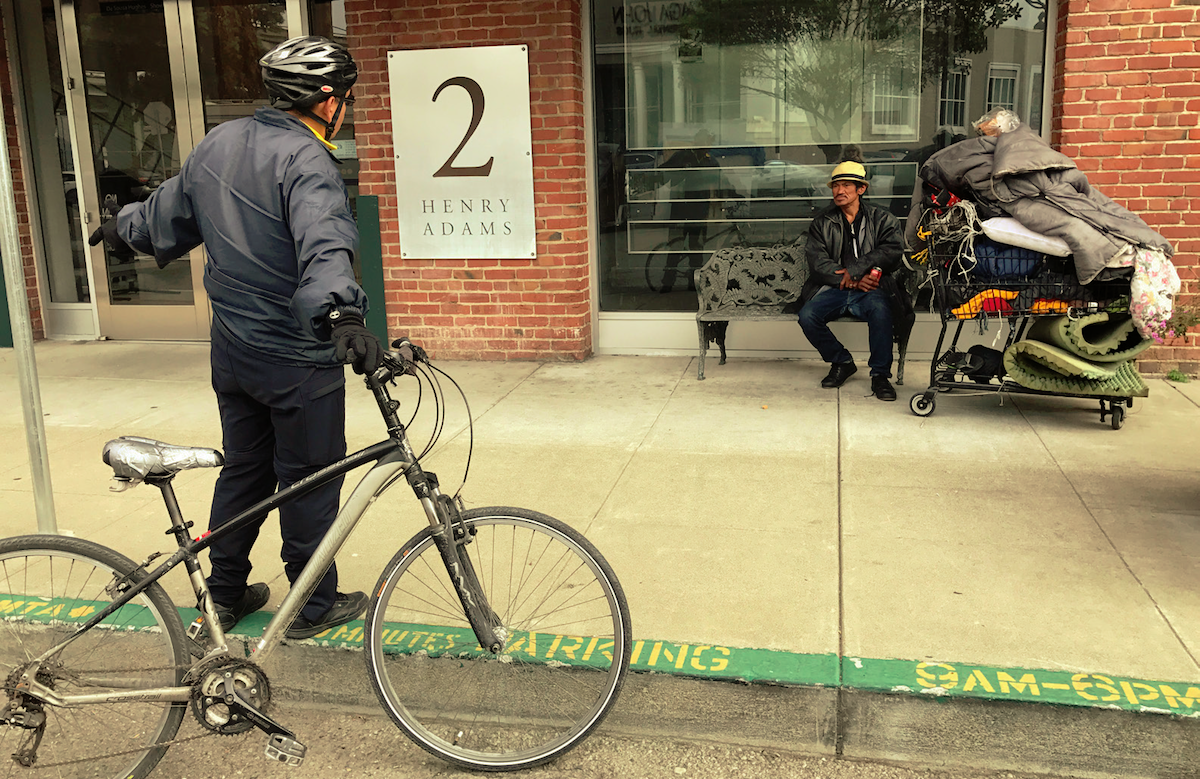 ---