Measure Would Guarantee 'Right to Counsel'
Earlier this year, attorney Carolyn Gold was contacted by several San Francisco tenants facing eviction. "All had strong defenses," said Gold, who runs the pro-bono landlord-tenant program at the Bar Association of San Francisco's Justice & Diversity Center. "At least two of them, I would say, the landlord had absolutely zero grounds for their eviction."
But no lawyers were available to represent them in court. Two of the tenants gave up, opting for a settlement that required them to move out. The other two held on and kept calling her.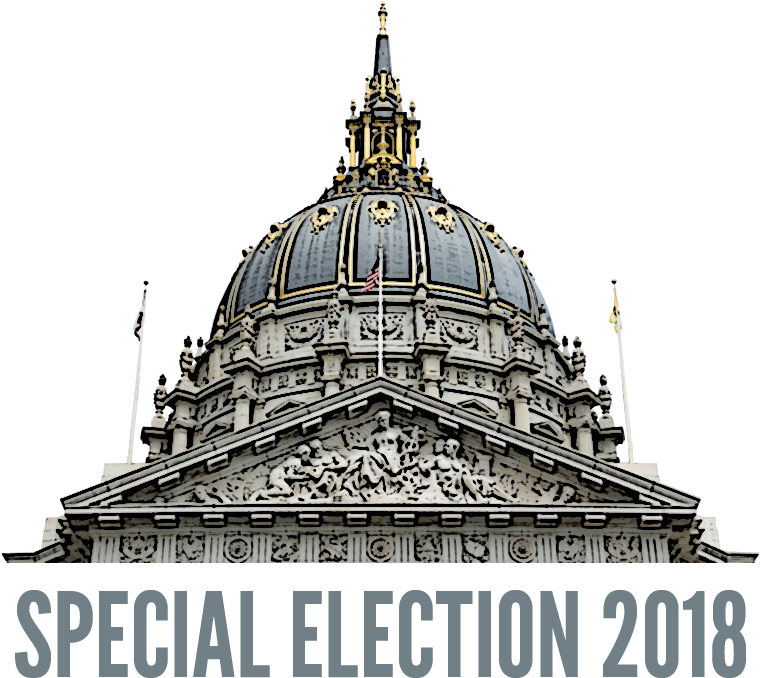 Moments before a judge was preparing to hear their case, Gold made a last-ditch effort and found an attorney.
"As soon as that person entered the courtroom, the lawyer for the landlord said, 'We do not intend to try this case,'" Gold recalled. "That's why it's so critical to have an attorney for your trial, because a lot of the cases really are just saying, 'Will the tenant cave?'"
In a city where two-thirds of adults are renters, more than 1,600 tenants have received eviction notices over the past year. On June 5, voters could make history by guaranteeing legal help to anyone facing eviction, regardless of income. If Proposition F passes, it would make San Francisco the first city to pass such a law through a voter-approved initiative, and would push forward a growing "right to counsel" movement for civil litigation.
An October phone poll commissioned by the Proposition F campaign found 60 percent of 501 likely primary voters supported a right to counsel, with 27 percent opposed.
San Francisco is among a number of cities across the country reframing discussions about when Americans should be given legal representation in non-criminal cases.
"There is a movement afoot," said Gloria Chun, an attorney at the Justice & Diversity Center. "Everyone is keeping a close eye on San Francisco."
New York City Leading the Way
The city's bumpy road toward possible universal representation was made smoother last August, when New York City's Mayor Bill de Blasio signed the first-in-the-nation Right to Counsel in Housing Court. By the end of a five-year phase-in, an estimated 400,000 New Yorkers facing eviction will have access to some form of free legal assistance. Those earning less than 200 percent of the federal poverty line will be entitled to full representation throughout the eviction process ($24,280 for an individual or $50,200 for a family of four). Those over that threshold will receive one consultation with a nonprofit or other legal services organization on the city's list of providers.
That law came not only after years of lobbying by housing advocates, but a two-year period in which an explosion in city funds for civil legal services for tenants was shown to help keep residents in their homes. Since de Blasio took office in 2014, funding for legal assistance has risen from $6 million to over $77 million, and evictions have fallen 27 percent.
San Francisco's program would be historic in that there would be no income limits, an acknowledgment that "middle-class tenants can't afford lawyers either," according to Dean Preston, the chief proponent of the ballot measure. Thus, it would cover all of the city's roughly 225,000 rental units, including what the urban planning group SPUR estimated in 2014 to be 172,000 covered under rent control.
Preston, an attorney and executive director of the statewide group Tenants Together, calls Proposition F a change from a "merit-based" to a "rights-based" model. Currently, a limited number of pro-bono attorneys has to pick and choose which clients to represent. "We shouldn't be deciding who does and doesn't get an attorney based on how strong we think their case is," Preston said. "Everyone should have representation."
Other jurisdictions have taken notice, and various forms of so called right-to-counsel pilot projects and legislation have popped up in Washington, D.C., Denver, Los Angeles and elsewhere.
Though locales vary in size and demographics, the imbalance in power is consistent: a majority of landlords have attorneys, while less than 10 percent of renters receive legal assistance.
"I've not yet seen any place where the rate of tenants that are represented comes anywhere close to the rate of landlords," said John Pollock, coordinator of the National Coalition for a Civil Right to Counsel. "In some places the housing laws protects tenants more than other places, but without a lawyer to enforce those protections, it really doesn't have much value."
Pollock said his organization is in contact with about two-dozen jurisdictions, including Baltimore, Boston and Philadelphia.
"It's like almost every week I get in touch with advocates in another city," he said. "We're going to look at what happened in San Francisco and evaluate whether we can take a similar approach in other jurisdictions. It's hard to imagine a place that doesn't need it."
Most Facing Evictions Lack Lawyer
In 2017, the San Francisco bar association's center represented 642 tenants facing eviction who did not have lawyers at settlement conferences. That's less than half the 1,355 total eviction notices issued. The city Rent Board does not know how many tenants were evicted. The board has records only for eviction notices in cases where tenants did not pay rent or were not living in rent-controlled units. Landlords also are not required to report all evictions.
For those who got help, quite often, it was the difference that kept them in their homes.
Assistance from an attorney "is a critical linchpin in keeping people housed," said the bar association's Chun. "You really should have access to one when basic human needs like housing and child custody are at issue."
2012 was a pivotal year in the crusade to represent San Franciscans facing eviction. The city declared itself the nation's first "Right to Civil Counsel City." A yearlong pilot program leveraged $100,000 into more than $2 million in pro-bono representation, coordinated by the bar association. During a crucial moment of citywide displacement, more than 800 cases received some form of legal assistance, and a Stanford University analysis found that more than 600 tenants facing eviction were more likely to avoid homelessness at least in part due to having a lawyer.
But despite the project's success, there still weren't enough lawyers to go around.
"We all realized that you cannot depend on pro bono to make sure that everybody will have an attorney," Gold said.
Since 2012, the city has dedicated more than $2 million annually to providing legal services to some, far short of what would be needed for universal representation.
Estimated Cost, and the Opposition
The city controller estimates that Proposition F would cost between $4.2 million and $5.6 million annually. Advocates claim it would be a money saver in the long run.
"It's really an investment that benefits everyone," Pollock said. "When people lose their evictions and lose their housing, if they do wind up in a shelter, if they do wind up in jail, having to apply for public benefits because they lose their jobs, these are all costs that we all pay for, and they're significantly more expensive than paying for a tenant's attorney."
Proposition F's primary opposition comes from the San Francisco Apartment Association. Representing about 4,000 members, the organization contends that "evictions in San Francisco are actually pretty rare and are highly regulated," according to spokesman Charley Goss.
The San Francisco Rent Board tallied 1,657 eviction notices filed between March 1, 2017, and Feb. 28; that's slightly lower than the average 1,723 over the past decade. Goss maintained that many evictions were for "just cause," involving tenants who should not receive free legal representation. He offered no specifics.
"To the extent that people are being evicted for damaging the building, a decrease in the quality of life for other people in the building, being a nuisance for other residents in the building, we don't believe that the city and taxpayers should fund eviction defense for those instances," Goss said. "And we also don't believe that we as taxpayers should fund eviction defense for very wealthy people."
But Gold has observed that the vast majority of those facing eviction are low or middle class. "There are probably 40 to 50 cases a year that I see where those tenants would not fit within the income guidelines that our agency represents," she said. "And even for those folks, a lot of them are just outside of our income guidelines, which means they really don't have the disposable income available to them to be able to hire an attorney."
How the Measure Would Work
Goss also said going through the normal legislative process would be preferable to passing a hard-to-tweak-after-the-fact ballot initiative. That view was echoed by the San Francisco Chronicle's editorial board, which called Proposition F "a poorly crafted answer that goes too far."
A hastily released alternative proposal from supervisors London Breed and Jeff Sheehy in November was eclipsed by Proposition F after a few months of political bickering. Though Sheehy and Breed now support Proposition F, their legislation — which differs in that it sets income limits — remains active and could pass should the ballot measure fail.
Preston said the ballot measure was intentionally crafted to allow city officials to determine the best way to implement it. The only stipulation is that the Mayor's Office of Housing and Community Development has 12 months to come up with a plan. There are no requirements for how it would be funded, or who would exactly provide the legal assistance.
"We wanted this to be flexible and to be clear that the tenants have a right to counsel, that the city is obligated to provide it, to fund it. But not micromanage from the ballot how exactly the city does that," Preston said.
He thinks the most likely route will be for the city to expand existing programs like the partnership with the bar association, which is fine with Gold.
"If the city wants to maintain the system they have and just grow it, then so be it," she said.
Landmark Ruling in Criminal Cases
A victory for Proposition F would be a step forward in what Chun called the "right to civil counsel movement," which would include not only housing, but food, health care and child custody.
In legal circles it's referred to as "civil Gideon," named for the 1963 U.S. Supreme Court ruling Gideon v. Wainwright, which declared that indigent defendants charged with a crime have a constitutional right to an attorney at no cost.
Pollock said people often have just as much at risk in civil cases. Since the landmark case, there's been a slow and steady push to enshrine the same right to representation.
"Jail is not some sort of magic dividing line," Pollock said. "Housing court is a place where people stand to lose so very much."
He listed several potential dire consequences of eviction: job loss, court-ordered removal of a child, being arrested for being homeless, or hospitalization because of a medical condition exacerbated by living on the street.
"The idea that these things are somehow less important than going to jail is increasingly hard to stomach in our society," Pollock said.
But although legal representation can help tenants, "It doesn't mean they win," Preston pointed out.
"It just means that they actually understand the proceedings and have someone to assist them in presenting their case to a court," he said. "And if they've done something wrong then they'll lose their case and they're going to end up evicted, and the right to counsel wouldn't change that."
Gold was similarly reserved in her hopes for an instant transformation of a city in rapid demographic change.
"I don't think that eviction defense alone is going to make you feel or see a difference in our housing crisis," she said. "It's an important point."
"You want to keep people housed who have affordable housing because they're in a rent-controlled unit or they're in subsidized housing," Gold added. "If those people lose their homes, you've just compounded your housing crisis because there's nowhere for them to go."
---
Correction: The number of landlords who are members of the San Francisco Apartment Association was incorrect in the original version of this article. It is 4,000, not 40,000.
Listen: Andrew Stelzer produced an audio version of this report for KALW's Crosscurrents news program.
Here's the updated version of this article containing vote results and additional comment.