First of two articles
San Francisco's African-American population is melting away like polar ice. The tally of every last black person in this city is only slightly larger than the draw for a Giants game at AT&T Park.
African-Americans, then, are a population that's easy for candidates to overlook in a citywide race — which has been proven, time and again, throughout this city's history. So, on Saturday morning, a trio of African-American organizations aimed to get some answers from aspiring local leaders. San Francisco Black Community Matters, the San Francisco Black Leadership Forum and Black Young Democrats sponsored "Facing the Voters," a candidates' forum hosted by the Public Press and moderated by its publisher, Lila LaHood. Candidates for mayor, 12th Congressional District, District 8 supervisor and state Superior Court attended.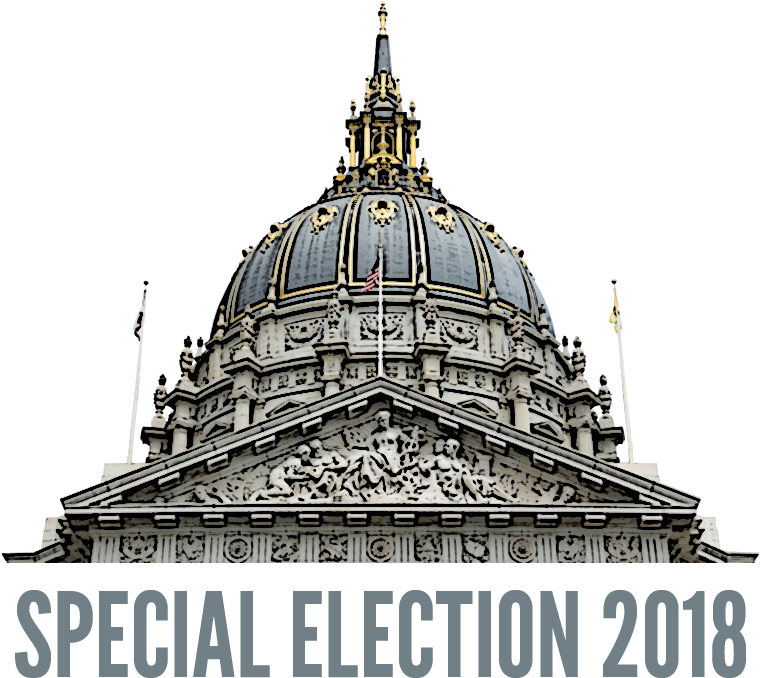 Mayoral candidates Angela Alioto, a civil rights lawyer and former city supervisor; Richie Greenberg, a Republican small-business owner; homelessness activist Amy Farah Weiss, and public-health social worker Ellen Lee Zhou showed up to answer questions about issues of interest to the city's African-American community. Former supervisor, assemblyman and state senator Mark Leno and District 6 Supervisor Jane Kim designated African-American women as surrogates —Dr. Ahimsa Porter Sumchai and Kaylah Williams, respectively.
Board of Supervisors President London Breed, the only African-American candidate in the race, did not attend. As the forum was beginning at 9:30 a.m., she fired off a tweet urging residents to join her at a concurrent job fair. She did not send a representative to speak on her behalf.
District 8 challenger Rafael Mandelman showed up, but incumbent Supervisor Jeff Sheehy did not, nor did he send a surrogate.
All candidates were given the opportunity to lay out their bona fides with respect to this city's dwindling, marginalized African-American community; some did that and some did not. Weiss called for "economic justice and reparations"; Alioto noted that, as a litigator, she won a $121 million judgment for more than a dozen black employees of the bakery company that produces Wonder Bread, Twinkies, and Hostess Cakes — the largest civil rights verdict in history at that time.
Other candidates spoke more generally. Williams, Kim's surrogate, rolled out the anodyne catchphrase "let's take our city back by taking it forward." Zhou described herself as a "people person" who "wants to take all the money back and give it back to you."
Alioto, when asked what the No. 1 issue facing black San Franciscans is today, bemoaned that minority-contracting requirements she helped craft during her tenure on the board in the 1990s are not being followed. If they had been, she conjectured, "maybe we would not have lost so many" minorities. "Maybe we'd be a totally different city today and wouldn't have had to welcome in 100,000 new people working in the tech industry because our people would have been working."
Williams cited Kim's three most important issues as displacement, the affordability crisis and homelessness. Weiss took things a shade further — and more eclectic — by calling for a "Summer of Love and Logic" in dealing with disproportionate black homelessness. A start, she said, would be to take the $34 million it would cost to enact Breed's suggestion of putting 200 new police officers on the streets and, instead, invest that money in the city's hardest-up neighborhoods. Weiss also called on diverting the half-billion dollars the city's pension fund is investing in fossil fuel companies into "low-risk development" of affordable housing to be constructed by San Franciscans.
Weiss also had one of the more crowd-pleasing moments for the Saturday a.m. audience of several dozen when she was asked what this city should do about the snowballing toxic-soil scandal at the former Hunters Point Shipyard. The traditionally black, working-class neighborhood has been plagued by generations of environmental degradation, and faked radiation testing could imperil some 12,500 planned housing units, while hundreds of units may already have been built atop potentially toxic soil.
"We should hold Nancy Pelosi accountable, we should hold Dianne Feinstein accountable, we should hold Kamala Harris accountable. They are our representatives in federal government," she said.
Environmental justice at the former shipyard has been a yearlong Sisyphean struggle for Leno's proxy, Sumchai, who noted that "I pledged my commitment to Mark with a clear understanding he would promote and advance environmental health and justice in Bayview-Hunters Point." She called for harsh legal action, which the litigator Alioto agreed with. Also agreeing, surprisingly, was Greenberg, the lone Republican. "This will be one of the rare instances when I agree with everybody else here," he said. "We need a moratorium [on development on the land] and need to bring those accountable to justice." He added, however, that "the mayor can't just snap his fingers and say do this housing somewhere else."
The evaporation of the lion's share of this city's approved, in-the-pipeline housing units remains a looming disaster unaddressed by any of the major mayoral candidates.
When asked what this city could do to counter the disproportionately high percentage of African-Americans living on the street, the candidates recited more general homeless strategies. Alioto, the driving force behind this city's 2004 10-year plan to "abolish chronic homelessness," noted that this strategy led to 4,600 chronically homeless individuals being housed before the city essentially defunded the plan in 2012. Greenberg called for a declaration of emergency, FEMA-style trailers to house the homeless and donations to other cities so they can minister to their homeless populations and keep them from coming here.
Weiss called for redirecting money from the Department of Public Works' street-cleaning budget and from funding police sweeps of tent encampments to a "triage approach." Zhou, who began nearly every answer with "you are talking to the right person," said she would "eliminate homelessness by having no homeless on the streets."
The homeless are "talented people who have skills," she said. Unfortunately, "the Board of Supervisors gives them drugs and says drugs are OK. … We need a new policy that tells them to get off welfare and live life for themselves. Do not let politicians abuse them!"
Following the mayoral forum, the candidates for the 12th Congressional District took the floor: Lawyer and author Michael Goldstein; Trevor Martin, campaign director for employee-lawyer Stephen Jaffe; public-interest litigator and organizer Shahid Buttar, and Immigrant Rights Commission member Ryan Khojasteh all painted the 15-term incumbent, Rep. Nancy Pelosi, as a business-friendly leader who has overseen crushing political defeats for Democrats and ever-plunging federal housing budgets.
Alex Lazar, a Pelosi congressional aide appearing in her stead, disagreed, portraying his boss as a deft "herder of cats." He dismissed her left-leaning opponents' lamentations about Pelosi's corporatism.
"Guess what? It's a conservative country, y'all! San Francisco values get used against us," he said. "Going down the middle seems to be what gets work done against the Trump administration."
---
Next: A recap of the spirited — and, at times, acrimonious — debate among the judicial candidates for Superior Court.