Third in a series analyzing the mayoral candidates' records and pledges on housing and homelessness.
This is Angela Alioto's third full-fledged attempt to crack City Hall Room 200, and the detractors of the feisty and charismatic civil rights attorney, former board president and aspiring second-generation mayor, dismiss her as a vestige of this city's past — our very own Make San Francisco Great Again candidate.
Alioto's response is typically pugnacious. She already made San Francisco great. What have you done?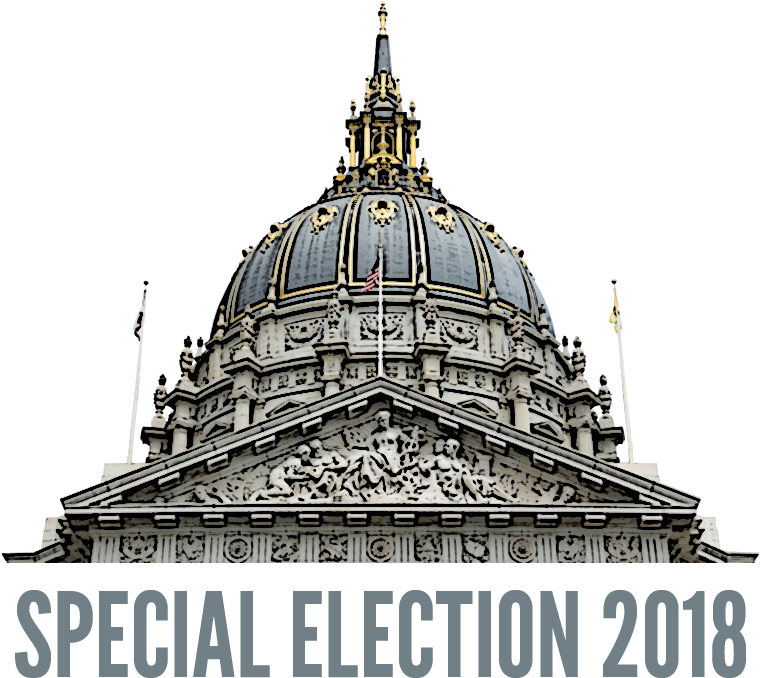 "We did it. It worked. They stopped it," she said, referring to the city's 10-year plan to "abolish chronic homelessness," the crafting of which she oversaw in 2004 under former Mayor Gavin Newsom. She claims that, much to her chagrin, the late Mayor Ed Lee subsequently let the plan wither before cannibalizing its resources to, among other ends, shunt money away from housing for the homeless into housing for the general population. "The 10-year plan kind of fell off a cliff," Alioto told the Public Press in 2014. "The interest wasn't there."
That plan shifted the city's official position on solving homelessness from "continuum of care" to "housing first." And while the city hasn't "abolished" chronic homelessness any more than it's eradicated fog, the 10-year plan put thousands indoors. Alioto's part in creating this plan explains the claim on her billboards that she "housed 11,362 homeless." That's the official tally of homeless people placed in permanent supportive housing between 2004 and 2014, per the Budget and Legislative Analyst's Office.
"Let me stress something, right off the bat: The 10-year plan absolutely worked," she said, citing a report on supportive-housing stability. "The lack of recidivism was stunning: 94 percent. Ninety-four percent of those people are still there.
"We did it," she repeated, before finding herself at a momentary loss for words. "If I could say it in Italian, it'd be much more powerful."
Ovviamente! But there's the rub: For every homeless person housed in this city, many more were not housed. Between 2004 and 2014, San Francisco added a shade more than the 10-year plan's goal of 3,000 additional units of permanent supportive housing. San Francisco currently has roughly 7,500 such units — with 1,300 in the pipeline — a tally of 971 units for every 100,000 city residents.
Lee Accused of 'Taking Away Housing'
And this encapsulates San Francisco's conundrum well. That's both not nearly enough and is a higher ratio than any other city in the nation. San Francisco's homeless population appears to have barely budged during the past decade and change, during which the city spent billions of dollars addressing the problem.
Alioto blames the Lee administration for "taking away housing we had in the pipeline" earmarked for the chronically homeless and, instead, using it to pad affordable-housing totals. She also faulted Lee, who died in December with two years remaining in his second term, for shifting funding into temporary shelters and treatment programs. This, she said, was ultimately self-defeating. After treatment people still had no housing and faced the maddening prospect of street life.
"We're putting people back on the streets where they came from," she said. "You might as well throw your money away.
"Navigation centers are the same thing," she added. "There's nowhere to go. If I put you back on the street, I might as well throw my money away."
Alioto said she was distraught to learn that the navigation centers are only temporary, occupying sites waiting to be developed. "I just learned that like two months ago," she said in March. "I thought they'd be there for good. I am not for any navigation center that doesn't have an exit plan. Period."
Housing Record And Plan Less Specific
Last year, the Public Press determined that "fewer than a quarter of the nearly 1,200 people who entered the first two navigation centers have been placed in verified long-term housing." While hundreds of homeless people accepted one-way bus tickets to go live with family or friends elsewhere, this came with "no guarantee of stability and minimal follow-up."
Alioto's record and plans are less defined with regard to housing than with homelessness. She wants the city to "go back to paying people's rent before they get evicted," which would be more compassionate and cost-effective than ministering to evicted people living on the streets. And she calls for an added emphasis on getting the newly homeless indoors within three months, "before the brain starts to deteriorate."
To help stabilize middle-class residents, she said she would push for more mixed-use projects and municipal investment in workforce housing for teachers and other key professions. And in a challenge to one of the city's most entrenched bureaucracies, she would take aim at reforming the building permit process, which she called "corrupt."
Like Lee, Alioto vowed to build 5,000 housing units per year — a goal the late mayor routinely missed. A mayor can do only so much, at least on paper, to influence the housing market. Alioto shook her head at that notion.
Let's Make a Deal
A mayor can do plenty more than what's on paper, she insisted: "People wheel and deal."
When asked where the additional money would come from to pay for her reimplementation of the 10-year, housing first plan, Alioto said the city wouldn't need any. She pointed to the $250 million the city spends on homelessness, and to the total budget, which tops $10 billion a year. "I don't think they understand what that is," she said of the other mayoral candidates. "One billion is one-thousand million dollars. And we've got $10 billion! I don't think they have any comprehension of money."
But few people have any comprehension of how much it costs to build housing in San Francisco, which can range from nearly $500,000 per unit to more than $700,000. The city, furthermore, pays top dollar, getting no breaks on land or union labor.
If the city manages to build significant amounts of housing for the homeless using only funds Alioto now says are being wasted, it would be a development that is equal parts miraculous and horrifying.
Opposed Wiener's Failed Bill on 'Upzoning'
Not surprisingly, Alioto, an ostensible Westside favorite, was adamantly against Sen. Scott Wiener's vanquished SB 827, which would have removed much local zoning authority to make room for denser housing construction. Unlike other candidates who danced around the possibilities of raising height limits ("upzoning") in the city's leafier neighborhoods in return for developer concessions, Alioto said you simply "cannot have these small dwellings and a 10-story building slammed next to them. You cannot do that to the city, just because, this minute, you think you need density and height."
What's more, "As mayor I would never take away a powerful tool like zoning power and give it to the state. Never."
Wiener's bill may be dead, at least for now. But the appeal of such statements to voters, particularly on the city's Westside, lives on.
---
Listen: Rose Aguilar interviewed Angela Alioto on KALW's Your Call program.