Second in a series analyzing the mayoral candidates' records and pledges on housing and homelessness.
In a Dickensian touch, Jane Kim's District 6 is home to the city's wealthiest and poorest ZIP codes.
This swath of the city, which includes the Tenderloin, SoMa and Treasure Island, is the eye of San Francisco's affordability storm. High-rise condo and office towers are mushrooming. The vast majority of recent housing has risen there: 25,658 units were built citywide between 2007 and 2016, with 15,541 of them in District 6. It is the beating heart of the city's ascendant tech economy.
And through it all, the vast majority of single-room occupancy hotels and supportive housing beds are there, too. District 6 is also the beating heart of this city's marginalized communities.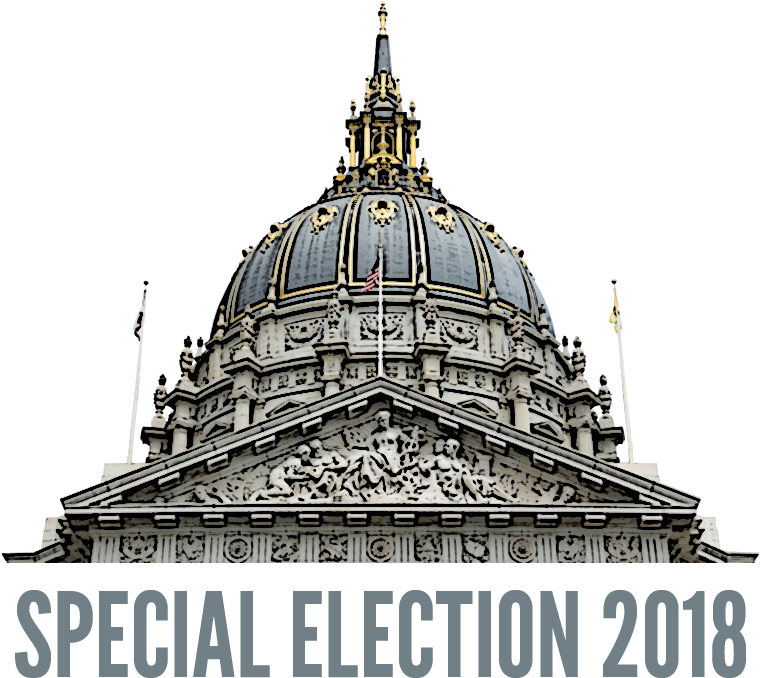 Kim, an ambitious politician who in 2016 fell short in her battle with Scott Wiener for Mark Leno's termed-out state Senate seat, has played an active role in the transformation of her district — and, by virtue of its outsize role in city housing and homeless issues, the city writ large.
She has focused much of her political energy on inclusionary housing — city programs mandating a percentage of apartments in new developments be set aside at below-market rates. She bandied about the catch-phrase "40 is the new 30" after extracting not 30, but 40 percent affordability ratios on several high-profile mega-projects, including the San Francisco Giants' Mission Rock waterfront development and the 5M mixed-use towers on land owned by the Hearst Corp. That set a new standard. A major component of Kim's brand is her ability as a dealmaker and proven success in landing gaudy affordability ratios in major projects — a claim none of her rivals can make.
Can District Dealmaking Lead to Citywide Policy?
But a key question is whether Kim's ability to wring concessions out of the biggest developers will translate into a coherent housing policy on a citywide level. Much of Kim's work on the Board of Supervisors and in her district has been about maximizing developers' contributions to affordable housing and neighborhood projects. But the Giants and other large developers enabling her "40 is the new 30" mantra can acquiesce to city affordability demands that lesser entities cannot.
Away from the glittering towers of SoMa, Kim is calling for an easing of rules governing the building of additional dwelling units in homes — in-law apartments, essentially. "One of my staffers built one, and it cost $200,000," she said, incredulous at the high price tag. Pare that number back, she said, and the city could add some 40,000 rent-controlled units just like that. (Kim credits Wiener for legislation in this area.)
Kim would also like to reform the process of financing private infrastructure projects. Developers' inability to pay for such work is what keeps tens of thousands of approved units in the pipeline instead of actually being built. In a more splashy move, she proposed a $1 billion affordable housing bond — a suggestion she dropped, out of left field, at a board committee hearing earlier this year — but doesn't foresee it going before voters before 2020.
Nuances of Housing Policy
The old political saw is that "when you're explaining, you're losing." And squaring several of Kim's positions regarding where to build housing, and how much, requires a great deal of explaining.
At an April City Hall rally, Kim crowned herself "the queen of density and upzoning in District 6." But, one month earlier, she struck a different tone during a rally held in cozy District 7 at West Portal Station. There, Kim launched fusillades against the increased height limits and density that would have been allowed under SB 827, the failed state Senate legislation by her bête noire, Wiener. She described it as a sop to developers, who would not have been required to build a higher percentage of affordable housing or offset the infrastructure and transit pressures brought about by taller, denser communities.
In Kim's mind, enabling taller, denser buildings in District 6 and calling out attempts to do so in District 7 are not incongruous. "I didn't say I wouldn't upzone the Westside," she said, grinning, during an interview afterward. "I did say SB 827 was the wrong way to upzone."
In Kim's mind, it's a giveaway to developers to permit taller buildings than current zoning rules would allow without extracting additional monies and concessions. "I have been consistent," she insisted. "If I do upzone the Westside, it'd be through the local planning process, like the Central SoMa Plan."
But Kim has come under fire for supporting a plan, which, in its current iteration, would add some 40,000 new jobs to her district but only 7,000 housing units. Critics bemoan her attempts to curtail housing density on the Westside while simultaneously complaining that housing needs to be built somewhere other than SoMa. (The Planning Department is set to approve the plan Thursday, May 10, then send it to the Board of Supervisors for final approval.)
Central SoMa Plan 'Not Going to Stay the Same'
"The Central SoMa plan is not going to stay the same," she said matter-of-factly. "This is the Planning Department's proposal. I put my name on it because it's my district. Mayor Mark Farrell put his name on it. I don't know how much he knows about Central SoMa."
By affixing her name to the plan, Kim said she has a greater ability to alter it. An environmental impact report will study the feasibility of adding 1,600 units, but that's still far short of a healthy jobs-housing balance. "I don't think it's fair to talk jobs-housing balance in one area plan. We have to look citywide," she said. "We're not building offices on the Westside."
Kim said she hopes to raise the heights on eight or nine SoMa parcels and build more market-rate and affordable housing. "In everything I do, conferring more density and height on a parcel has to come with a higher percentage of affordable housing," she said.
Finally, adding housing means little to those unable to keep the housing they've got, which is why Kim sponsored "Eviction Protections 2.0," legislation the Board of Supervisors passed in 2015. This ordinance took aim at what Kim calls "nuisance evictions" and what tenants' rights advocates label "sham evictions": leaving a stroller in the hallway, hanging laundry off the fire escape, adding a new roommate or caretaker. Kim takes credit for being the first mayoral candidate to embrace this year's Proposition F, the "City-Funded Legal Representation for Residential Tenants in Eviction Lawsuits" measure on the June 5 ballot. (See "Proposition F: Free Legal Aid for Tenants Facing Eviction")
Health and Homelessness Solutions
When Kim served as acting mayor a few years ago, she decided to make a splash by spending a night in a homeless shelter. It turned out to be a seminal moment for her approach to homelessness. Kim, who is now 40, said she was, far and away, the youngest person there. "This shelter was built for someone like me," she said. "Young and able-bodied, but down on my luck."
But that describes an increasingly smaller portion of the city's homeless population. People living on San Francisco streets today are older and sicker, a trend that is growing.
The overarching goal of a Mayor Kim would be to treat homelessness more like a public health crisis than an economic problem, carving out a more primary role for the Department of Public Health and a lesser one for the Human Services Agency. "HSA has been very effective addressing homelessness and poverty with people whose barrier is a job or some kind of economic need," she said. "But they are not as effective for people who have, on top of that, mental health issues or other illnesses affecting them."
That was Kim's thinking as supervisor when she advocated for inclusion of nurses at adult shelters, pushed for a doubling the number of medical respite beds in SoMa and supported full medical and mental health surveys being performed at all shelters (and the county jail) to better understand who we're serving (and locking up). While the city's homeless numbers have been remarkably consistent over the decades, just who is on the streets is changing. Kim said this calls for a change in strategy.
Because it's costly to house and treat the old and chronically ill, new funds — lots — are needed. Building or securing housing has become prohibitively expensive, and obtaining SRO hotel rooms for the needy costs more than twice as much now than it did a decade ago. "We're in the same market as everyone else," Kim noted.
On top of all that, Kim hopes to expand mental health services and medical treatments tying into the opioid epidemic. This would mean upping the number of Department of Public Health workers ministering to the homeless. And, while she's at it, she wants to increase the number of street cleaners. She acknowledges this is going to cost quite a bit more money, and will require additional revenues (read: fees and taxes). And, sans help from the state and federal government, homelessness is not getting "solved." Period.
"San Francisco can never resolve the homeless crisis on its own," Kim said. "But we can make a dent. We are a wealthy city. We need to generate new revenue. And all the tax cuts Trump put into effect, we should be recapturing."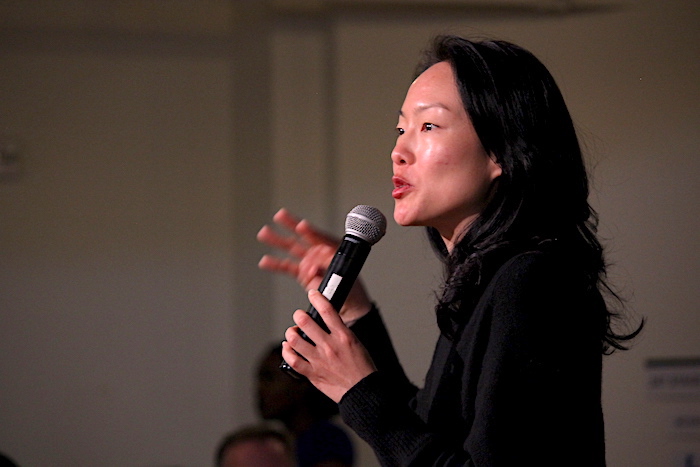 ---
Listen: KALW radio interviewed Jane Kim for its Crosscurrents news program and on Your Call with Rose Aguilar.