Fourth in a series analyzing the mayoral candidates' records and pledges on housing and homelessness.
It's her second mayoral race, but Amy Farah Weiss doesn't rate in polls that have been released so far for the June 5 special election to fill the seat of the late Mayor Edwin Lee. She has no staff, has raised little money and won't be seen on commercials or billboards. For Weiss, the election is about shining a light on the race, again and again, trained on the city's homeless and affordable-housing crises – while proposing solutions to address both.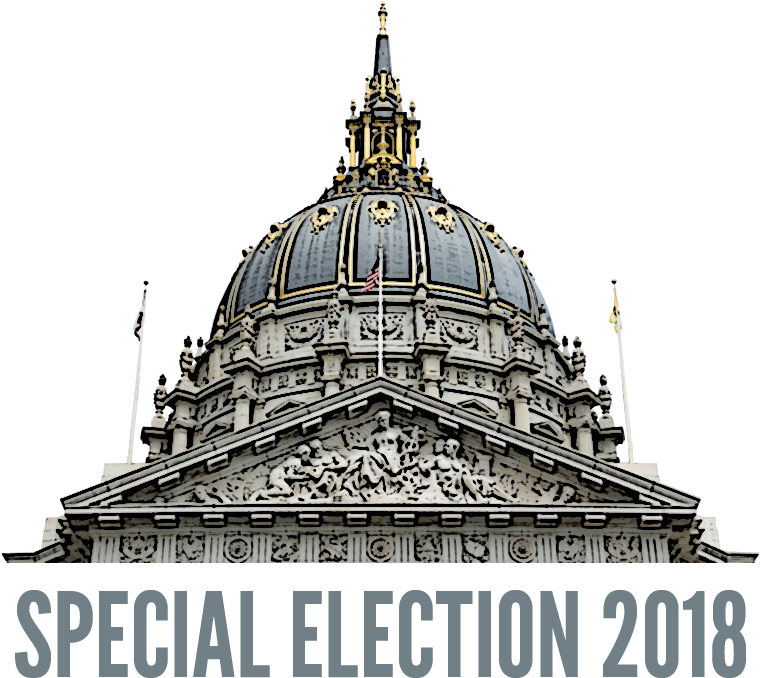 Weiss is a bulldog. She shows up at mayoral debates uninvited, goes to obscure committee meetings at City Hall, talks and works with people in the city's encampments, and has spent days driving around the most affected neighborhoods, counting the tents and vehicles being used as homes. At a March debate sponsored by KQED, she crashed the Castro Theatre stage and stood on the side, until the rowdy audience needled moderator Scott Shafer into letting her participate.
A stream of supporters praised her efforts on social media as the debate progressed. "She's bringing issues before voters that other candidates aren't," wrote one. "The crasher is the clear winner," said another.
In her heart, Weiss knows she's unlikely to become the 44th mayor of San Francisco. What she is doing is putting forward a detailed and wonky set of proposals for tackling core issues — and trying to impart a sense of urgency.
"I'm saying this is a crisis," Weiss, founder of Saint Francis Homelessness Challenge, said in a recent interview at the StrEat Food Park on Division Street, around the corner from where the city tore down a massive encampment of tents and cardboard-box shelters in 2016. "I want us all to think of the fact that 3,000 to 3,500 people are on the street without a toilet as a true crisis. Every night that people are out there, trauma is happening for every individual. But we've accepted it for years."
Weiss' platform would require that half of new multiunit housing developments be affordable, would set up new funding mechanisms to finance below-market rate units and would create a city loan program to help landlords add new units within existing residential buildings. She also wants to build thousands of small, one-person "transitional shelter" units — she's already produced models — to place around the city in small villages as temporary housing for those now living on city streets.
Whoever gets elected to serve out the balance of Lee's term will probably run for re-election to earn a full four-year term in November 2019. Weiss thinks the June winner should be held accountable for what she or he gets done over 18 months, so she developed a "tracking tool" to help assess their record in office. It lists policy positions that largely match her own. She posted it online and asked voters to submit their opinions, but has received only 100 replies.
That limited response goes to the heart of what some progressives say about her campaign: that she isn't part of any organization or coalition, her proposals aren't new and her candidacy is an exercise in egoism.
Others are more charitable. Peter Cohen, co-director of the Council of Community Housing Organizations, which represents the city's nonprofit housing developers, said Weiss' proposals may not be new, but are drawn from ideas that groups like his have been proposing for years.
Weiss said she doesn't have to get elected mayor for her campaign to win; it's enough to influence the debate.
"What I hear generally about my running is that: 'She has really good ideas, but who does she think she is to run for mayor?'" Weiss said. "For me, if any of these ideas land, we've won."
Here's a rundown of the key elements of her platform:
Address the Homeless Crisis
Weiss, who ran in 2015 to unseat Lee, later founded Saint Francis Homelessness Challenge to create tiny temporary homes and place them on vacant lands. The group built a dozen wooden structures large enough for a single bed and storage space at a cost of $1,000 each. The units are on wheels and can easily be moved, but city crews destroyed most of them while clearing homeless encampments, she said.
Weiss said the city should stop rousting the encampments and instead identify sites where groups of these shelters could be placed in "villages" of different sizes, alongside shareable bathroom and cooking facilities. She calls these villages "Safe Organized Spaces," and said they would provide the autonomy, security and privacy people need. They are intended to be transitional, used until people can move into permanent housing. Similar villages have been set up in Seattle, Portland, and other cities in the West.
New Housing Development
San Francisco developers are producing twice as much market-rate housing as is called for by state housing goals, according to a report from the city's Planning Department. The vast bulk of it is unaffordable to most people who live in the city or are landing jobs in its tech-fueled employment boom, Cohen said. In 2016, the number of jobs in the city grew for the seventh straight year, increasing by 28,730 from 2015 to reach 703,230, according to a city commerce report.
The Planning Department report also found that the city is building far too little affordable housing for low- and middle-income workers. To change that, Weiss wants to ensure that half the apartments in new multiunit developments are affordable to a mix of low-income to moderate-income tenants – as defined by federal housing standards. They would pay no more than 30 percent of their income in rent.
She would entice developers to do this by creating new funding mechanisms. She would push the state to provide low-interest loans to developers, reducing their costs and enabling them to charge below-market rents to more tenants. She would fund this by persuading California leaders to devote some of the state's $6.1 billion budget surplus to affordable housing or by floating regional or state housing bonds. She would also push for the city workers' pension fund to divest $500 million of holdings in fossil fuels and invest it instead in affordable housing development.
She supports a measure being developed by the San Francisco Coalition on Homelessness and allies that would impose a 0.5 percent tax on the portion of a business's gross receipts that exceed $50 million. This would generate more than $300 million a year to build or rehab housing and provide rent subsidies to low-income tenants, help prevent people from becoming homeless and increase mental health services. The coalition said it plans to gather signatures and put the measure on the November ballot.
'In-Law' Units and a Vacancy Tax
According to the city, about 37,000 San Francisco homes have enough space to accommodate small "in-law" units that could be rented. Weiss wants the city to set up a financing program to make low-interest loans to owners who create such units and agree to keep rents low.
She also wants to impose a tax on housing units that are held vacant, as Supervisor Aaron Peskin proposed last year. SPUR, an urban planning think tank, reported in 2014 that nearly 30,000 units in San Francisco were vacant, of which almost 9,100 were held off the market for seasonal or occasional use and 9,700 were kept vacant for other reasons. The remaining 11,000 were in the process of being rented or sold. "We need to use our empty units," Weiss said.
She also supports a measure favored by Cohen's organization that would give existing tenants and nonprofit groups the right of first refusal to purchase their own building if it is put up for sale.
---
Listen: KALW radio interviewed Amy Farah Weiss for its Crosscurrents news program.