Fifth in a series analyzing the mayoral candidates' records and pledges on housing and homelessness.
In 2015, Richie Greenberg ran for District 1 supervisor. On the advice of several acquaintances, he called himself a Democrat. "I was not very politically involved," he said. A political novice, he soon discovered he was under the wrong tent.
On issues like taxes and the size of government, "I realized … I was actually preaching the Republican platform," said Greenberg, a startup consultant and small business adviser. "I was for sure an outsider, and I was for sure in the wrong party."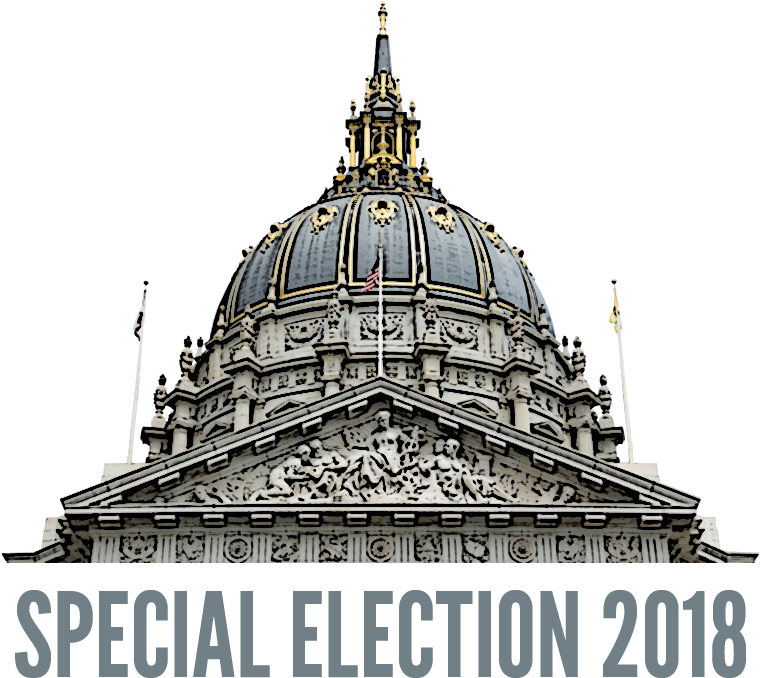 He rode out that election, finishing with 3.2 percent of the first-round vote in a contest won by Sandra Lee Fewer. This time around, he's aligning himself with the GOP. He's hoping to become the first Republican mayor of San Francisco in more than 50 years. In a city where only 7 percent of voters are registered Republicans, that may be hoping against hope.
"We don't need activists leading this city. We need leaders," Greenberg said in an interview, adding that he would bring a "more centrist viewpoint" to city government. It's a desire he said he hears from voters of all political stripes.
"I get emails, voicemails and donations from local lifelong Democrats, saying that we are absolutely sick and tired with the left and lefter politics, and that they'll vote for me because they need someone who's much more levelheaded," he said.
Sees Waste in Homelessness Funding
Greenberg believes that homeless people "are being used as pawns." By his account, a big cause of San Francisco's homelessness problem stems from the failure of those in power to effectively utilize the city's resources. Thus, the cornerstone of his solution lies in making service organizations more accountable for funding they receive from the city.
"What I believe we are doing poorly is managing our city's finances that are given to the nonprofits, the homeless-outreach organizations. I'm going to rein in the spending," he said, without naming organizations or budget line items.
Greenberg has the backing of the San Francisco Republican Party. "He will look at all the various service providers and there'll be an audit to make sure they're doing what they're supposed to do," said Howard Epstein, the local party's vice chair of communications.
Epstein also embraces Greenberg's promises to ease the permit process for new residential construction. "There has to be a more streamlined approach, where you don't have to go to more than one department to get a permit," Epstein said.
He also backs Greenberg's call for a more "regional approach" to housing solutions, such as increased telecommuting, or more companies setting up satellite offices closer to where their workers live.
"Why does every person that wants to work in San Francisco have to live in San Francisco?" Epstein said. "Are we obliged to have to find an affordable home, or luxury home or low-income home for every single person that wants to live here?"
Opposes Propositions F and D
San Franciscans will be casting votes June 5 on several measures relating to housing, but Greenberg doesn't think there are any real solutions on the ballot.
Greenberg opposes Proposition F, which would create a right to free legal representation for anyone facing eviction. He said it would be "unfair," because it doesn't give landlords a free lawyer as well.
See: Proposition F: Free Legal Aid for Tenants Facing Eviction
He's also opposed to Proposition D, a commercial rent tax that would raise money for low- and medium-income housing and homelessness services. And he's opposed to a repeal of Costa Hawkins, the state law regulating rent control. A repeal may be on the statewide ballot in November, and if voters approve, it could expand the ability of cities to create or expand rent control.
So what are Greenberg's solutions to the city's housing and homelessness crises?
He supports expanding the number of one-stop navigation centers, as well as Homeward Bound, which gives one-way bus tickets to people with friends or family who can house them somewhere other than San Francisco. That's in line with Mayor Mark Farrell's intentions.
See: Navigating Homelessness: Which Way Home?
Compared to Rudy Giuliani
The Small Property Owners of San Francisco Institute has endorsed Greenberg and Supervisor London Breed as equal first or second picks on the ranked-choice ballot. SPOSFI President Noni Richen wrote in an email that Greenberg "understands and supports small businesses."
Log Cabin Republicans of San Francisco President Eugene Epshteyn compared Greenberg to former New York Mayor Rudy Giuliani, whose election "dramatically transformed New York City into one of the safest, cleanest, and wealthiest cities in the nation. So too we San Franciscans should give a Republican candidate a chance to initiate real change instead of re-hatching the same failed policies of the current ruling party."
Epstein said he wasn't aware that Greenberg, a New York native, ran as a Democrat three years ago until speaking with the Public Press in April. But he downplayed the switch, saying, "A lot of people have changed parties over the years."
"I think he has a long-shot chance," Epstein said. "Most of the press … is ignoring him. So it's very difficult for him to get his ideas out there."
"I do realize that it's an uphill battle for me," Greenberg agreed. "But I believe that I can win based on the issues. I will absolutely win in a landslide if the voters en masse paid attention to the specific issues and listen to what each of the different candidates were saying."
'Not an Extension of the Trump Administration'
And even if he doesn't become mayor, Greenberg said he's keeping the Republican constituency visible.
"Just the mere fact that I'm a candidate running is forcing them to acknowledge reality that in San Francisco, the second-largest political party voting bloc are the Republicans," he said. "And that we're sick and tired, and have been sick and tired for a long time."
But what about the Republican Party brand name, and how it's been tarnished by President Donald Trump?
"National politics is different from local," Greenberg said. "The San Francisco GOP, it shares the GOP, but it's not really connected to the national GOP. We're not an extension of the Trump administration here."
How would he work with a Democratic Board of Supervisors that does not identify with Greenberg's positions, or would not ally themselves with the GOP of 2018?
Greenberg said his goal would be to reach across the aisle and build coalitions, but if that failed, "We have to use the bully pulpit."
"Mayor Lee, bless his soul, was not a strong mayor," he said. "I will be a strong mayor."
---
Listen: KALW radio interviewed Richie Greenberg for its Crosscurrents news program.