This week's
#wjchat
, a weekly chat for W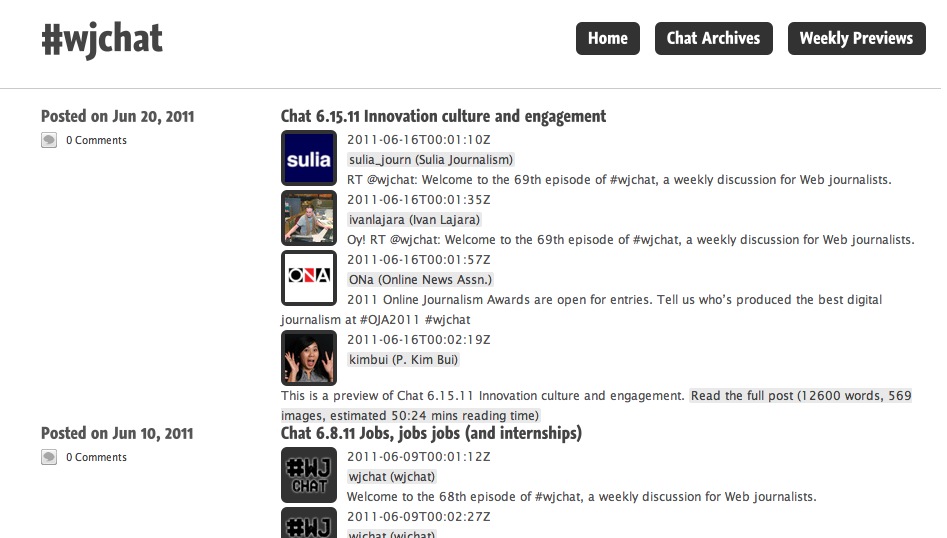 eb journalists on Twitter, was on a topic that is significant to journalists and nonjournalists alike: the future of journalism jobs.
The chat was founded by Robert Hernandez, assistant professor of professional practice at the University of Southern California, Annenberg's School for Communication and Journalism, and Kim Bui, social media and communication editor at KPCC 89.3-FM in Pasadena.
According to the organizers, the focus for this week's conversation was inspired by a series of articles on the Bay Area media landscape that was published by the San Francisco Public Press this spring.
Some of the key questions discussed in this week's #wjchat session are:
@wjchat Q1B What skill sets would you need to get hired in this new future? #wjchat
@wjchatQ5 Are core journalistic ethics changing in this new landscape? Should they? #wjchat
@wjchat Q7 Are failing news orgs worth saving? Is this evolution and natural selection at work?
We thank the organizers and participants of #wjchat for this discourse.
Discussions like this are crucial to the revitalization and reinvention of the news industry both locally and nationally. Some hold the view that journalism is facing dark times that can only be rectified by the bright glow of content-rich news websites on computer screens, smart phones and tablets. Some believe that dusting off and resuscitating rusted printing presses can be of immense value to the community, especially in eradicating the digital divide.
There is much debate and discussion within the journalism community about what is next, what to expect, and what paths to take in terms of finding jobs in the field, maintaining journalistic ethics in a rapidly mutating digital environment, and producing long-form and investigative features in newsrooms where journalism jobs are evaporating, among many other questions.
But undoubtedly, the future of journalism will touch all of us.
With this in mind, the voices of community members are just as important as the voices of journalists in building the news ecosystem of the coming years.
So to continue the conversation, we ask everyone:
How have the loss of journalism jobs in the Bay Area affected you? Are the issues that matter to you being covered by your local news organizations? What types of innovations have you seen or would like to see in the news industry?
We want to hear from you. Share your responses and questions by leaving comments here, on Twitter (@sfpublicpress) or on our Facebook page.