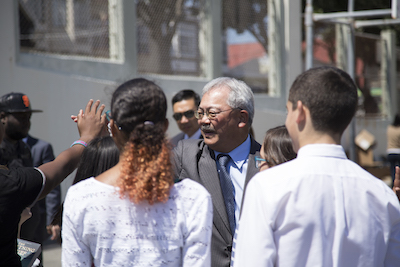 Mayor Ed Lee is running for a second four-year term without any prominent, powerful or well-financed opposition, making it likely he will be re-elected. But the 63-year-old Democrat, the first Chinese-American elected mayor, is facing five eclectic challengers (plus four write-ins) who hope the city's ranked-choice ballot will deliver a surprise victory to one of them.
Backgrounds and policy agendas
Edwin Mah Lee was the city administrator when he was appointed mayor in January 2011 after fellow Democrat Gavin Newsom decamped for Sacramento as the newly elected lieutenant governor. As a condition of his appointment by the Board of Supervisors, Lee promised not to seek a full term that fall.
In an effort to promote economic development, Lee and the supervisors approved a six-year payroll-tax break for technology companies in the mid-Market and Tenderloin areas. The savings persuaded Twitter not to move out of San Francisco. The City Controller's Office later determined that the deal had been a net financial benefit to the city.
Reneging on his agreement not to seek a four-year term — "I've changed my mind," he said — Lee then ran on a platform of bringing jobs to the city. In November 2011, he defeated two supervisors and 13 other candidates to become San Francisco's first elected Chinese-American mayor.
By August 2013, the city's unemployment rate had declined to 5.6 percent, compared with 9.5 percent when Lee assumed office. But it is unclear whether the rate dropped because previously out-of-work residents had found jobs, or if they had simply left San Francisco, replaced by new residents who could more easily afford the city's interminably rising cost of living. And although unemployment had risen slightly faster in San Francisco than throughout California, the city's fluctuations had largely followed statewide trends. (By September 2015, unemployment stood at 3.6 percent.)
Soon, headlines and City Hall's policy discussions shifted to focus on San Francisco's housing-affordability crisis, and Lee's agenda shifted to match. In his 2014 State of the City Address, he said all San Franciscans shared the blame for "a crisis of our own making."
"For too long in San Francisco, we've tried to have it both ways," he said. "We want more money for affordable housing, but too often we oppose or scale back the very projects that generate those funds.
"We demand that developers build more housing affordable for working people and middle-income families, but then we slow them down at every step, severely limit where and what they can build, and then express surprise when new market-rate housing is affordable only to the wealthy."
30,000 new or rehabilitated homes
He went on to announce a "goal" of 30,000 "new and rehabilitated homes" by 2020.
That goal still factors prominently into his re-election agenda — but as we've written, his vision merely counted projects that were already planned for construction. In some cases, those projects' developers had applied for building permits long before Lee became mayor.
San Francisco's homeless population is growing, according to the most recent count, and today it stands at nearly 6,700. As part of Lee's long-term strategy to get people off the streets for good, he committed $3 million in September to expanding the city's Navigation Center — an experimental facility that has placed 60 people in homes since it opened in April. Lee said that City Hall is contracting with owners of various Single-Room Occupancy hotels to make 500 permanent homes available for the center's clients by the end of 2015.
Lee proposed the original version of Proposition A, which will create a new affordable-housing fund if voters approve the measure. But the Board of Supervisors pressured him to increase the fund, from $250 million to $310 million.
Most recently, Lee proposed a new policy that would let developers build taller housing than is currently allowed, in exchange for pricing 30 percent of those new homes for low- to moderate-income tenants. The so-called density bonuses would apply mostly in northern and southeastern neighborhoods.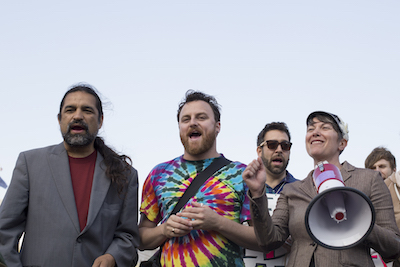 Lee's detractors have criticized him for favoring the business community, especially the technology sector. But Lee has said his decisions strengthened San Francisco's economy and increased tax revenues, allowing City Hall to hire additional police officers, firefighters and emergency workers, while avoiding budget cuts to local nonprofits.
'1-2-3 Replace Ed Lee'
Three mayoral candidates have teamed up to unseat Lee through the city's ranked-choice voting system. Through their "1-2-3 Replace Ed Lee" campaign, Amy Farrah Weiss, Francisco Herrera and Stuart Schuffman are encouraging voters to choose all three of them in any order.
Francisco Herrera is a musician and community activist whose political agenda includes building more affordable housing, saving San Francisco City College, and enrolling all residents in the city's health care program.
Herrera supports Proposition I, which, if approved by voters, would temporarily block the construction of nearly all new, permitted, market-rate housing in the Mission District. But as mayor, Herrera said he would try to expand the moratorium citywide.
He says he would also try to extend rent control to also apply to businesses. State law currently make this impossible. Challengers Reed Martin and Stuart Schuffman also support rent control for businesses.
Amy Farah Weiss is a community organizer who founded the nonprofit Neighbors Developing Divisadero. She worked on Supervisor John Avalos' 2011 mayoral campaign against Ed Lee.
Weiss supports Proposition F, which would limit short-term rental hosts to renting out their homes a maximum of 75 days per year.
Weiss wants to double the number of affordable housing units in the massive development being built on Treasure Island. A little more than a quarter of the homes are planned to be below-market rate, but she says she would push to raise that to 50 percent.
To address the city's persistent homelessness epidemic, Weiss suggests building inexpensive homes on slivers of unused public land throughout the city. About 1,500 such "remnant parcels" were identified in a 2009 study by architect and Unicersity of California, Berkeley professor Nicholas de Monchaux.
Out-of-the-box ideas
Weiss has a bevy of other outside-the-box ideas. She says that San Francisco should lead the country in building tiny, backyard cottages, which could be prioritized for former city residents displaced by evictions or rising rents, as well as teachers, nonprofit workers and others from economically vulnerable slices of the community. Weiss also says the city should become a leader in hemp research and product manufacturing. And she envisions a "Stewards of Peace" pilot program that would take guns away from a small group of officers to see if they could effectively police by relying solely on their "verbal and physical de-escalation training."
Stuart Schuffman is a blogger and travel writer, known by the moniker Broke-Ass Stuart. He has said openly that one of his original reasons for running was to document the process. But by late July, he had begun formulating a political platform.
Schuffman has a four-point plan to reduce the amount of human waste on the city's streets: create a new tax on citywide construction, using that money to build a fleet of sturdy, solar-powered public restrooms whose design discourages drug use or sleeping in them overnight; reopen all San Francisco BART and Muni station restrooms, which have been closed since the Sept. 11, 2001, terror attacks; increase funds to companies and city programs that provide public restrooms; and give businesses tax incentives to let people use their restrooms without buying anything.
In the next decade, affordable housing will be built in the Bayview-Hunters Point neighborhood, and Schuffman says he would give recently displaced San Franciscans first priority to move into those new homes.
Schuffman attributes the city's congested traffic largely to an influx of drivers looking to make a profit through Uber, Lyft and other ride-share companies, as well as private shuttles for tech workers. If elected, Schuffman said, he would try to regulate the local ride-share industry so that only Bay Area residents could drive for-hire in San Francisco. He also wants tech-worker shuttles to pay higher fees to use the city's bus stops, earmarking the revenue to help improve Muni.
Reed Martin is a designer who has worked at Apple, Expedia and other high-profile companies. He is the founder of Nextransit, and sits on the San Francisco Transit Riders Union's executive board.
Martin's agenda features many big ideas: Creating "Our City Fund," which would put 1 percent of the city budget — about $90 million — toward implementing ideas from local residents; inventing a San Francisco-only currency; creating a small-business incubation program, in which the city would share initial startup costs and revenue with the owner; converting ground-floor garages in residences into commercial space for new shops; making it illegal for building owners to leave their San Francisco properties vacant for extended periods; and expanding rent control to cover new residential buildings. As we've written previously, expanded rent control would be impossible without first amending or repealing state law.
Westside subway, clean energy, legalized prostitution
Martin also says that San Francisco should build its own water-recycling plant, as well as a new western subway line to alleviate traffic on Geary Boulevard and other major westside arteries.
A supporter of CleanPowerSF — the forthcoming municipal utility system that breaks Pacific Gas & Electric's monopoly on delivering electricity to city residents — Martin believes the program should be expanded to encourage installation of rooftop solar panels and wind turbines to make the city more energy resilient.
Kent Graham is a retired hospital administrator who boasts that, while he lacks experience in politics, he has an extensive management background. He has promised to serve only one term, to avoid the taint of quid-pro-quo politics involving colleagues, potential donors or even voters.
Graham says he has professional experience bringing "400 budgets in on time and at or under budget." As mayor, he says, he would reduce inefficiencies in government.
Most of Graham's policy positions aim to have tangible, immediate impacts on the lives of city residents — fixing potholes or eliminating traffic bottlenecks, for instance. But he has some larger ideas too: He would try to legalize and tax prostitution, giving City Hall a new revenue stream while freeing up police to focus on more serious crimes. (Schuffman said he, too, would support legalizing prostitution.)
Graham has also said that if elected he would reallocate some of his salary to hiring more social workers to help homeless people get off the streets. To help black residents get higher-paying jobs, he would ramp up workforce development programs.
Four others are running as write-in candidates: John Fitch, Daniel Kappler, Robert L. Jordan Jr. and Karla Gottschalk.
---
Photos: Mayor Ed Lee mixed with students during a visit to Presidio Middle School.
Three of Lee's challengers — Francisco Herrera, Stuart Schuffman and Amy Farah Weiss — held a 'Cakewalk' rally at the Civic Center.
Photos by Stella Sadikin /San Francisco Public Press