Federal officials are considering a proposal to allow a developer to tear down and rebuild a 20-year-old public housing complex in the Western Addition — a plan that does not address residents' demands for repairs to health and safety issues in the current structures.
McCormack Baron Salazar, a St. Louis-based developer, built Plaza East Apartments in 2001, replacing a distressed public housing development from the 1950s of the same name. The proposed project could add market-rate units and more than double the size of the complex.
Residents have complained for years to the city and the developer, which also manages the site, about a litany of problems including leaking pipes, rotting floors, electrical fires and pests. All of the tenants are low income, and more than half are Black.
The San Francisco Housing Authority has been aware of needed repairs at Plaza East since at least 2017. In November, the agency and Mayor London Breed took the first step in the demolition process by signing off on McCormack Baron Salazar's plan to tear down and rebuild the site.
The Housing Authority sent a demolition application to the U.S. Department of Housing and Urban Development for review in January. If HUD approves, it will mark the second time in roughly two decades that city and federal officials have authorized McCormack Baron Salazar to rebuild Plaza East.
In a letter to HUD, the developer acknowledged that Plaza East had "a large backlog of deferred maintenance," and argued that rebuilding would be the best way to improve living conditions.
Frustrated residents are asking why fixing their homes is not the top priority for the developer or the city.
"Nobody's been held accountable for this," said Queennandi Xsheba, a Plaza East resident who lived with a hole in her ceiling for months. She said she was still waiting for the property manager to address the mold and leaking pipes in her unit.
"We are living in substandard housing," Xsheba said.
Researchers who study public housing expressed surprise at the plan to raze and rebuild Plaza East.
"Never in my wildest dreams would I have imagined demolition in less than 20 years," said Ed Goetz, a professor of urban planning at the University of Minnesota.
A $320 million plan
McCormack Baron Salazar built the current version of Plaza East for $43.2 million, including $20.2 million in federal funds. A consultant hired by the developer, Creative Housing Solutions, said rehabilitating those structures would cost $42.2 million.
The demolition application under review at HUD projects a cost of $320 million to knock down and rebuild Plaza East. Neither the Housing Authority nor McCormack Baron Salazar would provide a breakdown of that estimate.
The proposal reviewed by the Public Press outlines a plan to replace the existing 193 units of public housing and add market-rate and affordable apartments, increasing the total number of units to between 450 and 550 on the 3.6-acre site. Such a mixed-income community would generate more revenue for the developer.
Adhi Nagraj, senior vice president and director of development for McCormack Baron Salazar, said the application sent to HUD includes early-stage plans for the site. He emphasized that final development decisions would come only after further communication with residents and the city.
"What the new Plaza East community looks like is really going to be based on discussions that have not happened yet," Nagraj said.
Nagraj said rehabilitation alone would not address structural problems, including an undersized sewer system. "There are some expensive infrastructure challenges that a simple rehab wouldn't be able to address," he said.
The consultant, Creative Housing Solutions, found many issues at the property, among them an outdated fire alarm system and a site design that does not meet accessibility standards. The buildings also lack proper ventilation, creating health hazards.
"This causes moisture to build up in the dwelling units, damaging finishes and promoting mold growth," the firm said in its report.
The Housing Authority and McCormack Baron Salazar say the project has not received enough federal funding to keep up with maintenance and repairs.
"The buildings have deteriorated substantially due to the lack of funding," said Tonia Lediju, the executive director of the Housing Authority.
Federal funding for major repairs in public housing declined 53% from 2000 to 2016, according to the Center on Budget and Policy Priorities, a think tank that analyzes the effects of federal and state budgets.
"The public housing program is never fully funded," said Deborah Thrope, deputy director of the National Housing Law Project, an advocacy organization for low-income renters."You're getting the minimum funding you need."
If HUD approves the demolition application, McCormack Baron Salazar would be able to leverage new private and public investment to cover the costs of redevelopment. Plaza East would also be eligible to access federal subsidies from a program that ties housing assistance directly to a property through contracts with a private landlord, which, Thrope said, is a more stable source of funding.
"The key for us going forward is changing the source and the amount of money flowing to the property every year," Nagraj said.
Sewage, mold and pests
Plaza East residents say conditions at the complex have deteriorated sharply over the past five years.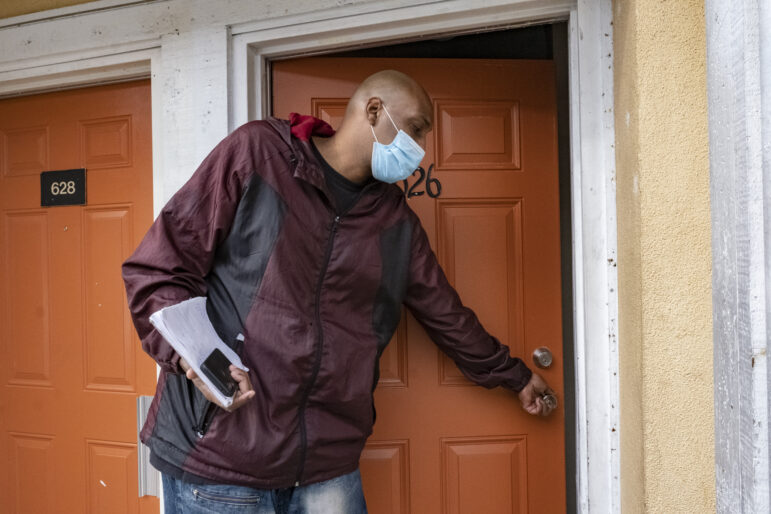 At Dennis Williams' apartment, sewage bubbles up along the baseboards, mold coats the walls and the front door does not lock properly.
In October, Williams filed a complaint with the Department of Building Inspection. The agency found that conditions in his unit violated the city's housing code, citing water damage and underlying plumbing issues, windows and doors in need of replacement, pests and other health and safety issues.
Williams is staying in a temporary unit on site, awaiting repairs to his home. He has been helping other Plaza East tenants document problems for city inspectors, in an effort to get the property manager to make immediate repairs.
"The developers look like heroes after a while, saying 'We'll do it, we have the money to redevelop,'" Williams said.
Kennesha Herron, who has lived in Plaza East since 2011, has a large hole in her bathroom floor. She shares the apartment with her brother and three children. Herron said she has filed numerous complaints with the property manager, but the problem has yet to be resolved.
"Negligence has been apparent the whole time," Herron said. "It's just sick. How do you let people live like that?"
Developers often budget for major repairs 20 years after construction, said Susan Popkin, who studies public housing at the Urban Institute, a policy research center in Washington, D.C. Those repairs could include upgrades to roofs, appliances and building exteriors.
"I'm not surprised it needs big investment," she said. "I do find it stunning that something they invested so much in not all that long ago is in such bad condition now."
The demolition application to HUD does not discuss how the developer or the city will address conditions at the complex in the immediate future. Nagraj said McCormack Baron Salazar asked the city and the Housing Authority to try to secure funding for improvements at Plaza East.
The Mayor's Office of Housing and Community Development is preparing a loan application to its Citywide Affordable Housing Loan Committee to "fund needed repairs at Plaza East," Max Barnes, the agency's communications manager, wrote in an email.
"It's just really unconscionable that this city does not address this more proactively," said Supervisor Dean Preston, whose district includes the development. "The problem is that city government does not approach it like it's an emergency."
A unanimous vote
McCormack Baron Salazar presented its case for demolition at a Housing Authority Board of Commissioners meeting in November. Two of the seven board seats are vacant, awaiting appointments from the mayor.
At that meeting, Commissioner Luenna Kim expressed reservations about the plan: "I'm concerned about having this conversation 20 years from now. What is going to be different next time around?"
Another commissioner noted that McCormack Baron Salazar had not presented a plan to address urgent maintenance issues prior to redevelopment.
"What happens between now and then?" asked Joaquin Torres, who is the commission's president and the county's Assessor-Recorder.
Despite those concerns, the board voted unanimously to approve the demolition proposal.
Before the meeting, Breed, who grew up in the original Plaza East complex, wrote a letter to HUD in support of the plan.
"I know first-hand the challenges these older public housing units present," she wrote. "Whether it be poor construction, broken utilities, or a property layout which makes it difficult for residents to live in a safe thriving community, significant improvements to Plaza East are long overdue."
Breed's office did not respond to requests for comment about her endorsement of the project.
A first for HUD?
The Plaza East redevelopment two decades ago was part of a HUD-led effort in the 1990's known as HOPE VI, designed to rebuild the nation's most distressed public housing projects. The federal program championed partnerships among housing authorities, nonprofits, private developers and investors to fund new construction.
"It was a big experiment when it started," said Popkin, the Urban Institute researcher. "Because when it started, public housing was viewed as such a total failure."
HUD approval of the latest demolition plans would make Plaza East the first HOPE VI site in the nation to be torn down.
"It doesn't speak well to how it's been taken care of or how it was built," Popkin said.
Four additional HOPE VI sites in San Francisco have undergone significant rehabilitation or will soon. None are candidates for demolition.
"It's just outrageous that folks are living with the conditions they're living in at Plaza East," said Preston, the district supervisor. "City government for so long has failed to intervene on their behalf."
Frank Bass, Ande Richards and Imran Ali Malik contributed reporting. Richards and Malik are research assistants at UC Berkeley's Investigative Reporting Program. This story was produced with the support of the Investigative Editing Corps.