Updated April 18: Here's the redacted Mueller Report and Attorney General William Barr's remarks upon its public release. The Justice Department did not — as expected — send the report to the Public Press in response to our Freedom of Information Act request.
For people with disabilities, the Justice Department offered instructions on obtaining alternate formats of the special counsel's report: "The Department recognizes that these documents may not yet be in an accessible format. If you have a disability and the format of any material on the site interferes with your ability to access some information, please email the Department of Justice webmaster. To enable us to respond in a manner that will be of most help to you, please indicate the nature of the accessibility problem, your preferred format (electronic format ASCII, etc., standard print, large print, etc.), the web address of the requested material, and your full contact information, so we can reach you if questions arise while fulfilling your request."
Late on March 22 I filed a federal Freedom of Information Act request for the complete report by Special Counsel Robert S. Mueller III into whether Donald Trump and his presidential campaign had participated in Russian efforts to tilt the 2016 election and whether the president later obstructed justice through actions and statements that seemed intended to derail the two-year investigation. The night-owl request came hours after word leaked that Mueller had submitted his report to Attorney General William Barr. On March 24, Barr sent Congress his widely criticized four-page summary of Mueller's findings, which reportedly came to almost 400 pages.
As the New York Times reported Wednesday, some of Mueller's investigators have lifted the cone of silence and told associates that the attorney general "failed to adequately portray the findings of their inquiry and that they were more troubling for President Trump than Mr. Barr indicated, according to government officials and others familiar with their simmering frustrations."
The Justice Department says it will release the report in due time, because of the "unusual circumstances." It's expected to be heavily redacted — to protect intelligence sources and methods, ongoing investigations, grand jury proceedings and information that would "unduly infringe on the personal privacy and reputational interests of peripheral third parties," Barr wrote in his letter to Congress.
The government says the "basic function of the Freedom of Information Act is to "ensure informed citizens, vital to the functioning of a democratic society." The Public Press will post the Mueller report when it lands, possibly by mid-April. In the meantime, click the letter to read the Justice Department's reply to my request.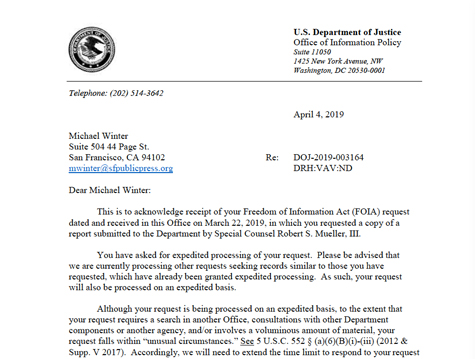 ---