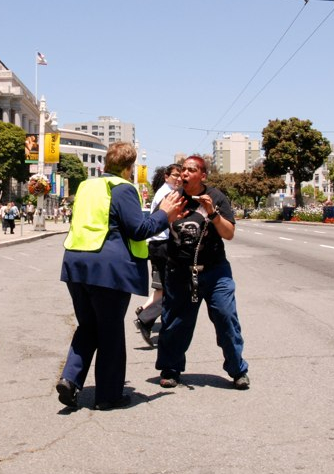 As hundreds gathered in front of the Earl Warren Building on Tuesday waiting to hear the California Supreme Court's ruling that upheld Proposition 8, a war of words erupted and some even turned into screaming battles that reinforced the deeply divided ideologies about same-sex marriage.
The scene of people arguing amidst the flurry of pro and anti-gay marriage banners illustrates the chasm among Californians that has played out since same-sex marriage took center stage in 2000, when voters passed Proposition 22. This was the original measure that banned this type of union, but was later ruled unconstitutional by the California Supreme Court in May 2008 – which lead to Prop. 8's inclusion on the 2008 ballot.
The Public Policy Institute of California found that more voters opposed same-sex marriage back when Prop. 22 passed – 38 percent in favor and 55 percent opposed. After Mayor Gavin Newsom allowed same-sex couples to get hitched at City Hall in 2004, attitudes shifted in 2005, splitting people in the middle with 46 percent supporting and the same number opposing. The numbers have remained relatively unchanged as the most recent institute survey shows 47 percent approve, while 48 percent oppose same-sex marriage showing just how deeply divided the two groups continue to be.
A March 2009 Field Poll revealed that among the general California population, 49 percent approved of the idea of same-sex marriage, while 44 percent disapproved – a slight drop from a May 2008 Field Poll, which pegged the number of supporters at 51 percent.
George Popko, a biology student from American River College in Sacramento, stood in front of the Warren Building Tuesday holding a pro-Prop. 8 banner and engaging in debates with at least three gay marriage supporters who initiated the confrontations. His school was the first college in the state to endorse Prop. 8 last year.
"What I've seen from the opposition, as you can tell with this gentleman here, I see a lot of oppression," he said, as a familiar face from the opposite side stood right in front of him.
The face was that of "Sister Maudlin Mascara" — a gay rights activist and member of a local group called the Sisters of Perpetual Indulgence — who was involved in a similar encounter with Popko during a past Civic Center Plaza rally on the issue. What ensued was a 10-minute heated exchange.
"You went to the ballot to stop a minority of individuals from having the right to have equal rights," Mascara fired back at Popko. "If I choose to engage in homosexual behavior, how does that make me a bad person?"
"They're oppressing those with what I would call the traditional values: This is what America was founded on — freedom of speech, freedom of religion, First Amendment [rights]," said Popko.
After the early morning gathering at the Warren Building, anti-Prop. 8 protestors moved down the street to Van Ness and Grove to engage in civil disobedience by sitting in the streets. Eventually about 160 of them were arrested.


Among the arrested was Dianna Gewing-Mullins who "married" her wife in a commitment ceremony 15 years ago and two other times, including the occasion when Newsom opened up City Hall for same-sex marriages in 2004.
"We're fed up with [this] and it's time for change," Mullins said. She is standing in the street and getting arrested, she added, for her wife and their four adopted children – two of them stood in the streets with Mullins before she was arrested.
"We want changes for our little sister – she's 10," said Mullins's 20-year-old daughter Krystle, tears streamed down her face. "We have a lot of friends in school whose parents wouldn't let them come over to our house because of our parents.
"We need to do something for her (the sister)," she added. "I don't want her to go through the same thing that we had to go through."
While Mullins has been steadfastly fighting for equal marriage rights for 15 years and says she intends to forge on, others who once agreed with her are having a change of heart.
Maria, 31, a San Francisco resident and recently converted Christian who would not permit use of her full name because of the nature of her work, said "the old me would have supported gay marriage" and stood against Prop. 8.
Six months ago she started becoming open to the teachings of the bible.
"I used to be very liberal," said Maria. "Something just made me decide to start reading the bible and start living my life a certain way for myself, not for anyone else, but just for myself."
If you go by the bible, she said, marriage is supposed to be between a man and woman.
"I'm leaning towards that," Maria said.
She also said she feels torn and refrained from saying she is completely against the idea of same-sex marriage, adding that she doesn't think that homosexuality itself is wrong.


The recent survey by the Public Policy Institute of California found that staunch supporters of Prop. 8 had strong ties to religion. The findings show that evangelicals were most likely to support Prop. 8 at 85 percent, along with 60 percent of Catholics and 66 percent of Protestants. Meanwhile, the survey revealed that those with no religion very much opposed the measure with 79 percent voting against it.
But anti-Prop. 8 supporters like air force veteran Peter Fiske, who knew slain San Francisco Supervisor Harvey Milk back in the 1970s, said he refuses to let anti-gay marriage groups have the last word.
"We'll put it on the ballot every two years until we win," said Fiske. "We'll never give up."

On the scene:
Listen to a heated debate between pro and anti-gay marriage supporters
Watch video of clergy protest following the court's decision
Prop. 8 writing, multimedia team: Christi Morales (plus audio), Michael Pistorio, Kevin Stark, Stephen Robert Morse, Monica Jensen (video), Vivian Morales (photos).

---