This article is adapted from an episode of our podcast "Civic." Click the audio player below to hear the full story. 
The AIDS Memorial Quilt was unfurled recently in San Francisco's Golden Gate Park for its largest display in a decade, marking the start of a campaign to educate the public about a disease that, since 1981, has infected 1.2 million people nationwide. 
While new HIV infections in the United States have been in decline, the disease continues to take a disproportionate toll on racial and ethnic minorities, men who identify as gay or bisexual, and other men who have sex with men. The highest rates of new infections and numbers of untreated people are found in the South.
Organizers estimated that 20,000 people visited the San Francisco quilt display June 11 and 12. This fall, sections of the quilt will be taken on a tour of the South for "large displays in city centers, as well as smaller displays in rural, non-metro areas," said Dafina Ward, executive director of the Southern AIDS Coalition. New names will be added to the 35-year-old quilt during the tour, she said.
"There will be panel-making workshops all over the south," she said. "It'll be an opportunity to display quilts that feature members of the communities where we're touring, particularly Black and brown folks who we know are not as strongly represented in the quilt as we would like for them to be."
She believes the southern tour could provide healing for those dealing with all kinds of trauma.
"I think the quilt can even hold a different type of significance for people as we're dealing with COVID and all the other things that we are really fighting through together," she said. "So, I think it'll be a space for grieving and I'm hoping it'll also be a space for healing."
Explore images by clicking through the viewer above. All photos by Yesica Prado/San Francisco Public Press.
Need for resources in wake of pandemic
The COVID-19 pandemic forced health care providers across the country to focus on battling that disease, shifting resources away from other public health priorities such as HIV care.
A recent "Civic" episode — "While SF Fought COVID, HIV Prevention Stalled" — explored how the need for directing public health attention to COVID over the last two years has led to a rise in new and untreated HIV infections in San Francisco. 
The decline in HIV care and prevention was especially pronounced in the South, where Ward said HIV testing fell by half during the pandemic.
"We surveyed over 100 community-based organizations in the South that are serving sexual and gender minorities, or folks living with HIV, and 96% of them reported that their service delivery was impacted by COVID," she said.
The organizations also saw huge increases in need for mental health care and food services, Ward said.
"Wherever a person comes and knocks on the door for help, they should be able to get access to everything that they need," she said. "And that approach is called the 'no wrong door' approach. I think that has to be the standard and best practice for us in HIV."
During opening remarks at the unfurling in San Francisco, Ward spoke about how the quilt brought the unacknowledged HIV crisis to Washington D.C. in 1987, and how it can play a role in bringing attention to HIV and AIDS again today.
"So, what we hope to do in the South, to bring our dead to the statehouse lawns — where they continue to violate the rights of communities, to ignore the injustice by refusing to expand Medicaid, criminalizing people for living with HIV, punishing educators for saying the word gay," Ward said.
She invited people from across the country to join the effort. "The Southern AIDS Coalition is regionally based, but we are nationally needed," she said. "We will not end the HIV epidemic in this country if we don't end the southern HIV epidemic."
Harold Phillips, director of the White House Office of National AIDS Policy, applauded plans to take the quilt to the places it's most needed. He told "Civic" that the Biden administration is committed to funding HIV programs, including PrEP — the commonly used term for pre-exposure prophylaxis — to reduce new infections.
"President Biden, in the fiscal year '23 budget request, has called for a national PrEP program, especially for those uninsured and underinsured," he said. (Learn more about the administration's AIDS policy plans in our Q-and-A with Phillips.)
Adding the last panel
Cleve Jones, one of the AIDS quilt project founders, spoke about the anger and rage he felt in the 1980s, and why it was so important to bring the quilt to Washington in 1987 during the March on Washington for Lesbian and Gay Rights.
"My heart was full of anger, hate, fear and despair," he said. "All my friends were dying. The government did nothing. Our churches kicked us out. Our families abandoned us. It seemed that the world was totally unwilling to look at what was going to happen."
Jones said the quilt helped change attitudes, and the idealism that inspired it saved his life.
"When I was dying of AIDS, ACT UP stormed the NIH, confronted the FDA and got the medications released that saved my life," he said. "So, when I tell you that the movement saved my life, that's not rhetoric. It's not hyperbole, it's the truth. It saved my life. It can save your life. It can save this country. It can save this planet."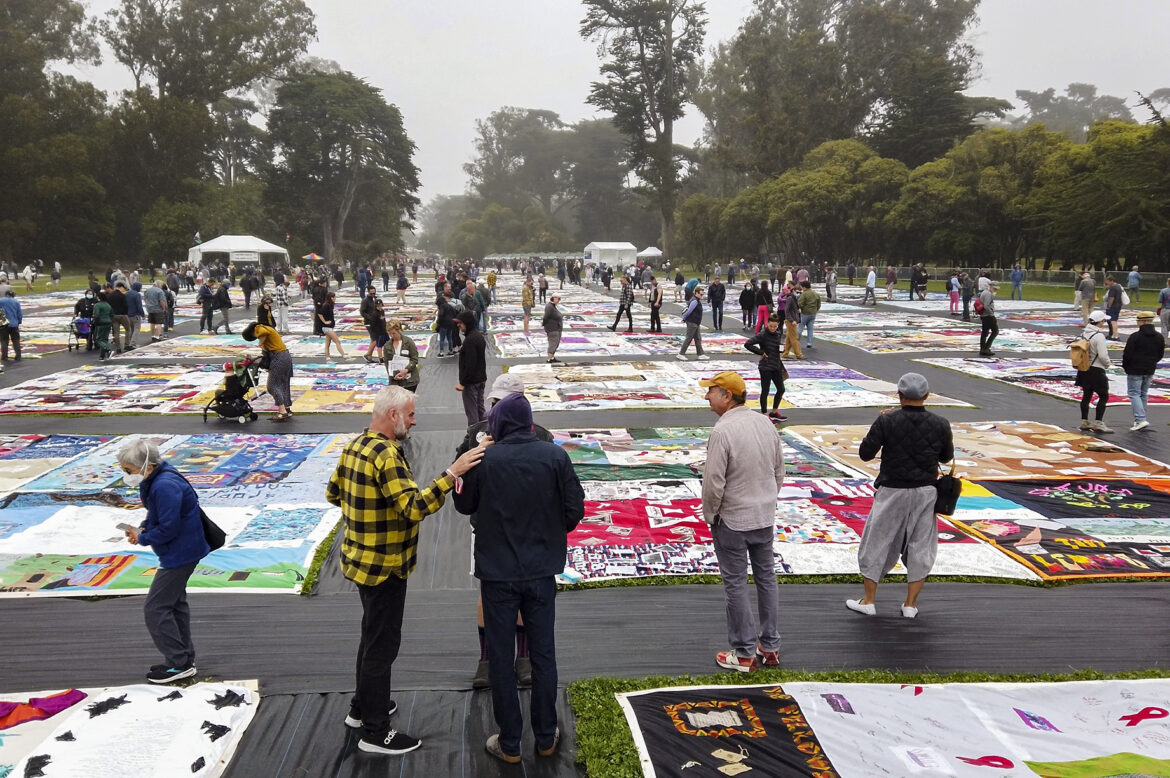 The quilt was born in a storefront in San Francisco's Castro District in 1986 and was moved to a warehouse in Atlanta in 2000, before returning to the Bay Area in 2020. Learn more about the quilt's history and its new home in San Leandro in the "Civic" episode "Pandemic and Protest," from June 2020.
Kevin Herglotz, CEO of the AIDS Memorial Grove, which manages the quilt, said the plan is to build a home for the quilt as part of a center for health and social justice in San Francisco, possibly near the AIDS Memorial Grove in Golden Gate Park.
"This quilt has to be protected," he said. "It has to be conserved and preserved and made available to the public."
The quilt is made up of more than 50,000 panels — each a personal tribute to someone who died of AIDS — with hundreds more added every year.
"We want to see a day when there's no more quilt being made," Herglotz said. "When we have the last one, there's a panel that's been made that hangs in the warehouse that says 'the last one.' We want to put that one in the quilt. When it's the last one."