Point-in-Time counts rely on volunteers' perceptions of homelessness. As such, the surveys are prone to error.
O n a chilly night in late January, more than 80 volunteers departed the basketball court outside Dr. George Washington Carver Elementary School in the Bayview carrying clipboards and maps. Our mission was to help tally the people living on the streets in southeast San Francisco for the biennial homelessness Point-in-Time Count.
The city had been carved up into four districts — Bayview, Civic Center, Mission and Sunset — with 160 routes. Most had to be covered by driving, but there were 30 walkable areas in the Mission and Civic Center, where most of the city's homeless live, either in shelters or outdoors.
All routes had to be covered between 8 p.m. and midnight. The U.S. Department of Housing and Urban Development requires that cities count their homeless populations every two years to receive annual federal funding for services. These numbers determine and shape almost everything dealing with homelessness.
Clear Task, Strict Instructions
Before hitting the road, we underwent a 45-minute training on how to complete our paper "street tally sheet." The task was clear and simple: Count people sleeping outdoors, note all tents and record vehicles that are or appear to be inhabited.
The instructions were strict: Keep a safe distance. Do not interact with anyone on the street. Do not flash lights into cars and tents. Do not spread information on social media. No pictures.
If you spot a homeless family, call the city Department of Homelessness and Supportive Housing. Be prepared to tell a special team the location, license plate number and details on how to find the family. Someone would come and offer them shelter space reserved for families. Individuals would have to wait. On any given night, the shelter wait list tops 1,000 people.
And last, try to return before 11:30 p.m. Do not stay out past midnight.
The Bayview district had been divided into 28 numbered tracts for teams to scout. Besides Bayview, neighborhoods included Excelsior, Crocker Amazon, Visitacion Valley and Sunnydale. Our team of three was the last to leave Carver Elementary. Deirdre Donovan was the designated driver, Christian Torres was the navigator and I recorded the tally.
Donovan is senior information technology analyst for the Department of Homelessness and Supportive Housing. She provides tech support for the central database, the Online Navigation and Entry System, known as ONE, which is shared with the city's homeless services and nonprofit providers receiving federal or local funding.
Personal Experience
Torres is a photographer from the Central Valley and has been living in a Ford E-150 cargo van for almost two years. He moved to the Bay Area from the small town of Sanger, near Fresno. Torres came searching for creative job opportunities — scarce in the valley. He is my partner in work and life.
I met Torres a year ago on the street — a small twist of fate. I was living in my 23-foot Tioga RV at the Berkeley Marina, shuffling parking spots along with other vehicle dwellers, while attending UC Berkeley. One night, we parked next to each other. We were both 25 years old. We loved photography and took a leap of faith to live humbly inside our vehicles for the sake of our dreams.
Tonight, I'm in the back seat of a 2005 silver Toyota Prius, tally sheets in hand. The survey lists five categories: gender, age, family, dwelling or vehicle type, and location (park or beach).
Cruising slowly down Mission Street, we peered out our windows. Gazing to our right, we spotted our first individuals: a black man holding overflowing plastic bags and a backpack as he walked out of a liquor store, and, nearby, another man, bent over, gathering belongings.
Sitting in the darkness, I filled in the bubbles on the form: "male," "age 25+," and "street." I leave the "family" bubble empty; each man appeared to be alone. I repeated the answers to my teammates. Neither disagreed.
What the Survey Records
Begun in 2005, the Point-in-Time counts are "snapshots" of a city's homeless population, relying on volunteers' perceptions of homelessness. As such, the surveys are prone to error. But volunteers guess about who "looks the part" of being homeless or in other distress, and count as best they can.
The survey also fails to ask for more detailed and useful information, such as specific age groups or ethnicities. It does not provide a full picture of the most vulnerable growing populations: infants and the elderly. The categories noted are "under 18," "18-24," "25+" and "U," for unsure — when a person is unidentifiable, such as when bundled up in a blanket or under a vehicle.
Although the street tally has evolved from the original methodology, which asked seemingly irrelevant questions about whether someone had a shopping cart or a pet, the data collection remains insufficient.
To gather more accurate information, the count is followed with 1,000 in-person surveys over two weeks. The PIT contractor, Applied Survey Research, has found that "homeless respondents are more likely to be honest about their lives with homeless survey researchers." The research team recruits and trains homeless people to work as enumerators and interviewers. The results are compiled during the next six months and become the recorded profile of the city's homeless population.
The 2017 Numbers
Counting individuals in hiding is an undercount at best. But it's necessary and better than not counting.
In 2017, the San Francisco PIT count was 7,499 people, just 40 fewer than in 2015. Though the number hardly changed, the city received $5 million more in federal funds, boosting its grant to $32 million.
The 2017 count also revealed San Francisco had 882 homeless individuals per 100,000 residents, 25 percent higher than the national average of 664. That January night, 58 percent were found sleeping on the streets, unsheltered.
Supervisorial District 10, which covers the Bayview, had the second-highest concentration, with 1,275 homeless people. District Six, in the heart of downtown and including the Tenderloin, recorded 3,680 people.
More than two thirds of the homeless population (69 percent) had been San Francisco residents when they became homeless, and 21 percent had come from other California cities. Only 10 percent had moved here from out of state.
Across the United States, 553,742 people experienced homelessness in 2017, the first increase in seven years. As the most populous state, with more than 39 million people, California is also first in the nation with its homeless population of 134,278 individuals, followed by New York, with 89,503, and Florida, with 32,190 people who live precariously.
Lost Amid Cul-de-Sacs
With eyes fixed on the road, Donovan offered her insights on who to look for on the sidewalks.
"OK, so where I've seen people in public areas … like at the library near my house," she said. "There's two people that stay there on a regular basis. They curl up in the doorway because I think there's heat near the door."
But at 9 p.m., businesses were still open, and no one was seeking warmth in doorways along Mission Street.
After we left the commercial streets, our hunt did not get any easier. The panorama changed to a car-congested residential neighborhood, and on a wrong turn, we ended up lost. Many streets on our map were narrow cul-de-sacs. It's a side of San Francisco none of us had seen.
We drove along South Hill Boulevard, in the Crocker Amazon neighborhood on the edge of our map, peeking at the vehicles parked along a curve next to a grassy slope.
"Possibly that van?" said Torres, pointing across the street.
"You see something on that van?" Donovan asked, gazing to her left.
"There was a rack on there, and it looked like it had a solar panel," said Torres.
"One van," I repeat, filling a single bubble on the sheet under "dwelling or vehicle type." Gender and age were left blank, as no inhabitants were visible. The guidelines assume two people were inside, even if there was a whole family or one person. We cannot double-check, because no one is allowed to get close. When counting vehicles, the final data have room for a lot of error.
Returning to a Safe Spot
After three hours of driving up and down hills, diligently zigzagging through the street maze, we returned to the Carver Elementary deployment center a few minutes before midnight. The last team back. I gazed down at an almost-full tally sheet. Our team had identified four individuals and 19 "dwellings" — 18 vehicles and one tent.
Exiting the school grounds, Donovan looked across the empty basketball court and questioned whether Torres' van had been counted by another team. It had been parked on the school grounds all along, just screaming that someone lived in there; blankets covered the windows. He and I just shrugged. No one knew.
As everyone else returned to their homes, we drove past midnight to the Portola neighborhood — our safe parking spot in San Francisco, along the University Mound Reservoir. Staring through the foggy passenger window of Torres' van, passing a line of cars and RVs, I wondered if the teams had counted all of our neighbors, camouflaged inside their SUVs, commercial vehicles, or even sleeping inside a small car. Ultimately, the count is not certain. But we have a starting point.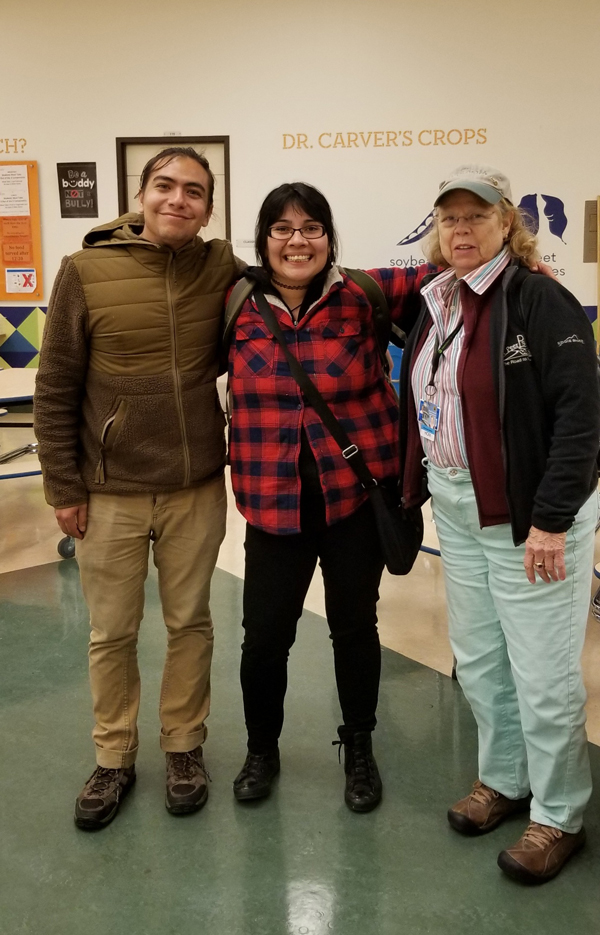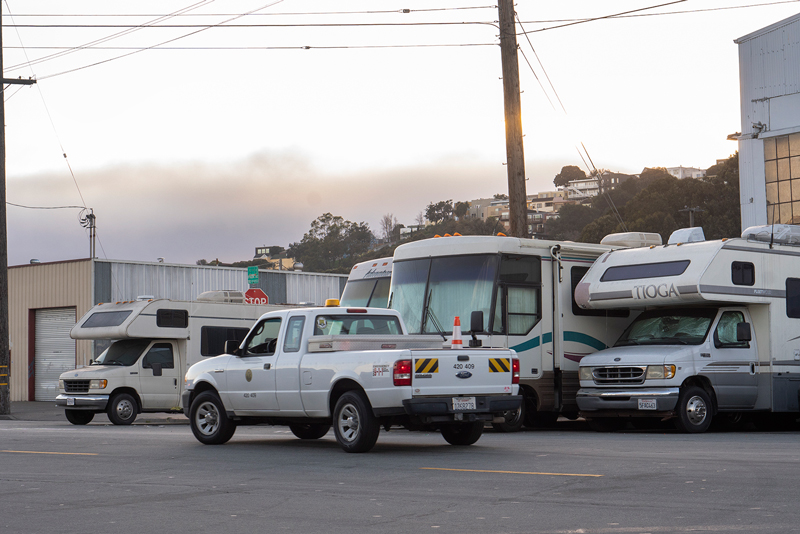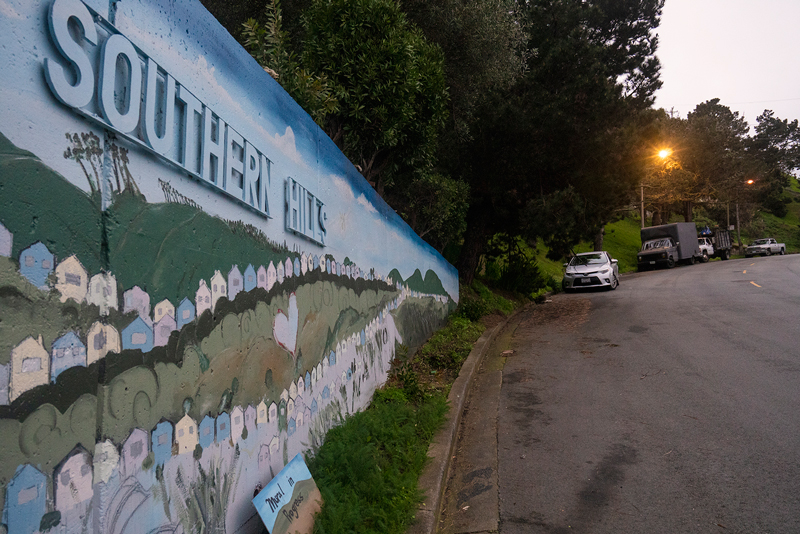 ---
This article also appears in the spring 2019 print edition of the Public Press.
Update: After this article went to press, the Berkeley City Council endorsed a ban on overnight parking by RVs and "house cars" on city streets, including at the Berkeley Marina, where Yesica Prado and Christian Torres have been living in their vehicles. Berkeley police have counted about 200 RVs citywide, the news site Berkeleyside wrote in its coverage of the Feb. 28 meeting. Prado was among those testifying against the ban.
Prado wrote the following for the Public Press on March 6:
On Feb. 28, the City of Berkeley voted to ban vehicle dwellers from public streets overnight. Before approving the measure on its first reading, council members heard from 78 people who spoke for two hours, calling for action to clean Berkeley streets and grant vehicular residents a place to go. Despite the residents' calls for humane treatment, the council voted poor people out of the city.
The ordinance, which faces a final vote in late March, makes it unlawful to park any heavy-duty commercial vehicle on any street between 2 a.m. and 5 a.m. "No house car or camper for human habitation will be allowed within the City limits," Ordinance No. 7,643-N.S. (BMC Section 14.40.120) reads. A house car "does not need to contain any plumbing or cooking facilities."
To ease the blow, the city proposes spending $362,000 to hire one outreach worker for RVs and to allocate one-time payments for repairs and registration fees for 100 vehicles, roughly half the police count. Each owner would receive $3,000. How that would happen and who would be eligible hasn't been worked out. But what many of the residents need most is a new vehicle, not just repairs. The money is a Band Aid on a festering wound. It does not solve anyone's housing situation. It simply says, "Out of sight, out of mind."
Now, every vehicular resident has become an illegal resident of Berkeley, an oxymoron for a city that prides itself as a "sanctuary city." A sanctuary for whom?
I grew up as an undocumented immigrant for 12 years, finally obtaining my green card in 2016. My houseless living situation has turned me into an illegal resident once again.
On March 26, the City Council will cast a final vote after a second reading of the ordinance. If passed, the overnight parking enforcement could start 30 days later. Berkeley would be able to cite and tow vehicles as long as it provides a "notice and referral to shelters."
Berkeley residents are planning to march from People's Park to City Hall on March 21 at 4 p.m. and hold a vigil for vehicular residents without shelter.