The number of ride-hailing accidents is rising as the services boom. But the industry has hidden safety records — with help from its chief regulator.
1. Footnote 42
Around midnight on March 13, 2016, Robert Robinson and his wife, Ruth, used the Uber app to hail a ride to their home at the edge of Nob Hill. Uber driver Baher Tamim saw their request flash onto the screen of his device and swiftly picked them up in his white 2015 Toyota Corolla. Nestling into their seats, the Robinsons could not know Tamim already had received more than two-dozen customer complaints about his driving, had been convicted of tailgating and was involved in at least one collision.
Tamim drove his passengers east on Post Street, a one-way road controlled by 25 mph signs. An earlier rain had stopped and the road was well lit. Ahead of them on Post, Jordan Medina had brought his silver 2014 Lexus CT to a stop for the light at Larkin Street. From his front seat in the rapidly approaching Uber, Robert Robinson saw the stationary car and started yelling for Tamim to stop, to no avail. Tamim crashed into the back of Medina's car at 45 mph, according to court records, crumpling the rear and right side of the Lexus. Tamim's car was declared a total loss.
Although Medina was wearing his seat belt, the force of the impact slammed his head against his car's interior. After the accident, he would later testify, he was in a concussive state for more than five months, in so much pain he could not focus, and eventually required surgery for herniated discs in his neck. The Robinsons also were injured, according to a lawsuit they and Medina later filed against Uber and Tamim that forced the company to reveal his driving record.
In December, Uber released a long-awaited safety report disclosing numerous sexual assaults and accidents and portrayed itself as a leader in corporate transparency, declaring, "People have a right to know about the safety records of the companies and organizations they rely on every day." However, other studies indicate that Uber's report did not include thousands of accidents, some of which allegedly caused serious injury, like the Tamim crash. Lyft, its smaller rival, has yet to release its own promised safety report.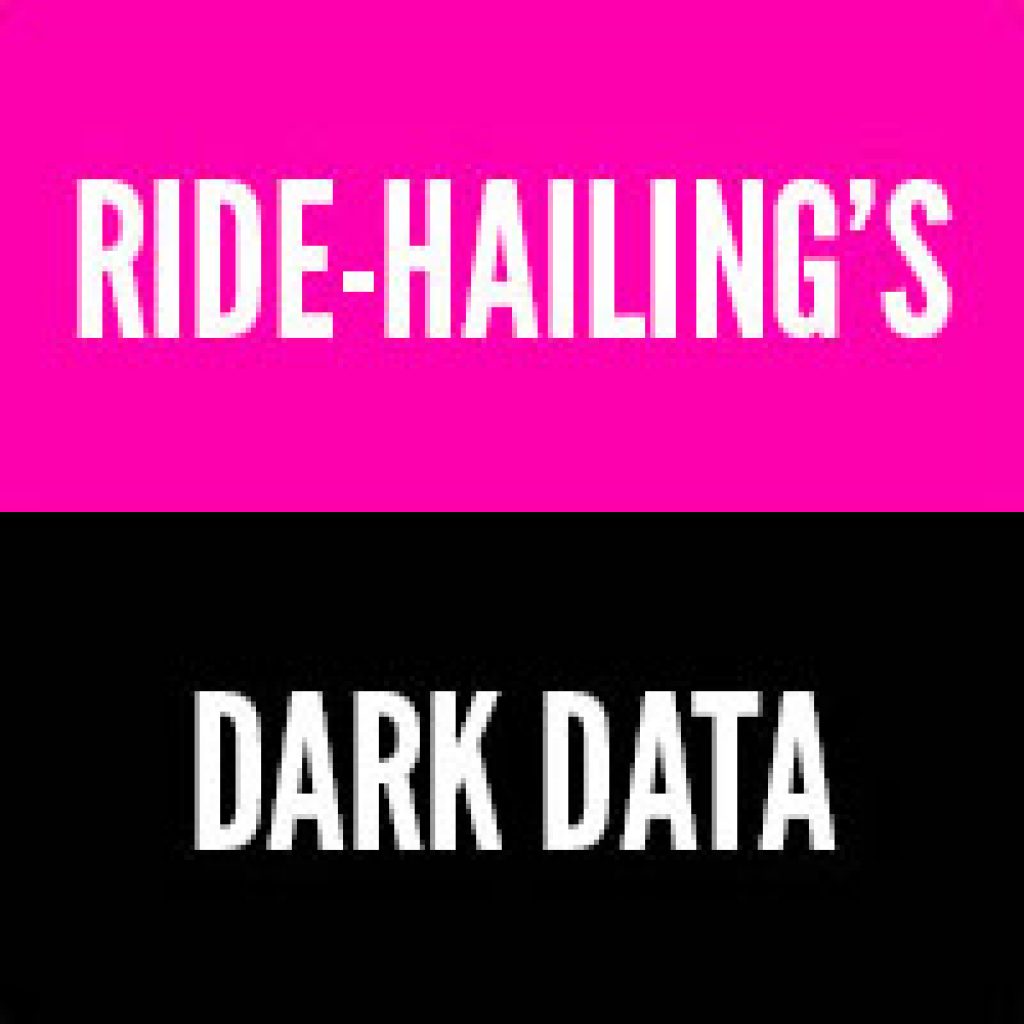 From their inception, both Uber and Lyft have fought fiercely to keep their safety records secret in court cases and before their primary state regulator, the California Public Utilities Commission.
Since 2013, the public utilities commission has required ride-hailing companies to file annual reports containing detailed safety and traffic data statewide. Adopted after intense industry lobbying, the commission's rules contain an obscure confidentiality clause — a single sentence inserted without public notice as footnote No. 42 — that has prohibited release of the reports, even safety information that has nothing to do with trade secrets or personal privacy, to anyone.
Thanks to the industry's secrecy efforts, and the obliging commission, a full picture of ride-hailing's track record and its impact on safety is difficult to draw. But a months-long Public Press examination of court records in San Francisco and previously unreported documents at multiple city and state agencies reveals a range of safety issues and efforts to avoid public scrutiny:
More than 150 lawsuits filed against Uber in San Francisco Superior Court since 2013 claim that drivers wrongfully injured other parties in vehicular incidents, with repeated allegations that Uber drivers were poorly trained, distracted by their apps and driving dangerously. Uber and the drivers denied the allegations.
Uber fights such lawsuits with what plaintiffs' lawyers say are demands for unusual secrecy, though at least three judges in California have rejected the company's claims that evidence must remain confidential to protect "trade secrets," finding in one instance that they were "seriously misleading."
Of 47 traffic fatalities in San Francisco from 2018 through August 2019, seven involved ride-hailing vehicles, according to the most complete tally to date compiled from San Francisco Police Department records.
The police department's spot enforcement operations have found three years in a row that more than half of the traffic citations issued in busy downtown areas went to ride-hailing drivers for violations such as blocking bike lanes.
Insurance companies incurred $185.6 million in payouts from 9,388 claims related to traffic accidents involving ride-hailing vehicles across California for the years 2014 through 2016, the most recent data available, according to a 2017 joint study by the commission and the California Department of Insurance.
The number of accidents reported by the ride-hailing firms to the commission totaled more than 1,100 per month statewide as of August 2015, with incidents ranging from drivers crashing into other vehicles to running over customers' feet, according to a 2015 commission PowerPoint presentation that offers a glimpse of the secret annual reports submitted by the firms. More complete and recent data has been withheld from public view.
Those confidential annual reports contain detailed information about accidents in California that is far more comprehensive than Uber's recent public safety report, which included only fatal collisions.
But even while the agency kept that data secret for the past six years pursuant to the confidentiality clause in footnote 42, it conducted no other studies of Uber and Lyft's driver training programs, the adequacy of their programs to screen driving records, and whether there are patterns of accidents that could be addressed through safety measures, according to the agency's responses to requests made under the California Public Records Act.
The commission had prepared only the PowerPoint summary of some accident data and the joint study of insurance claims, according to Garrett Toy, an attorney in the commission's legal department.
The commission had produced no other studies of accidents involving transportation network companies, as the firms are officially known, Toy wrote in an email on June 10, 2019.
"We have no other reports regarding TNCs and accidents," Toy wrote. "We have only had one staff member assigned to work on TNCs for much of the past three years, meaning we have unfortunately done little analysis regarding the affects (sic) of the industry."
The agency had audited procedures at only one ride-hailing firm, Zum Services, which serves children, and found no issues, Toy said.
"We hope to increase our regulation going forward," he added.
2. 'Violation of Due Process'
The commission has delayed a decision on whether to make some ride-hailing safety and traffic data public. Only in October, after the Public Press made repeated inquiries about the confidentiality clause in the footnote, did the agency announce for the first time that it would formally review the policy.
The commission's secrecy has for years frustrated officials in San Francisco and other cities who want the data to improve traffic and safety. "This position is not in the public interest because large swaths of critical — and non-confidential — information are being unnecessarily withheld," said San Francisco City Attorney Dennis Herrera in a statement filed with the commission.
Several former commission officials now say they question the continued confidentiality of the ride-hailing reports.
Michael Picker, who was commission president from December 2014 to August 2019, said in an interview that he was not involved in making the rules governing ride-hailing and was not familiar with the footnote. But he added, "It would be good to get at that question of the confidentiality of the reporting. In my thinking, anything that is brought to a public agency cannot be confidential unless it's truly confidential business information."
Richard Clark, who served as the commission's director of consumer protection and safety from 2000 to 2012, and then as one of its administrative law judges until 2014, said the agency's adoption of a sweeping confidentiality measure at the last minute without prior public notice was unusual and "disturbing."
"It's just a total violation of due process and the public's right to know," Clark said. "Denying the public and, in particular, other government entities access to the information protected by footnote 42 diminishes public safety."
Even the former commission official who wrote the footnote said that the agency should release more data from ride-hailing companies' annual reports, and that similar data should be released for competitors such as limousine and taxi companies. Marzia Zafar, who was the agency's head of policy and planning, said, "My own opinion is that, yes, we should make it public."
In response to requests for comment for this story, Uber spokesman Andrew Hasbun provided a written statement that said, "There is nothing more important than the safety of the people we serve and we're constantly working to improve."
Lyft spokesman Lauren Alexander supplied a statement saying the firm provides millions of rides every day without accident, but added, "Obviously, one incident is one incident too many and we continue to work tirelessly to do our part in creating the safest possible transportation network."
The companies declined to comment on the number of accidents, or any specific event reported in this story, but each noted that a driver's involvement in an accident does not mean he or she was at fault. The firms also declined to release their own information about the number and circumstances of accidents involving drivers using their apps in San Francisco and across California, or the resulting cost of injuries or property damage.
Terrie Prosper, a spokeswoman for the commission, said no staff could comment on the regulation of ride-hailing because "this is an ongoing proceeding." However, in a series of emails, she did not dispute that in the last six years the agency had done no analysis of the adequacy of driver training programs, or of accident patterns beyond the PowerPoint presentation. "Within its current staffing," she said, the agency has "focused on supporting critical policy and enforcement proceedings."
Prosper pointed to three staff investigations. Two of these found that both Uber and Lyft had failed to submit the required annual reports on safety and trip data, resulting in a $30,000 settlement agreement with Lyft and a $7.6 million fine against Uber. The third found in 2017 that Uber failed to comply with a zero-tolerance policy by not promptly suspending drivers accused of driving under the influence, resulting in a $750,000 fine.
Citing the confidentiality clause, Prosper declined to release any accident statistics or other data from the firms' annual reports. She likewise declined to comment on specific cases. "That is confidential pursuant to D.13-09-045, footnote 42," she wrote in an email, referring to the ride-hailing regulations.
Prosper did not respond to a question seeking comment on the Public Press's finding that the confidentiality footnote was added to the regulations without prior public notice. She said agency rules permit companies and other interested parties to confer privately with commission staff while regulations are being developed. As to any lobbying, she added that "it is the CPUC, through its five Commissioners, that makes the ultimate decision."
3. Many New Drivers
Baher Tamim applied to use the Uber app in April 2015, and the company conducted a background check as required by the commission. As a result, Uber should have known that Tamim had less than the required one year of driving experience in the United States, according to the lawsuit later filed against him and Uber by the Robinsons and Medina. Uber also should have known that only seven months earlier he was cited in Oakland for tailgating, and the next day was in a collision in Hayward.
Uber's website says that all prospective drivers undergo "multi-step screening" that includes computerized checks for driving violations, impaired driving and violent crime. In addition, Uber rescreens drivers every year and uses technology to look for issues in between, the company website says, to "ensure that drivers continue to meet our standards." Lyft's website says the firm continuously screens criminal and driving records and can immediately deactivate drivers who don't meet its standards.
Typically, the companies do not interview potential drivers in person. According to the lawsuit, no Uber employee met or spoke with Tamim, let alone questioned him about his driving history. No Uber employees observed his driving abilities. Tamim completed no written tests and received no training manuals, the lawsuit says. Nonetheless, Uber approved Tamim's application, which is why, he would later testify in a deposition, he saw himself as qualified to transport passengers despite his limited experience behind the wheel.
Tamim was one of thousands of new Uber drivers rolling onto the streets of San Francisco, where Uber and Lyft were founded. Just 10 years ago, the idea of summoning a self-employed stranger and climbing into his or her car for a ride was considered not too different from hitchhiking. But in 2013, California became the first state in the nation to legalize ride-hailing, and its regulations paved the way for legitimizing the industry in other states. By 2016, ride-hailing in San Francisco alone accounted for an estimated 170,000 trips daily, or about 15 percent of all trips.
In the parlance of Silicon Valley, ride-hailing moved fast and broke things. Fueled by a corporate culture of act first and ask forgiveness later, Uber allegedly violated rules and regulations around the country, agreeing to civil settlements totaling more than $217 million between 2014 and 2019 for privacy breaches, safety lapses and deceptive advertising, according to media accounts and public records.
Lyft, too, has faced regulatory actions and paid civil settlements, albeit on a much smaller scale. These include $500,000 to San Francisco and Los Angeles counties to resolve a lawsuit alleging it misled the public about its driver screening, $300,000 to New York State for allegedly violating insurance requirements, $230,050 to Miami-Dade County for drivers who operated without permits, $224,000 to Colorado for allowing a driver with a felony record to transport passengers, and $10,000 to Chicago for failing to notify the city that it had deactivated a driver accused of assault. In that case, the man went on to drive for Uber, during which time he allegedly kicked a taxi driver, killing him.
The companies have faced controversies over the safety of their rides. After each episode, they pledged to improve security and transparency. And improvements have been made. In the report it released in December, Uber said that in 2017 it had launched a companywide effort. "We developed new technology, strengthened background screenings for drivers, launched new safety features, overhauled how we train our support staff, updated our policies, and tripled the size of our safety team," the report said. Lyft says it has added many new security features to its system.
Uber now operates in 63 countries with 3.9 million drivers, and has made more than 10 billion trips. As of 2018, it had more than six times the ride revenue of Lyft, its largest U.S. competitor. Although neither company has turned a profit, Uber is now the city's second-largest technology sector employer, behind Salesforce.
As ride-hailing grew, it also became the single biggest contributor to the increase in traffic congestion in San Francisco. Between 2010 and 2016 it accounted for roughly half of the increase in total miles traveled, road slowdowns and delayed arrivals, according to the San Francisco County Transportation Authority. Although not all experts agree, several studies have concluded that more congestion causes dangerous road conditions and increased accidents. In addition, urban congestion can lead to overly aggressive driving and crashes, the head of the National Highway Traffic Safety Administration testified before Congress in 1997.
Collisions involving serious injuries like the Tamim accident account for a small fraction of ride-hailing trips. But officials at the San Francisco Municipal Transportation Agency said in a 2017 report that ride-hailing drivers may be inexperienced and make midblock U-turns, sudden lane changes, illegal stops and unsafe passenger pickups.
The San Francisco Police Department has repeatedly documented such potentially dangerous driving over the last three years, reporting that ride-hailing drivers accounted for the greater share of traffic citations issued during periodic targeted enforcement operations in the congested downtown area.
In 2017, Commander Robert O'Sullivan, then head of the department's traffic unit, described the department's findings in the downtown area for that year at a hearing of the Board of Supervisors' land use and transportation committee. According to his testimony, ride-hailing vehicles received:
77% of the 267 citations for driving in, or obstructing, a bike lane or a lane of traffic.
74% of the 57 citations for making a U-turn in a business district.
67% of the 1,715 citations for driving in public-transport-only lanes.
54% of the 567 citations for miscellaneous violations such as impeding the flow of traffic and crossing a double yellow line.
52% of the 50 citations for failing to yield to a pedestrian.
O'Sullivan noted that the vehicles were identified only by their ride-hailing placards. The operation did not tally citations issued to taxi drivers.
Aaron Peskin, who was the committee chair, responded, "These numbers are actually shocking."
Katy Tang, who was a committee member, said she often saw ride-hailing vehicles blocking bus lanes, and citations didn't seem to deter them. She asked what else could be done.
The San Francisco Municipal Transportation Agency had already filed 32 statements expressing the city's concerns about ride-hailing firms with the utilities commission, with little result, said agency representative Tom Maguire.
"That's my worry," Tang said. "I just don't know that they're really listening." To which Peskin replied, "Not only is the CPUC not listening. This thing is like out of a Kafka novel. They will not share public information with the city that the city has repeatedly asked for, and have made incredible claims about the confidentiality of what is public information."
For 2018 and 2019, the Police Department's downtown enforcement operations have reported that ride-hailing vehicles continued to receive the largest share of citations.
According to Brian Wiedenmeier, executive director of the San Francisco Bicycle Coalition, Uber and Lyft have made efforts to reduce collisions with bicyclists, but cyclists still report injuries due to drivers blocking bike lanes or passengers "dooring" them. He added that because Uber and Lyft don't share complete data on bike accidents "it's hard for us to know what's going on."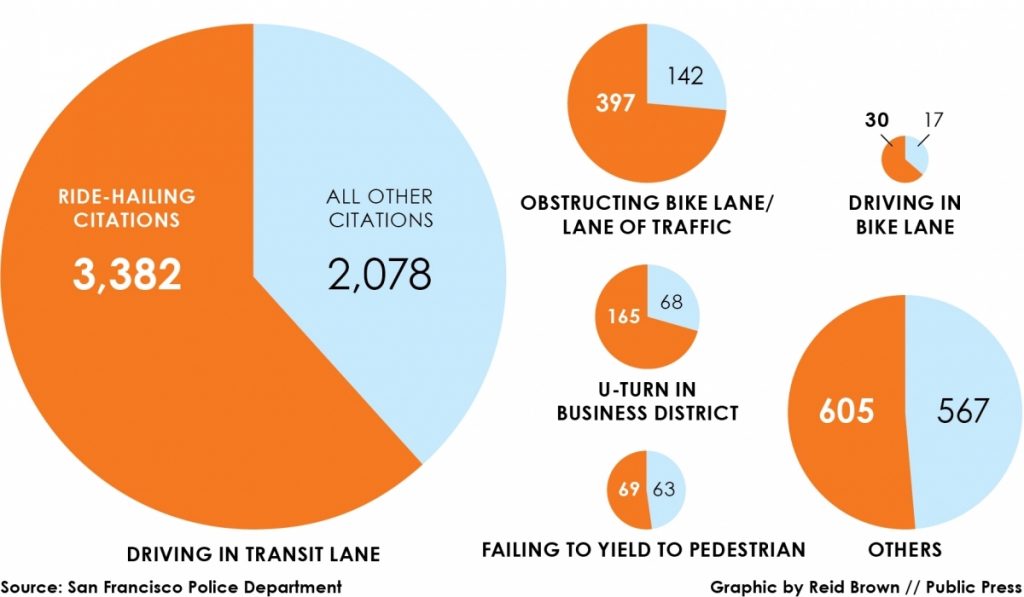 4. Running Over Customers' Feet
In 2014, San Francisco officials adopted a program called Vision Zero, which aims to make streets safer through engineering, education and enforcement. First developed in Sweden in the 1990s, it has spread across Europe and is now employed in several major U.S. cities.
San Francisco's goal is to eliminate traffic fatalities by 2024. The Police Department began compiling the number of ride-hailing vehicles involved in fatal accidents only in 2018. The data show that of the 23 traffic fatalities that year, three involved ride-hailing vehicles, including the death of UC Berkeley student Jessica Christie. Of the 24 fatalities that occurred in 2019 through August, four involved ride-hailing vehicles.
There is even less publicly available data on ride-hailing accidents on a statewide basis. The California Highway Patrol collects detailed information on traffic accidents, but the data does not indicate if a ride-hailing car was involved. The Department of Motor Vehicles says that it gathers no statistics on the incidence of ride-hailing accidents.
Only the California Public Utilities Commission collects statewide data on ride-hailing accidents through the annual reports it requires from the companies, and it has kept that information under wraps pursuant to the secrecy footnote. However, the commission did release two previously unpublicized reports, in response to public records requests, which provide a partial view of the rapid rise in accidents involving ride-hailing vehicles.
The first is a 2015 commission PowerPoint presentation summarizing some data drawn from the firms' secret annual reports about ride-hailing activity in California. The companies included Uber, Lyft and four small ride-hailing firms.
The presentation notes that the number of drivers who completed training required by the commission increased from about 2,000 per month in September 2013 to about 31,000 per month in August 2015, an indication of the high volume of new drivers. The commission declined to release records describing the training, citing the footnote on confidentiality.
The PowerPoint also shows that the number of "incidents" and "collisions" reported by the ride-hailing firms increased dramatically from very few in 2013 to almost 1,200 per month during the same period. Terrie Prosper, the commission spokeswoman, said these were all "vehicle accidents" of some kind.
According to the presentation, most of these involved rear-end collisions, sideswipes and other "minor incidents." For example, it noted there were at least:
300 episodes of passengers opening a door into traffic, about a third of which resulted in hitting a bicyclist, skateboarder, motorcyclist or scooter rider.
200 other accidents involving a pedestrian or bicyclist.
100 incidents of a ride-hailing vehicle rolling over a customer's foot.
The most startling detail, however, was the sharp increase in the rate of vehicle accidents involving ride-hailing drivers, from about 1 per million miles traveled as of September 2013 to about 17 as of August 2015.
The initial low accident rate reflects the early days of the industry when there were relatively few vehicles on the road and data reporting systems were not yet in place, commission spokeswoman Prosper suggested.
The later rate of 17 ride-hailing accidents per million miles traveled appears to be significantly higher than rates for the general population.
However, directly comparable statistics are not available because definitions vary. The commission's reporting requirements may be more inclusive than those used for calculating other accident rates. Prosper acknowledged in an email that although the commission required ride-hailing firms to report "each accident or other incident" involving drivers, the rules did not define those terms.
Prosper did not say specifically whether the commission had examined the rate of accidents reported in the PowerPoint, or whether that rate had changed in the four years since.
The Public Press's review of accident lawsuits against Uber suggests that there are recurrent driving-related problems. These include repeated allegations of poorly trained drivers who sped, violated other vehicles' rights of way, or stopped erratically to load and unload passengers. And though all the court cases that had been resolved were settled in private before trial, shrouding evidence, the commission has legal authority to review the facts in the annual reports and recommend safety measures.
Uber spokesman Hasbun said the company works regularly with the commission on various issues, and that even though the information it submits is confidential, the agency could still use it to issue new policies.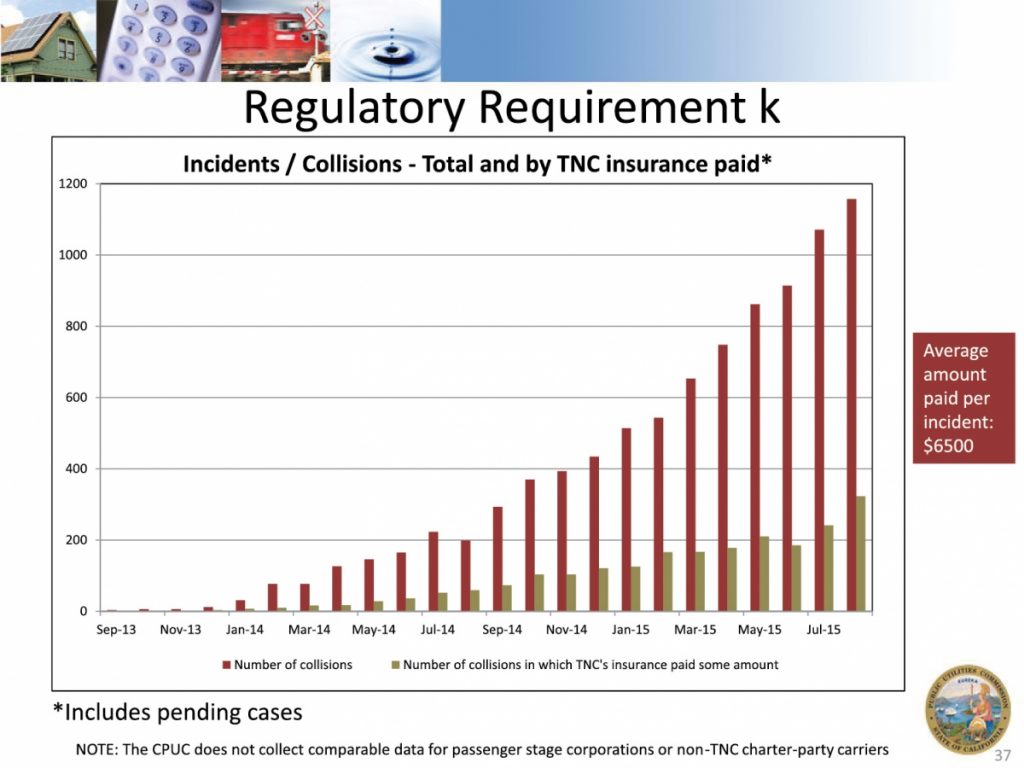 5. Millions in Insurance Claims
The second study concerning accidents stemmed from one of the city's most notorious ride-hailing collisions. On New Year's Eve 2013, an Uber driver killed 6-year-old Sophia Liu and injured her mother and brother in a crosswalk at Ellis and Polk streets.
The mother, Huan Hua Kuang, told reporters that driver Syed Muzaffar was looking at the smart phone in his hand as he drove into them. "I saw the driver. His face was lit up by the light of his phone. That was the last thing I remember before my daughter lost her life," Kuang said at a press conference, the San Francisco Business Times reported.
The family sued Muzaffar and Uber for wrongful death and negligence. Christopher Dolan, the family's attorney, alleged that the driver was distracted because he was logged into the app. Uber denied liability because Muzaffar did not have a ride order when the collision occurred.
The family and Uber reached a confidential settlement, and Muzaffar was eventually convicted of misdemeanor vehicular manslaughter. The case also exposed a gap in insurance coverage, and after the family testified before the state Legislature, Gov. Jerry Brown in September 2014 signed Assembly Bill 2293 requiring that ride-hailing firms carry at least $1 million in insurance coverage for the period when passengers are on board.
The law also directed the commission and the state insurance department to conduct a joint study of whether the new requirements adequately covered risks of ride-hailing. Completed in December 2017, the study drew on data submitted to the insurance department by Uber, Lyft and three smaller companies. It included only claims that resulted in payments.
The study concluded that there were still potential gaps in coverage for ride-hailing accidents, especially for drivers, and recommended expanded insurance coverage. However, the Legislature has not required it.
In addition to determining that insurance companies incurred payouts totaling $185.6 million for the years 2014 through 2016, when ride-hailing was taking off, the study showed that the number of claims filed annually likewise accelerated to 6,609 by the end of 2016.
The volume of accident claims and damages may continue to increase as ride-hailing activities grow, assuming there are no significant changes to the market, according to the insurance department's press office.
6. A Litany of Rider Complaints
Almost immediately after Baher Tamim began driving with Uber, the company started receiving passenger complaints, according to the lawsuit filed against him and Uber.
On May 31, 2015, a passenger messaged Uber with the first known complaint about Tamim's driving, reporting that he was going "too fast." Uber representative Joenard messaged back that "safety and comfort" were Uber's "top priorities" and that her feedback would be forwarded to the driver operations team.
That very day, another passenger sent Uber a complaint, saying, "Unsafe driver. Nearly caused two accidents and excessive speeding." Uber rep Eric replied, "So sorry to hear about this ride. I completely understand that when you request a ride with Uber, you trust your driver will get you to your destination safely. We work hard to partner with the best drivers, so we are following up with your driver about this immediately." The rep included a link to the "Uber Safety Team."
Just 39 minutes later, another passenger submitted a third complaint, warning that Tamim "drove very fast and recklessly. Felt like we might crash more than once." Uber rep Jinky responded with similar reassurances and promised to forward the concern to the driver operations team.
But the day was not over.
Later that afternoon, another passenger complained, "Driving was very fast and aggressive and frightened my wife," he said. Uber rep Henry, apparently relying on the same company script, replied, "So sorry to hear about this ride. I completely understand that when you request a ride with Uber, you trust your driver will get you to your destination safely."
Henry added, "We work hard to partner with the best drivers, so we are following up with Baher about this immediately. We will take whatever action is necessary to ensure a negative experience like this is not repeated." The rep attached a link to the Uber Safety Team.
On June 22, 2015, another passenger sent Uber a complaint saying Tamim "had serious road rage. He even rolled down the customer side window to yell at another driver then aggressively cut him off after dropping off the other customer. He should not be allowed to be an Uber driver."
This time, Uber rep Kimberly replied that Tamim's account would be flagged and Uber would follow up "right away" to address the issue. "We have a certain set of quality and safety standards that we expect all of our driver-partners to meet, so it's important that we know of a concern like this so we can address it appropriately."
On June 26, 2015, a passenger complained that Tamim "ran a few red lights very late after they had changed." Uber rep Michelle sent the stock reply, "Sorry to hear about that! Your safety and comfort are our top priorities so I appreciate your letting us know." She said the complaint would be forwarded to the driver operations team to "check with the driver."
On June 27, 2015, a passenger submitted a complaint saying, "Nice guy but pulled crazy driving move where we almost got hit by another car doing 40 miles per hour." Uber rep Jerusreel promised to refer the matter to the driver operations team to check with Tamim regarding "professional standards."
On June 28, 2015, a passenger sent an even more alarming message: "horrible he was swerving I think he was drunk or high I've never been scared in a car with the driver … and I was overcharged!"
Uber rep Amanda responded, "So sorry to hear about this ride. I completely understand that when you request a ride with Uber, you trust that your driver will get you to your destination safely and comfortably." The rep promised to note the complaint on Tamim's account and "will be following up right away to address this." The rep also adjusted the fare.
Commission rules require that ride-hailing companies enforce a zero-tolerance policy against driving under the influence of drugs or alcohol that requires immediate suspension and investigation of drivers who are the subject of credible complaints. There is no evidence in the court record that Uber took any such action in response to the message.
The complaints continued. Between July 1, 2015, and Jan. 8, 2016, passengers sent in 15 more messages describing Tamim's allegedly reckless driving, aggression toward pedestrians, cutting off other cars, screaming in the car, an unsafe U-turn, running red lights, failure to signal, speeding, texting while driving and what one irate rider called "a very 'idgaf' attitude towards other drivers, pedestrians and road rules."
7. Company Denies 'Duty of Care'
Uber ran another background check on Tamim on Jan. 29, 2016, that showed he by now had been convicted of tailgating in Oakland. At some point, he also received at least one citation for blocking an intersection in San Francisco.
Still Uber let Tamim use its app to transport passengers, and still passengers complained about his driving.
On March 6, 2016 — seven days before Tamim would plow into Medina's car — a rider reported he "drove too fast, didn't use wipers in the rain."
Uber takes steps to distance itself from liability for the safety of its rides, both in its contract with drivers and in litigation with passengers.
The contract that drivers must sign in order to use the Uber platform has stated that Uber provides technology services, not transportation services, and that drivers were "independent contractors."
But this could change. Assembly Bill 5, which took effect on Jan. 1, is intended to require Uber, Lyft and other "gig economy" firms to treat independent contractors as employees, who receive more worker protections and are more costly.
Uber and Lyft say they have properly designated their drivers as independent contractors and contend the measure will not reclassify them. Even so, the companies are mounting an expensive campaign to exempt themselves from the measure. In late December, Uber and the delivery service Postmates filed a lawsuit seeking to block the law from applying to them.
If Uber and Lyft are required to treat drivers as employees, they could also find themselves facing potentially greater exposure in accident lawsuits, lawyers say, because they could more easily be found liable for acts of employees.
In accident lawsuits, Uber has consistently argued that because drivers are not employees it bears no responsibility, and thus owes no "duty of care" to anyone who was injured. Uber also contends that under the contract, each driver has agreed to indemnify Uber and cover its costs for any potential liability arising from the driver's use of the app. Uber asserts other standard defenses to accident lawsuits, sometimes saying the collision was the plaintiff's fault. Drivers, represented separately by their own counsel, also deny liability.
Moreover, Uber demands a level of secrecy that is unusual for vehicular accident cases, plaintiffs' attorneys say, often insisting they sign sweeping protective orders before turning over basic evidence in the discovery process. Kyle Smith, an attorney with the firm Bay Area Bicycle Law, said that in his experience ride-hailing firms are "much more concerned with confidentiality."
The protective orders prohibit all parties from publicly disclosing records Uber has designated as confidential. Plaintiffs' attorneys usually agree to the orders because it is costly to fight them and their first duty is to obtain evidence to help their clients, not to inform the general public, the lawyers say. Although court rules favor transparency, judges usually let the lawyers on each side work out the orders and approve them without objection.
Uber claims that its records must remain confidential, both to protect personal information about drivers and passengers and to guard "trade secrets" from competitors.
However, three California judges have rejected Uber's secrecy demands.
8. Unfounded Confidentiality Claims
Two years after Uber driver Baher Tamim rear-ended him, Jordan Medina joined Richard and Ruth Robinson in filing a consolidated lawsuit against both Uber and Tamim.
As usual, Uber's attorneys insisted that the plaintiffs' lawyers sign a protective order before the company would turn over evidence in the discovery process.
The order required Uber to designate information as "confidential" only if its release would result in disclosure of "trade secrets or other highly sensitive research, development, production, personnel, commercial, market, financial, medical, psychological, psychiatric, or business information."
The order also strictly limited who could see the material, with some records being additionally designated as "Highly Confidential Attorneys & Experts Eyes Only."
The stated purpose of the order was to protect the privacy of drivers and customers — and Uber's trade secrets. "If revealed in the public domain, disclosure of such information could and would cause commercial disadvantage, competitive disadvantage, privacy violations; and other damage, both tangible and intangible," it said.
Once they signed it, Eamon Jafari of Barrington Legal, the lead attorney for Medina, and Bryan Vereschagin, the attorney for the Robinsons, began to receive records under the discovery process from Uber that they believed were indeed relevant to their case.
Based on that evidence, they asked the court's permission to allow them to add a claim that Uber had engaged in "gross negligence" — an allegation that the company had engaged in conscious and voluntary disregard of its need to use reasonable care in running its business.
Because the evidence was under the protective order, they were required to lodge a heavily redacted version of their motion in the public court file, as well as an unredacted one confidentially with the judge.
However, the lawyers also had become convinced that Uber had abused the protective order to "hide documents that are of public interest." They brought another motion challenging what they called the company's "meritless" secrecy claims. But — because the records were still confidential — they once again could lodge only a heavily redacted version of their motion in the public court file.
The censored version said in part, "Good cause exists to challenge the confidential designation of REDACTED." It continued, "The challenged documents do not constitute trade secrets, confidential information, or sensitive information." Some of the information that Uber was withholding, it added, was "of particular relevance to public safety."
The motion noted that California court rules generally discourage sealed filings because the judicial process is presumed to be open to bolster accountability and public confidence.
Moreover, the motion cited a legal precedent recognizing that the process regularly provides the avenue by which public and regulatory agencies learn of significant safety hazards, and closing it may harm the public welfare.
One document Uber had deemed secret, Jafari argued, "contains the most basic, common sense information that a 16-year-old taking the driver's test for the first time should already know from a driver's ed class. It is absurd for Uber Defendants to claim that any competitor would gain an economic advantage by sharing the REDACTED." Another one — Uber's Technology Services Agreement — was publicly available on the Internet, he said.
In response, Uber doubled down. Danielle Sipf, a senior operations logistics manager for Uber, submitted a sworn declaration saying she had reviewed five kinds of records for which confidentiality was being challenged: a training document, a technology services agreement, a driving report for Tamim, rider feedback about Tamim, and communications between riders and Uber staff about Tamim.
All must remain confidential. "If this confidential and proprietary business information and trade secrets are disclosed," she declared, "it would be harmful and damaging to Uber's business."
Uber's lawyers accused the plaintiffs' attorneys of challenging the confidentiality claims based on "hyperbole and what appears to be nothing more than a smear campaign against Uber."
In fighting lawsuits that allege Uber and its drivers wrongfully injured people in traffic accidents, the company has claimed that evidence must remain sealed to protect "trade secrets" and the privacy of passengers and drivers.
9. Federal Case Cited
In reply, Jafari noted that a federal district court already had ruled in an unrelated lawsuit that Uber vastly overstated the need for keeping evidence confidential.
In that 2015 order, Judge Edward M. Chen of San Francisco examined nine records for which Uber had claimed confidentiality and ordered each released with either no or minor redactions.
In one example, Chen noted, Uber had claimed that a record known as Exhibit 21 contains "commercially valuable information regarding past issues with the functionality of the Uber driver application and Uber's strategies and procedures that it developed to address those issues."
The document, the judge said, was a series of emails between an Uber driver and an apparently low-level Uber employee about the driver's claim that the app was freezing, causing him to be underpaid.
Chen concluded that Uber's "commercially valuable strategy" was to tell the driver the problem was due to Verizon's network connection and out of Uber's control. "Put simply," he said, "nothing about Exhibit 21 rises to the level of a trade secret or commercially valuable information."
In another example, Chen noted that Uber had claimed a record contained commercially valuable information about Uber's competitive strategies. "Again, Uber's description appears false," he concluded, observing that the record was simply a spreadsheet listing drivers who were "fired" from the Uber platform or had received performance warnings.
And in a third instance, Chen found that Uber's confidentiality claim was "seriously misleading." This record, he said, consisted of two emails with the heading "ANOTHER BAD DRIVER." The first email read, in full, "Get rid of this guy. We need to make some serious cuts of guys below 4.5." The second email read, in full, "Done via phone! Remote banning — I love it!"
In his challenge to confidentiality in the Tamim case, Jafari argued that internal Uber documents about the crash likewise did not qualify as trade secrets.
10. Court Rejects Secrecy
"The only harm the production of these documents would cause the Uber Defendants is public awareness that the Uber Defendants are hiring drivers that fail to comply with the California Public Utilities Commission," he said.
On Oct. 2, 2018, San Francisco Superior Court Judge Harold E. Kahn agreed. He adopted the recommendations of a judge who initially reviewed the matter, ordering Uber to reimburse the plaintiffs for their cost of bringing the motion that proved the company's confidentiality claims "lack merit."
With the seal lifted, Jafari and his legal team proceeded to publicly file the expanded complaint that accused Uber of gross negligence, particularly in hiring and retaining Tamim. Uber and Tamim filed answers denying all allegations.
Uber made its standard argument that it was not in the transportation business and was just a software company that licensed an app connecting people willing to drive passengers — its "partner drivers"— with people seeking rides. In other words, Uber claimed it had absolutely no liability for the accident, despite what it knew about Tamim's driving record.
For his part, Tamim testified in a deposition that he never heard of any complaints about his driving. He said that before coming to the United States from his home in Kabul, Afghanistan, in 2014, he drove on average only about 700 miles a year. Until arriving in the United States he had never driven on a freeway, never driven more than 55 mph and never seen a traffic light.
In December 2018, Jafari filed a new motion attacking Uber's "no duty" defense. It included a stack of documents revealing evidence the company had sought to shield from public view, laying bare both Tamim's driving history and the firm's failure to act on it — the background checks, the passenger complaints and Uber's promises to look into them.
Under California law, there is generally no duty to protect others from the harmful conduct of third parties. This is the theory that Uber primarily relies upon in arguing it has no duty of care to passengers.
Even when a civil defendant knows of a foreseeable harm and could have acted to stop it, the law has traditionally imposed liability on the defendant only when there is some special relationship between the defendant and the dangerous person or the potential victim.
In his motion attacking Uber's no-duty claim, Jafari argued that the accident was entirely foreseeable in light of Tamim's driving record. And Uber had a special relationship with Tamim, he contended, via company control over his access to the app and his payments.
Moreover, since Uber had provided riders a platform to make complaints, and since Uber had received numerous complaints that Tamim was a dangerous driver, the company was in the best position to act on those complaints, and thus had a duty to prevent that danger.
In addition, Jafari argued, Uber breached its duty of care for passengers because it failed to comply with commission rules that say it must ensure prospective drivers have had a year's driving experience, that it promptly suspend any driver credibly reported as driving under the influence, and that it bar any driver with a conviction for reckless driving.
"Despite the indisputable knowledge of Defendant Tamim's dangerous driving practices," Jafari wrote, "the Uber Defendants failed to take sufficient correction efforts."
Uber never replied to Jafari's motion. Several months later the case settled, secretly.
Attorneys representing the parties would not comment. Jafari would say only that the case was resolved. Jeffrey Swedo, a lawyer for Uber, said in an email, "Sorry, we aren't permitted to discuss those matters."
11. Company Confidences
In some ways, the challenge of regulating Uber and Lyft is déjà vu for the California Public Utilities Commission.
Following the Gold Rush a disruptive new mode of transportation — the railroads — outpaced regulation. Rich and powerful men named Stanford, Crocker, Huntington and Hopkins neither sought permission nor begged forgiveness as they pushed to expand their interests.
In response to the industry's abuses, voters in 1879 passed a reform proposition that amended the state Constitution and created the Railroad Commission, renamed in 1946 as the California Public Utility Commission. In the following decades, the body assumed regulation of other types of transportation, along with private gas, water, communications and electric utilities. (Regulation of taxies was left to local authorities.) Today the agency has five commissioners appointed by the governor and jurisdiction that preempts local authorities.
One of the commission's first actions on ride-hailing came in 2012: a "cease and desist" order and $20,000 fine each against Uber, Lyft and the now defunct Sidecar for operating without permits. The startups replied that they were not transportation businesses but were instead technology companies, and thus beyond the commission's jurisdiction.
The commission never enforced the orders. It reached settlements that allowed the firms to continue operation with interim safety and insurance measures while it began a formal regulatory proceeding "to protect public safety and encourage innovators to use technology to improve the lives of Californians." As the commission observed in its opening order, "The implications of these new business models on public safety are unknown."
On Sept. 23, 2013, the agency issued its first decision on what came to be called transportation network companies, also known as TNCs. It required each company to obtain a permit, conduct criminal background checks of drivers, establish driver training programs, review drivers' records quarterly, inspect their vehicles annually, adopt a zero-tolerance policy on drugs and alcohol, and carry specified insurance.
Spanning 75 pages, Decision 13-09-045 required each firm to detail in its annual reports the number of rides requested, accepted and rejected by drivers within each ZIP code; the average number of hours and miles each driver drove; and the percentages of passengers who requested and received disability-accessible vehicles.
Each company was further required to submit a spreadsheet on safety problems with drivers, including every "accident or other incident" reported to the company, with the cause, date, time and amount paid to any party. Each firm also had to report all zero-tolerance drug and alcohol complaints and findings, the number of drivers found in violation and the number suspended.
(As noted, Uber and Lyft have not always complied with this reporting. In 2016, the commission found Rasier-CA, an Uber subsidiary, in contempt for failing to file required annual reports, making "specious legal arguments" about why it failed to comply and impeding the commission's Safety Enforcement Division. The agency fined the company $7.6 million. Rasier-CA challenged the decision, but in August 2019 the commission affirmed the penalty, noting that the company had failed to cooperate and acted in "bad faith." In a less egregious case that was settled in 2015, Lyft also failed to comply with the reporting requirements but cooperated, corrected the deficiencies and agreed to pay a $30,000 fine.)
The commission had required the ride-hailing companies to submit the annual reports, but in the same breath it had decreed them confidential with the furtive footnote. The single sentence, buried at the bottom of page 33 of Decision 13-09-045, said: "For the requested reporting requirements, TNCs shall file these reports confidentially unless in Phase II of this decision we require public reporting from TCP companies as well."
TCPs are companies with transportation charter permits to operate tour buses, limousines and farmworker transporters. As it turned out, the commission never required detailed annual reports from them, and hence made no disclosures for either charter carriers or ride-hailing firms.
Neither the footnote, nor any reference to making the annual reports confidential, appeared in a draft decision that the commission distributed for comment on July 30, 2013. Nor did any mention of it appear in any public comments filed prior to the commission's approval of the final decision.
12. Battle Over Confidentiality
On the basis of this footnote, the commission has denied all requests for access to the annual safety information and trip data from journalists and local government officials, according to agency statements and records, including the city attorneys of Berkeley and San Francisco, the San Francisco County Transportation Authority, Hoodline, MarketWatch and the Public Press.
But in June 2017, the commission announced it would consider releasing some data from the annual reports and solicited comments. In his opening statement, Dennis Herrera, the San Francisco city attorney, attacked the agency's denial of his request under the California Public Records Act for the annual reports on safety, problems with drivers, and ride statistics.
"The Commission's seemingly unilateral decision to make the reports confidential, in a footnote, without any mention of applicable statutory exemptions or the public interest served by disclosure, is at odds with the law and the purpose and goal of the CPRA," he said.
Herrera said he wanted the information for an investigation into whether ride-hailing firms were violating laws on civil rights, public nuisances and the minimum wage. Ultimately, he was forced to obtain an order from a state appeals court to enforce a subpoena requiring Uber to release the information directly to him. (Lyft previously complied with a separate subpoena.) Even so, the records remain under seal at the city attorney's office, and the utilities commission still refuses to release the annual reports to anyone.
The San Francisco County Transportation Authority also filed a statement calling for the release of the annual reports, saying they would help it study traffic patterns, air quality and potential gaps in service to disabled people.
The authority noted that in many California cities taxis are required to submit trip data to regulators. In San Francisco, for example, taxis electronically provide trip data in real time.
The San Francisco International Airport and the San Francisco Municipal Transportation Agency filed a joint statement saying they needed the annual reports to improve safety and asked, are ride-hailing vehicles "involved in collisions at a higher rate than the general population?"
They also pointed out that ride-hailing companies already provided similar data to other cities, including New York, Chicago and Portland.
But in its statement, Rasier-CA, the Uber subsidiary, declared that "the commission should not share" the annual reports with other agencies.
While allowing that the reports could be useful to local governments, Rasier-CA said their interest was outweighed by the need to protect the privacy of drivers and passengers and the firm's "trade secrets."
Rasier-CA contended that local governments were incapable of protecting ride-hailing data — even if it was anonymized — from hackers or inadvertent disclosure.
Like its rival, Lyft said the annual reports contained personal information and confidential trade secrets. Lyft joined Rasier-CA in asserting that the information was exempt from release under the California Public Records Act.
Invoking footnote 42, Lyft said it had submitted the annual reports to the commission "in reliance upon the Commission's determination in Decision 13-09-045 that such data would remain confidential."
In February 2019, the commission, still mulling whether to share the data, solicited additional comments. By now it had taken a step forward and was proposing a public data portal that provided trip data in anonymized and aggregated form. But as proposed, the portal included no safety data.
At this point Uber and Lyft said they agreed with publicly posting some aggregated data but still objected to including any individualized data. "In the wrong hands," Uber warned, ride-hailing data "could allow stalkers to track their victims, undermine the confidentiality of media journalists, and assist burglars from (sic) monitoring target homes."
As of early January, the commission had given no sign of a forthcoming decision, and had requested additional comment on whether it should reverse footnote 42 and make data in the annual reports public.
Uber filed new statements saying the commission should not modify the confidentiality footnote and the data should remain secret. Lyft said that all previously filed annual reports should remain secret, but did not oppose "reasonable" modifications to the footnote as applied to future annual reports — as long it could challenge any possible disclosures in court.
Asked if Lyft's secrecy efforts were contrary to its public statements in support of safety and transparency, spokesman Lauren Alexander said in an email that the firm was "entitled" to request secrecy when appropriate, calling the annual reports "highly confidential."
Uber spokesman Hasbun did not respond to a request for comment on whether the company's public statements in support of transparency were inconsistent with its efforts to keep the annual safety reports secret.
In December the commission directed Uber to provide information about the firm's public safety report, including the number of sexual assaults in California between 2017 and 2019, names of witnesses and procedures for addressing the incidents. Hasbun did not comment on those matters, but said Uber had "serious concerns" about naming sexual assault victims without their consent.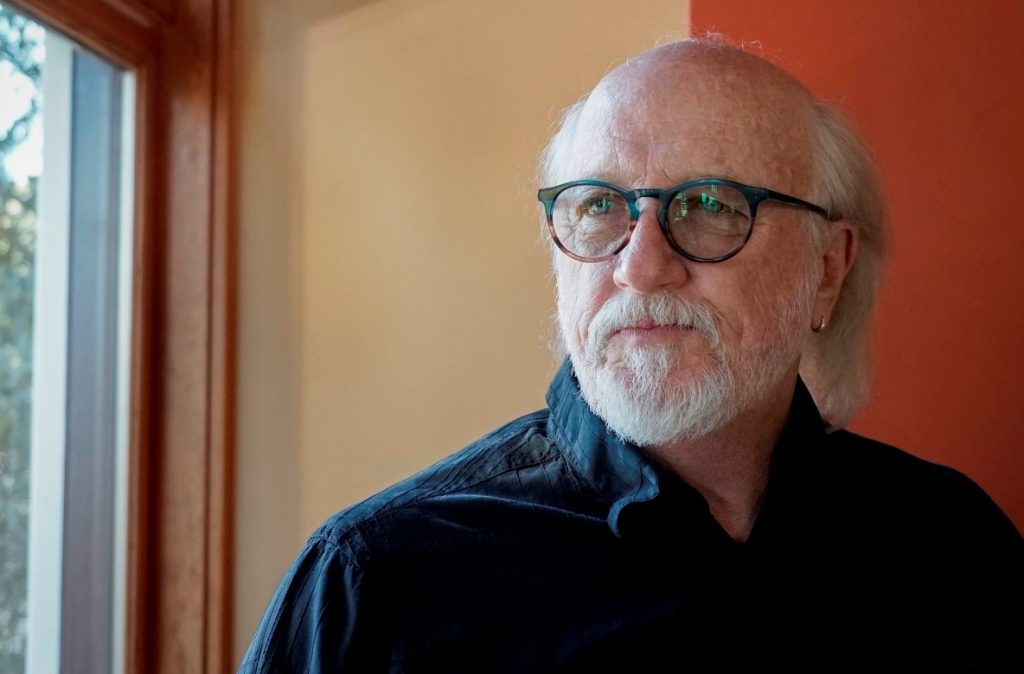 13. Industry Lobbied Heavily
Mark Gruberg, a longtime taxi driver and official of the San Francisco Taxi Workers Alliance, which represents some 500 cabbies in the city, said in a statement to the commission that he thought footnote 42 was nothing but the product of "backroom dealings."
It is true that there is nothing in the commission's extensive public record about why the footnote was added, at whose request, or who slipped it in. But a former senior commission staff member said in an interview that it was her doing.
Marzia Zafar was a top aide to commission President Michael Peevey, who oversaw the proceeding that created the ride-hailing regulations known as Decision 13-09-045. A former president of Southern California Edison, Peevey left the commission in 2014 in the midst of a criminal investigation into whether he engaged in prohibited back-channel communications with his former employer about the assignment of costs for its failed San Onofre nuclear power plant. Peevey never was charged and he has denied engaging in any improper activities.
Zafar was deeply involved in the drafting of Decision 13-09-045 while the firms lobbied the commission. Uber, Lyft and Sidecar sought to influence the rules through publicly filed documents and — according to emails and published comments of former agency staff — through private communications. These company efforts are obscured, however, because commission rules allow ex-parte, or private, communications to go unreported.
But an investigation by the state's Fair Political Practices Commission found that a consultant for Lyft engaged in extensive illegal lobbying on Decision 13-09-045. Susan P. Kennedy went to work for Lyft in late 2012, just as the utilities commission was considering how to regulate the new transportation network companies. Kennedy had served as a commissioner from 2003 to 2006 and as Gov. Arnold Schwarzenegger's chief of staff from 2007 to 2011. Lyft paid her $15,000 per month.
The utilities commission already had issued the cease-and-desist orders to Lyft and Uber for operating illegally earlier in 2012. But after Lyft retained her, Kennedy contacted Peevey and other commission staff to convince them to "work with the TNCs, not shut them down," the political practices commission said in an order.
As Kennedy put it in an email to Commissioner Carla J. Peterman on Aug. 27, 2013, a few weeks before the commission unanimously approved the decision, "We spent months going over how each and every provision would be implemented."
The political practices commission found, "The efforts of Kennedy and Lyft were successful as the resulting rules and regulations adopted many of the suggestions and positions put forward by Kennedy and Lyft."
In an interview, Zafar said she drafted the ride-hailing regulations. "I know I ghost-wrote that decision, but it's been a few years. I don't quite remember it, why I put that footnote there," she said. "But I would think it's because we consulted with all the interested groups. And a lot of it had to do with, I'm sure, Uber and Lyft lobbying us constantly saying that it has to be private."
Zafar initially discounted Kennedy's influence but later added, "I think she lobbied a lot. I think she called me a lot. I think she called Peevey a lot. She met with us a lot. But a lot of people met with — OK, sure, she met with us more. But I'm not sure that she had more influence. Just because you come in and you knock on the door and you say this must be done, that doesn't mean we did it for that reason." She added, "I dealt with John Zimmer" — the Lyft co-founder and president — "more than I did with Susan Kennedy."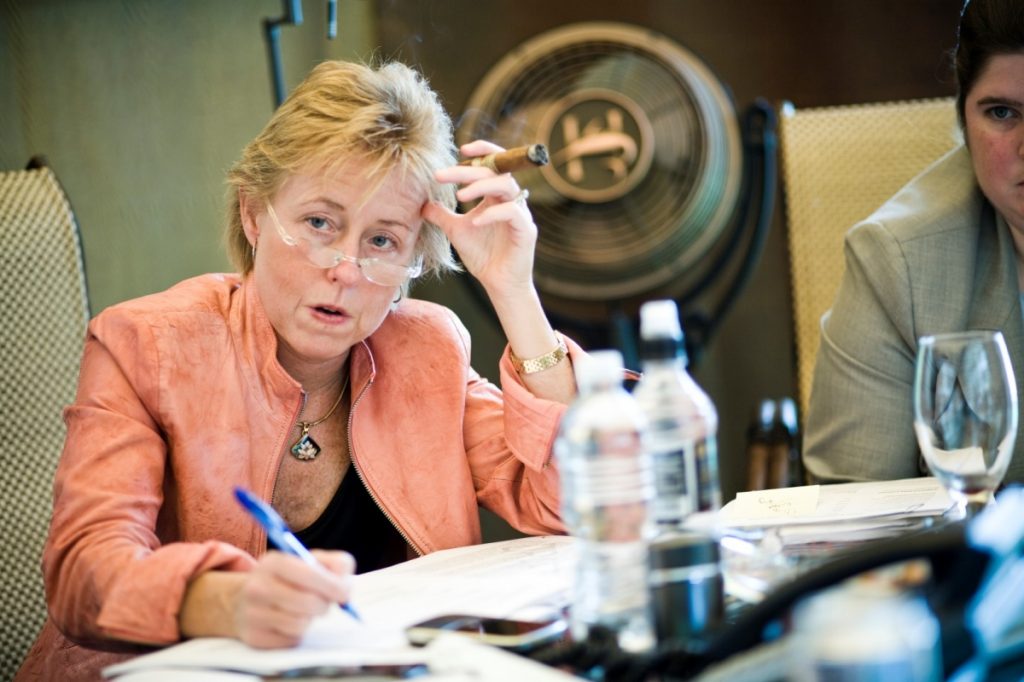 Zafar, who left the commission in 2018, emphasized that making the annual reports confidential did not loom as large as many other issues at that time. She said it would have been unfair to require ride-hailing firms to publicly report data that other kinds of transportation companies did not.
But even though the commission had deemed the annual reports secret, the ride-hailing companies resisted submitting the information. "I was frustrated with Uber and Lyft for being so aggressive in not giving us any sort of data, even if we said we would keep it confidential," she said. "I would say Lyft was a little more open to giving us data, or Lyft would be more open to publicizing the data, but because Uber just would say flat no all the time, Lyft just followed along. So its frustrating."
Looking back, Zafar said, "My own opinion is that yes, we should make it public, but at the same time, whatever we make public, the taxi industry also has to make that data public."
(In fact, Kate Toran, taxi director at the San Francisco Municipal Transportation Agency, said that though her agency gathers safety data from taxis only on an as-needed basis, it is made available under public records laws.)
However, Kennedy failed to register as a lobbyist and file lobbying reports with the state about her actions on behalf of Lyft, according to the political practices commission order, which fined her $32,500. "In this case, the violations were serious since the public and other interested parties were not informed of Kennedy's lobbying activity," it said. Lyft was not found culpable.
Kennedy, now chair of the board at Advanced Microgrid Solutions, a high-tech energy-storage software firm she founded, did not respond to an email and multiple letters seeking comment. Lyft spokesman Alexander said the company did not pressure the commission to act. Hasbun, the Uber spokesman, did not respond to a question about Uber's lobbying.
Prosper, the commission spokeswoman, did not respond to questions about the creation of the footnote that has kept the annual safety reports secret. But she said the commissioners make their own decisions.
14. The Last Crash
Several minutes after Baher Tamim ran into the back of Jordan Medina's Lexus at Larkin and Post streets, passenger Ruth Robinson sent Uber a message saying everyone had been injured, according to court documents.
Uber rep Shiann replied, "I am so sorry to hear about the accident on your recent trip. I'm glad to hear you are okay. That's certainly not the experience you expect when taking a trip with Uber, and I've of course refunded this fare in full. You should see the difference back in your account in 2-3 business days. We're also following up with this driver on our end. If there are any further details you think we should know about this, feel free to reply here."
Robinson responded with another message saying that Tamim had hit Medina's car without having braked at all. "I heard my husband shout something like "are you going to stop, STOP! And then car just exploded inside. I was flung forward and hit the airbags." Now her spine and neck hurt, and her nose was swollen and bleeding. Medina had gone to the hospital and she was going, too.
"The only way this incident could have happened is that our driver was not looking where he was going or had fallen asleep," added Robinson, a former traffic officer. "This man should not be driving people around."
Uber temporarily suspended Tamim's access to the app and, as he later testified, he feared that he'd lose his "job" with the company. But soon after, Uber lifted the hold and Tamim was once again driving with the app.
It was not until after he had another collision while transporting passengers, less than a month after he hit Medina's car, that Uber finally cut him off.