San Francisco plans to expand access to drinking water for people living on the streets by adding permanent taps in three neighborhoods and leaving in place — for now — the temporary taps it installed after COVID-19 hit.
This month, the San Francisco Public Utilities Commission plans to begin installing the permanent taps in the Tenderloin, Mission and Bayview-Hunters Point. They are slated to be mounted near most of the 10 temporary water pipes with multiple spouts the commission put in place last year. The spigots were installed to address concerns from homeless residents and advocates about dwindling water access as restaurants and public spaces began shutting down.
For many homeless residents, water access represents a hurdle between them and a job, a home — even survival. The demand for fresh water has been so great since March that several organizations began buying bottled water for distribution to homeless people at a cost of thousands of dollars.
"When we think about it as water being a human right, especially in a city as wealthy as San Francisco, there's an expectation that that would be a service provided by the city," said Calder Lorenz, a program manager at St. Anthony's, a Tenderloin homeless services group.
An essential resource
Before he had heard of the coronavirus, 59-year-old Eric Coler would lug six gallon jugs a mile and a half from his tent on Willow Street past City Hall and the San Francisco Chronicle's clock tower to Yerba Buena Gardens. The park there had the closest public fountains he knew of where he could fill his bottles in peace.
Coler avoided the library on his route because staff there discouraged him from filling his bottles, he said. Gas stations were a similar story.
"They'll try to run you out, they don't care," Coler said of gas station employees.
Each trek took more than an hour, and he often made two a day. The return trips were always hardest. Coler described his bulging backpack loaded with heavy jugs "digging in my back." He often returned to find his tent ransacked, its contents stolen. Even his water wasn't safe.
"You have to watch out, people will take it from you," he said.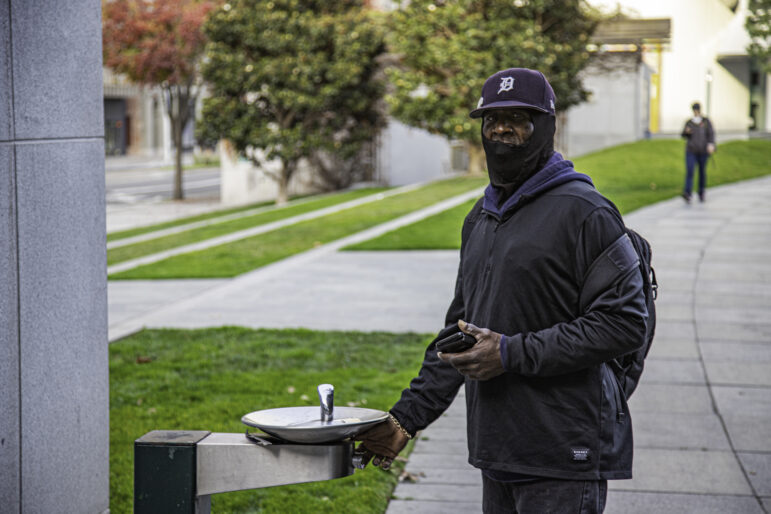 By the time the pandemic hit San Francisco, Coler had moved his tent closer to the gardens. But he still got robbed while on water runs; people still stole his jugs when he wasn't looking. Leaving his tent was never safe.
It wasn't until the city placed him in one of its emergency hotel rooms in November that Coler could turn on his own tap.
"Access to water isn't something that people think about," said Sam Dennison, co-director of the Tenderloin homelessness services agency, Faithful Fools. "Everybody needs to drink something every day. How do you wash your hands? Wash your body? Keep your wounds clean?"
Water access has become critical during the pandemic, prompting some to take desperate measures. Three informal surveys of homeless Tenderloin residents conducted by Faithful Fools in September, October and November found that half of respondents drank non-potable water from broken faucets or the city's emergency hygiene stations, Dennison said.
A quarter of respondents said they stole their water from corner stores, and another quarter said they relied on service providers for drinking water. This limited water access prevents people from staying clean, which can be dehumanizing, Dennison said.
"I used to wear the same clothes every day, back to back," Coler said of his time on the streets. "I went three to four weeks at a time without washing my clothes."
Lack of water access presents practical hurdles, too.
"It's a hidden barrier to people recovering from homelessness," Dennison said. "When we think about things like, 'Why don't people just go out and get jobs?' — they're seeking out basic resources, food, shelter. You can't show up to a job interview or look for housing without having bathed first."
The cost of water
At the urging of homeless activists and service providers, the city created several programs to address diminished water access. In March, the Department of Homelessness and Supportive Housing — and later, the Department of Public Works — began rolling out dozens of handwashing stations and toilets in neighborhoods with large homeless populations.
When they are usable, the stations give homeless residents a more dignified place than the street to use the restroom and wash themselves, but the water in the stations is unsafe to drink. To meet the need for potable water, soup kitchens that had previously provided tap water to unhoused people in their dining halls began buying it in bottles to hand out on the streets.
"We were spending about $360 to $400 per day" on bottled water, said Lorenz of St. Anthony's. From March to August, the nonprofit spent about $70,000 on bottled water for homeless residents. St. Anthony's relies on donations and does not receive city funding, Lorenz said.
Glide, another Tenderloin homeless services group, has spent more than $48,000 on bottled water since March, said George Gundry, director of Glide's meals program, which is partially funded by the city.
The nonprofit also receives occasional water donations — including several pallets of Aquaman star Jason Momoa's signature canned water that the actor donated — which helps with costs, Gundry said.
While the cost of water alone is manageable, the bottles are just one of many added expenses Glide has taken on so it can serve food safely during the pandemic. "It certainly is putting a financial strain on Glide," Gundry said.
Homeless outreach and advocacy groups in the Bayview and Haight-Ashbury said they, too, have had to buy water for their homeless neighbors.
"It's almost to a point where I'm telling them they need to start buying their own," said Gwendolyn Westbrook, the executive director of the United Council of Human Services. The Bayview homeless resource center spends $300-$400 each week on bottled water, money it could put to work elsewhere, Westbrook said.
"We would be spending that money on food," she said, adding that she is worried her organization will not be able to meet people's growing food needs.
After homeless services groups urged the city to help, the utilities commission rolled out the first pipes with multiple spouts in the Tenderloin last May, including one in front of St. Anthony's and another near Glide. There are four spouts in the neighborhood. Two more were later placed in the Mission, and four are in the India Basin/Bayview/Hunters Point area.
The commission plans to finish the first seven permanent stations by the end of the month in the Tenderloin and Mission. Five more will be installed in the Bayview area in February. The stations are part of a 2010 Public Utilities Commission program that built 165 of the stations across the city, most of them in schools and parks.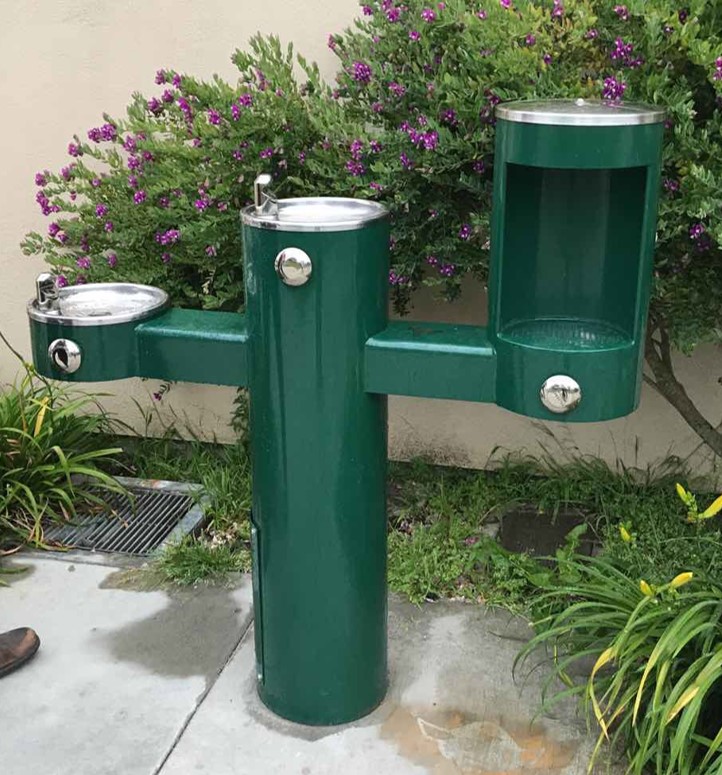 The fountains at Yerba Buena Gardens, where Coler used to fill his water jugs, are part of the program. There is already one station in the Tenderloin, at Boeddeker Park. Coler avoided the park because he had conflicts with unhoused people who lived nearby, he said.
The commission plans to eventually remove the temporary spigots after the fountains are installed, commission spokesperson Will Reisman said.
"We're not going to immediately take the manifolds down," he said. "We're going to evaluate the situation."
Only three new, permanent fountains are slated to ultimately replace the four pipes with multiple spouts in the Tenderloin, where service providers say need is greatest, but the commission is "committed to working with community members on future locations," Reisman said.
Thanks to the nearby spouts, St. Anthony's stopped buying bottled water in August, Lorenz said, suggesting makeshift spouts have made a dent in the neighborhood's needs. He is hopeful the permanent fountains will provide dignity to those who use them. But Lorenz is hesitant to call the program a success.
"While it's a start, I just don't see it as enough," Lorenz said. "Right now, in the Mid-Market and Tenderloin area, the need is very large. It looks a lot like where we started."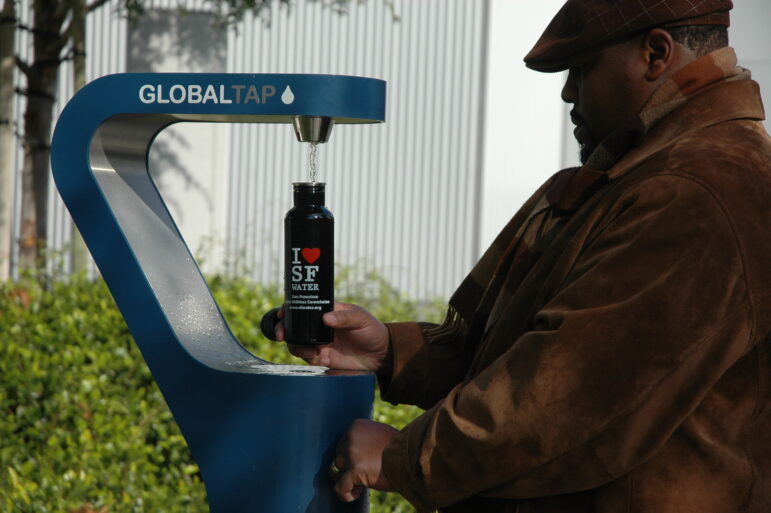 Enjoying unlimited water
When the city placed Coler in his hotel room in November, one of his first priorities was to take advantage of the bathroom. "I spent at least 45 minutes in the shower," he said. "I wasn't used to it."
Coler still marvels at having water access. He can wash his face, use the toilet and do his laundry whenever he wants.
"You can put clean clothes on when you wake up," he said. "Man, how sweet that is."