Because of the economic meltdown, an increasing number of San Francisco residents are finding themselves hungry and in need – and the agencies that would normally help fill those bellies are drastically cutting what they can provide.
San Francisco social service agencies face another hard-hitting blow, as the San Francisco Food Bank, which supplies more than 400 local organizations with the majority of their food, is still reeling from the loss of federal funding.
The national Food and Emergency Shelter Program, which Congress slashed 40 percent in this year's budget from $200 million to $120 million, implemented new rules for a city or county to qualify for funding. Since San Francisco does not meet the poverty and unemployment benchmarks of being at least 2 percent above the national average, the city lost its allocated $592,000.
According to the San Francisco Food Bank, this translates into a direct loss of $161,000 in late summer for the food bank that could have been used to provide 483,000 meals. Having reported a 46 percent increase in demand for food since 2008 and nearly doubling the average number of households served since 2006, this came as a major blow.
The San Francisco Food Bank received $161,000 in federal funding in 2010 and is now relying more than ever on individual donors, grants, government funding, corporate giving and food drives to make up for this loss. According to the San Francisco Food Bank, 47 percent of its funding comes from individual donors.
Susan Canavan, director of client services at Project Open Hand, a non-profit organization that provides both hot meals and pantry services for seniors, people with serious illness, and breast cancer patients, says her agency is already being negatively affected.
"We are one of their biggest customers and now they're struggling. It's a chain reaction," say Canavan. "It's just hard times. It's always a battle to get your piece of the pie," she adds.
Open Hand client Mary Thomas can vouch for the hard times – she hasn't been eating well lately and she's not happy about it.
The 56-year-old, who is battling AIDS , has utilized the agency's services for the past 10 years. A single tear rolls down Thomas' cheek as she explains how a bag once bulging with chicken, different types of cereals and condiments has diminished to a few paltry items. "You don't even get half of what you used to," says Thomas.
She said she can also see a difference in the hot meal service.
"About five years ago they had better food, but lately things been changing and it's just not the same. But at least it's something," Thomas said.
According to St. Anthony's Senior Manager Karl Robillard, the increased need has caused its two pantry programs — the Emergency Food Assistance Program and Brown Bag — to cut corners on product quality and reduce the number of items allotted to each individual.
"I know there has been months were we have had just a few items. If you compare that to 10 years ago, we used to get chicken, proteins, beef," says Robillard. "People would get grocery bags on their way out. I know that at times it has been reduced to two or three items that are not necessarily related to each other and more non-perishable items."
According to Robillard, another unfortunate effect of the uncertain economy is the rising number of people that Brown Bag, which solely services seniors, is turning away.
"There are a lot of seniors who are not actually getting the resources they need," says Robillard. "Any service provider will let you know we are seeing longer lines and far more competition for reduced services."
According to Robillard, St. Anthony's gets between 30 to 50 percent of its food items from the San Francisco Food Bank. "When the San Francisco Food Bank's inventory goes down, items we distribute go down as well," says Robillard.
He says earlier this year, St. Anthony's experienced a 10 percent increase in the need for its pantry services. Additionally, the dining room that serves hot meals experienced a two-percent increase that means 300 extra meals per week.
"It's a ripple effect. We work together with so many other agencies that if any program is reducing anything, it is felt by many," says Robillard.
Thomas says she is grateful for Project Open Hand and wouldn't have survived grueling years living on the streets of the Tenderloin without its help. "If I didn't have them, I don't know what I'd do. I know I'd have no meat on my bones," she says.
Robillard too, remains optimistic despite this year's harsh reality. "We've weathered seven recessions. Our development director likes to say we're running harder to stand still," he says.
"We're just going to work extra hard to maintain what we have."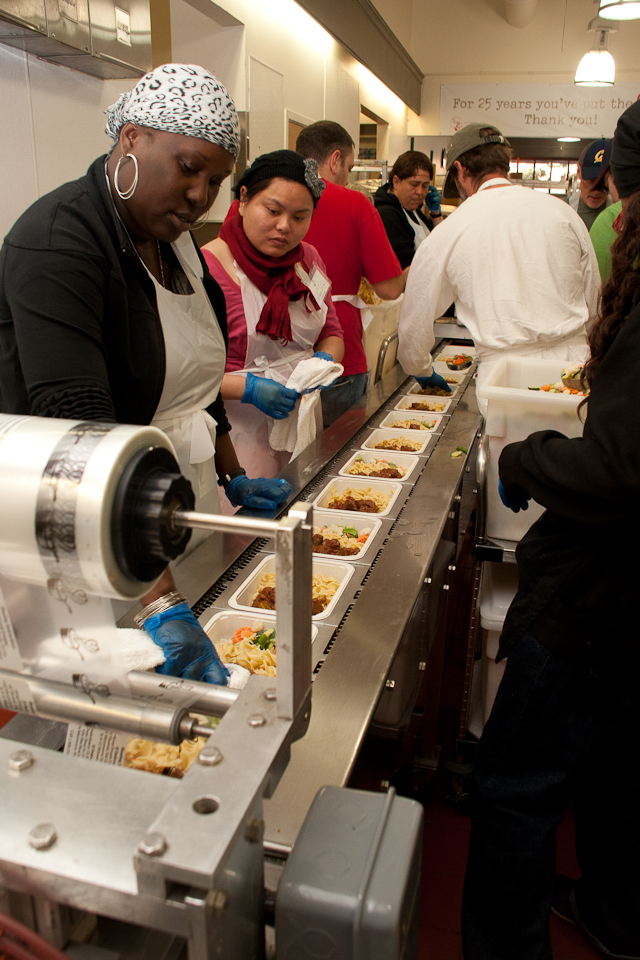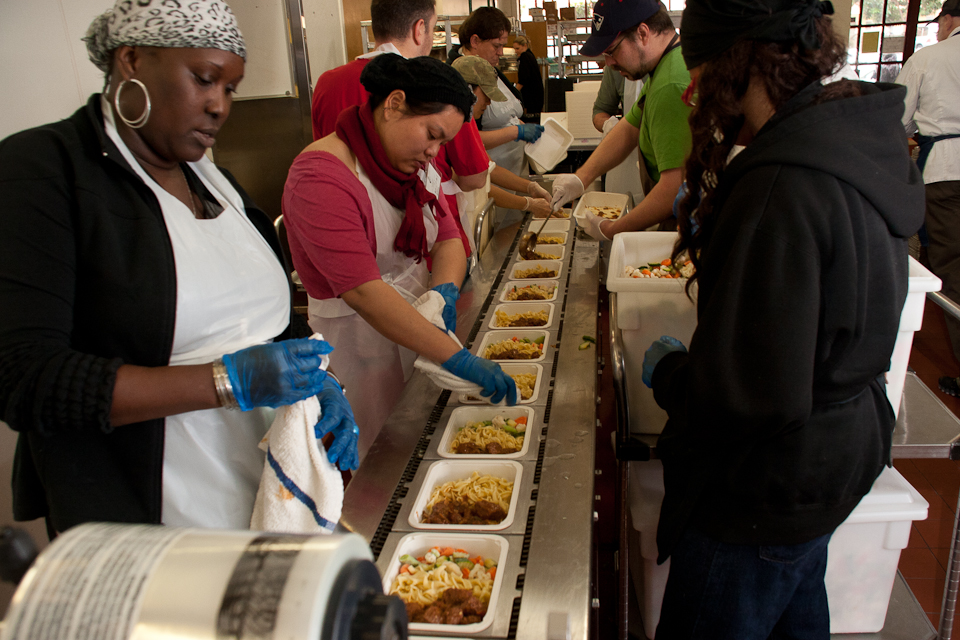 ---