This article is adapted from an episode of our podcast "Civic." Click the audio player below to hear the full story.
---
A drug crackdown in the Tenderloin and South of Market has resulted in more than 600 arrests, with authorities seizing more than 200 pounds of fentanyl since the initiative launched in May, Mayor London Breed told the Board of Supervisors during a public meeting on Sept 12. But not all board members were impressed.
The coordinated effort, involving city and state law enforcement agents, appears to be leading to violent clashes, said Supervisor Dean Preston, whose district includes the Tenderloin.
"They're poking a hornet's nest," he said in an interview. "There are increased turf wars that are occurring because you have a raid here, and another group moves in. I mean, we've had gunfire and a murder during the middle of the day."
In Episode 3 of the podcast series, "Criminalizing Drug Use: San Francisco and the Overdose Crisis," we take a look at the long, ignominious history and impact of drug criminalization in San Francisco and across the country. Read our previous coverage on this storyline.
Preston pointed to a report of a nonfatal shooting at Golden Gate Avenue and Leavenworth Street at 1 p.m. on July 18, and a fatal shooting at Golden Gate and Hyde Street at 6 p.m. on July 21. The San Francisco Police Department did not respond to questions regarding drug turf wars.
The police effort also seems to be making little headway in its reported goals of reducing street-level drug activity, enrolling people with substance use disorder into drug treatment and mitigating overdose deaths.
According to the chief medical examiner's office September report, 84 people died of accidental overdose in August for a total of 563 deaths so far this year. If the current pace of fatalities persists, the city could surpass its highest recorded number of overdose deaths in a calendar year — 725 in 2020.
Meanwhile, people who openly sell drugs appear undeterred, said Alexandra Pray, an attorney for the Public Defender's Office and a Tenderloin resident. She said she would rather see more patrols rather than arrests.
"I walk to work every day, and I walked through just groups of young men huddled around, and I know what they're doing," Pray said. "And I just don't know where the police are. It feels like the police are allowing this to happen, and then when they feel like it, they swoop in and pick people up, and we're not really solving the problem."
Along with increased arrests of drug dealers, police have also been arresting people who use drugs under the new Intoxication Detention Pilot Program. The effort is meant to encourage people with substance use disorder to accept drug treatment. But the strategy has been ineffective so far, according to Police Chief Bill Scott. At a Sept. 3 Police Commission meeting, Scott said only two people arrested at that point had accepted treatment. When asked by Police Commissioner Max Carter-Oberston how long the "experiment" of arresting people for drug use would continue, Scott suggested it was the only option available.
"Until some other entity, other than the police department, deals with this issue, it really doesn't leave us with much of a choice," Scott said.
Carter-Oberston countered that the San Francisco Department of Public Health published a 2022 Overdose Prevention Plan with other ideas, but it is "just collecting dust."
"I've read it," Scott said. "It's a nice report."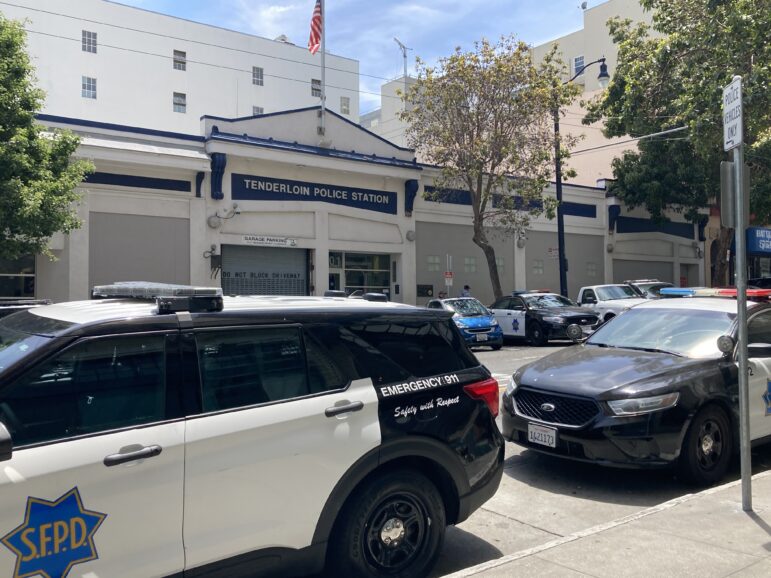 Shannon Knox, director of the San Francisco Drug Users Union — an organization of drug users campaigning to de-stigmatize and improve the well-being of drug users — said it is no surprise that the police strategy has not worked.
"By and large, drug users are scared of the cops because the cops put them in jail and they remove them from their community," Knox said. "So, I don't think that they're a trusted presence for entering treatment."
Street-level outreach workers are having more success. During her Sept. 12 discussion with supervisors, Breed said nine people who use drugs accepted treatment offered by outreach workers since the coordinated crackdown began.
The city and state's stepped-up law enforcement has raised comparisons with the War on Drugs, which began in 1971 under the Nixon administration and ramped up under presidents Reagan and Clinton, until it became widely denounced as ineffective and unjust.
Critics say San Francisco's law enforcement approach to drugs disproportionately targets communities of color. While Black people are 5% of the city's population, they made up about one-third of arrests and a quarter of police stops in the first three months of this year, according to a police report. According to last year's report, Black people were 25 times more likely than white people to be handled by force. And Black people make up 43% of the county jail population, according to recent data from the San Francisco Sheriff Department.
Update Sept. 19: This article was updated on Sept. 19 to reflect the latest preliminary data on accidental overdose deaths from the Office of the Chief Medical Examiner.
About the Series
As San Francisco continues to search for solutions for homelessness and overdose deaths, the Public Press' "Civic" audio team is exploring the origins of these crises, what has been done to help and what might be making things worse.
Throughout our six-episode series, we are exploring what influenced rampant opioid addiction and its connection to homelessness, the 150-year history of policing and prosecuting drugs in San Francisco, the long battle to open a safe consumption site in the city and grassroots efforts to curb the tide of deaths.
This series is underwritten by a California Health Equity Fellowship grant from the Annenberg Center for Health Journalism at the University of Southern California.
---
Interviewed in this episode:
Kelly Knight, professor of medical anthropology, history and social medicine specializing in substance use, homelessness and harm reduction at UCSF, and associate director of the UCSF Benioff Homelessness and Housing Initiative
Sarah Evans, global director of harm reduction, Open Society Foundations
Alexandra Pray, deputy public defender, San Francisco Public Defender's Office
David Mauroff, CEO, San Francisco Pretrial Diversion Program
Matt Dorsey, supervisor, San Francisco Board of Supervisors
Dean Preston, supervisor, San Francisco Board of Supervisors
Shannon Knox, director, San Francisco Drug Users Union
Sara Shortt, director of policy and community organizing, HomeRise
Gary McCoy, vice president of policy and public affairs, HealthRight 360
Laura Thomas, director of harm reduction policy, San Francisco AIDS Foundation