A state senator said she withdrew a proposal to reform the family court system in August after harsh criticism from the California Judicial Council, which called requiring extra training on family violence law burdensome and reflective of an "advocacy agenda."
The council, which represents judges and other judiciary branch staff, sent a letter to the chair of the Senate Judiciary Committee on Aug. 24, saying additional continuing education requirements would "overwhelm" judges with work. The group called the mandate "duplicative and unnecessary in light of the robust training that judicial officers and court-connected staff already receive."
The Judicial Council also argued that imposing targeted training topics could "implicate an advocacy agenda intended to improperly influence judicial impartiality" and open the door to pressure from other special interests that could skew its ability to rule fairly.
State Sen. Susan Rubio, a Democrat from Baldwin Park who introduced Senate Bill 616, nicknamed Piqui's Law, said she wanted to continue to work on it, add amendments and reintroduce it later. The Assembly unanimously passed a version in early August.
"It is unfortunate that the Judicial Council's resistance stifled our ability to include stronger protections for victims," Rubio said in a Sept. 1 statement. She said that in early June she put forward the bill "because children continue to be murdered at the hands of an abusive parent during custody disputes."
Piqui's Law would have included provisions that:
Required evidence-based training for judges and court personnel on domestic violence and related topics. The training would have added 25 hours of orientation training for new judges who sit in family law on top of the 30 hours they are currently required to undergo. Additionally, the bill required a minimum of 20 hours of continuing judicial education every three years thereafter. The training includes coercive control, the subject of a 2020 California law that allows victims to claim nonviolent abuse or manipulation in cases involving custody or temporary restraining orders. The Public Press found in a recent series that not all judges apply the law equally.
Restricted expert testimony in custody hearings to those who have previous first-hand experience in such cases.
Done away with the court-ordered "reunification therapy" services, which a judge can order if a child is reluctant to see one parent after a divorce. The nationwide practice is designed to encourage children to emotionally reunite with an abusive parent they have been separated from.
Required judges to consider any past or current sexual or physical abuse by the accused parent.
Much of the language in Piqui's Law was inspired by a federal regulation called Kayden's Law, a provision in the Violence Against Women Reauthorization Act of 2022, which President Biden signed in March. It was named after a 7-year-old Pennsylvania girl, Kayden Mancuso, murdered by her father in 2018 during an unsupervised visit. Her death spotlighted the country's weak child custody process.
The child's death spurred Rep. Brian Fitzpatrick, a Pennsylvania Republican, to work with Joan Meier, a professor of clinical law and director of the National Family Violence Law Center at George Washington Law, to introduce Kayden's law, a court reform measure in Congress. Meier hoped the legislation would serve as a blueprint for states to pass their own versions. The federal reform promised grants, capped at $25 million, to states with child protection systems that adhere to its guidelines.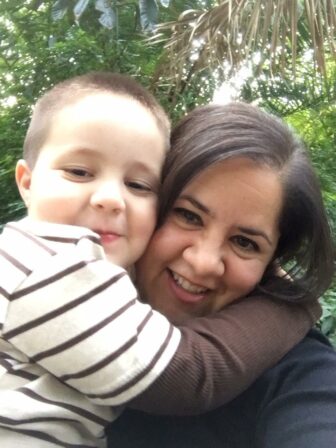 Rubio's bill earned its nickname, Piqui's Law, in honor of Aramazd Andressian Jr., a 5-year-old South Pasadena boy whose father suffocated him in 2017 in the back seat of his car. The father later said his motive was anger at his wife for divorcing him. He is serving a 25-year-to-life sentence.
Ana Estevez, the boy's mother, had fought unsuccessfully in family court to get full custody, saying she was worried about her estranged husband's abusive behavior. Eight months before the killing, a judge denied her request for a restraining order.
"Piqui was among those innocent children and one of the reasons behind our national movement to reform the judicial system," Rubio said in her public statement.
Meier said she had worked with Rubio in drafting Piqui's law. She said last month that the bill had been significantly weakened as it made its way through the Legislature and was a "fragmented version of the original federal model."
Despite repeated requests, Rubio's office declined to tell the San Francisco Public Press what provisions had been stripped from the original bill.
Among groups that opposed the bill were Mothers Against Child Abuse, Family Reunion and The Hero's Circle, which advocates for adult children who live in homes with only one parent after that parent had "alienated" them against the other. Members of The Hero's Circle said they opposed Piqui's Law because it just focused on domestic violence training while neglecting "many other aspects of child development, personality disorder and family dynamics."
At a Senate Judiciary Committee hearing Aug. 24, Sen. Andreas Borgeas, R-Fresno, said that "as meritorious as more education and continuing education are" for the judiciary, he was "initially concerned" that we are "building and building a curricula on top of those that work in the system."
He said that some of his judicial districts have some of the busiest dockets in the nation and by mandating more training judges will be so overwhelmed that "at some point the system could break."
But supporters of the bill who showed up at the hearing said such legislation could improve child welfare and, as one speaker put it, stop "preventable homicides."
The Center for Judicial Excellence, a San Rafael-based nonprofit group founded in 2006 to hold judges accountable, had worked closely with Rubio on Piqui's Law and sponsored the bill. The center's Executive Director Kathleen Russell said Rubio would likely reintroduce the bill next year with unspecified amendments.
Russell said she had fought for more than a decade to eliminate reunification therapy programs in California and across the country, describing the practice as "harmful and traumatic."
On Aug. 28, the Institute on Violence, Abuse and Trauma hosted a conference in San Diego in which three people who were sent to "reunification camps" told their stories. One of them compared her experience of being taken out of her home as an "abduction."
Ally Cable, 20, said she was forced by the courts to "reunify" with her father when she was 16. Cable said she had been sexually abused by him and forcibly taken to a camp in Bozeman, Mont. There, therapists worked alongside her father, who shared custody of her, to try to recreate an emotional bond between them. "They treated me like a criminal," Cable said. "It was terrifying."
But at least one person who disagreed that the therapy was harmful, spoke at the Aug. 24 senate hearing. Beverly Hills-based family law attorney and psychologist Virginia Griffin Donnell said that that provision in Rubio's bill was a "blind spot" and advocates who speak against the therapy have a "nefarious agenda."
"It's an insidious form of child abuse called parental alienation," asserted Griffin Donnell.
California's child custody laws, despite some good provisions, are not working, say childcare advocates. According to data from the Center for Judicial Excellence, since 2008 the nation has logged at least 859 reported cases of children killed by abusive parents during divorce or separation proceedings. Many died during family court-ordered visitation despite evidence that they were in danger.
Russell said California has the highest number of preventable child murders in the country, three times more than Texas and five times more than New York.
"These deaths are not just random, violent tragedies," Rubio and Russell co-wrote in an Aug. 17 opinion piece in The Sacramento Bee. "They are often preventable and due to mistakes or bias in the family court system."
They added that in California, "the courts operate with almost no meaningful oversight and very limited training for judges and other court personnel on domestic violence and child abuse."
In Pennsylvania, a bill called Kayden's Law is now working its way through the Legislature. Its aim is to make child welfare and safety primary concerns in custody disputes. It too calls for domestic abuse training for judges and court personnel.
Meier said about 20 states are currently readying to introduce their own versions of Kayden's Law, and nearly all of them are facing headwinds from judges.
---
CORRECTION 9/16/22: Corrects the number of Senate Bill 616, which is nicknamed Piqui's Law.