City scrambles to invent temporary bus and train lines for legions of yacht race spectators
A version of this story appears in the Spring 2012 print edition of the San Francisco Public Press.
The effect of a scaled-down America's Cup plan on an ambitious transit effort is unclear as the city continues to view the expected flood of visitors for America's Cup pre-events this August and October as a chance to experiment with new transit options.
On Tuesday, the San Francisco Board of Supervisors approved an agreement with America's Cup organizers that will put more of the spectator activity along the Marina Green. The transit plan for the game calls for an estimated 300,000 spectators around the waterfront — the equivalent of almost half the average weekday Muni ridership of 637,000 — city planners said they have to get nearly everyone out of cars to prevent transportation chaos.
New, temporary transit lines are being invented. The San Francisco Municipal Transportation Agency will introduce a new E-Line historic streetcar service from Caltrain to Fisherman's Wharf. It's also adding shuttle bus service from the Ferry Building to Fisherman's Wharf. And Muni will test limited-stop service on the 47-Van Ness and 30-Stockton buses.
The America's Cup schedule for this summer will also change, with AC World Cup races now scheduled for August and October. The official America's Cup final competition will happen a year later — Sept. 7–22, 2013.
"One of the silver linings here was that we could pilot new ideas and test them for America's Cup," said Peter Albert, the transit agency's manager for urban planning.
The transit agency will also pilot a bicycle-sharing program along the waterfront this spring. If successful, it will expand the program to America's Cup events locations in the Marina Green and Piers 27 and 29, near Chestnut Street.
Transit activist David Pilpel of Rescue Muni said he hopes other transit lines will not be affected. "Other lines around town should not lose service that's then programmed for priority here," Pilpel said.
Muni's Albert said some of the improved services would be in place for events this year, including increased bus and light-rail service and improved sidewalks. Albert said the pre-events would be a "dress rehearsal" for September 2013, when more visitors are expected.
Some of the money to pay for this plan is to come from private fundraising. The America's Cup Event Authority, a private nonprofit organization that has raised its own money for the event, created a committee to raise $32 million over three years to help the city sort out transit challenges ahead of time. Albert said the committee reached its first-year goal of $12 million.
City Controller Ben Rosenfield reported in early February that $3.2 million of that amount is in pledges spread over three years and that of the $8.8 million raised so far, almost all of it came from the race organizers. Donors have included the Conway Family Foundation, the John and Marcia Goldman Foundation and Charles Schwab.
The transit agency wants to stop spectators from driving into the city. It is urging them to leave their cars at BART parking lots and take rail to the viewing stands in San Francisco. Albert said parking would be limited to disabled drivers, bikes and tour buses.
Muni is recommending parking at satellite garages miles away — the Civic Center garage and the Fifth and Mission Street garage, both close to transit. Albert said the agency is also looking at using parking facilities at the Universityof San Francisco (5.2 miles from Piers 30–32) and the University of California-San Francisco (5.6 miles from Piers 30–32), both near Muni lines.
San Francisco cannot sort out the transit chaos on its own. It has appealed to other Bay Area agencies to help out and coordinate the influx of sightseers during the sailing events.
Muni plans to partner with regional transportation agencies, such as Golden Gate Transit and AC Transit, to pilot a program to pick up San Francisco residents during peak event periods.
Albert said Golden Gate Transit's 93 Line already passes near Crissy Field, a major viewing area for the America's Cup, and heads down Van Ness Avenue to the Civic Center. "This line can help Muni do the heavy lifting of getting people from Civic Center to the northern waterfront," he said.
Clipper Cards will help make payment easy for riders. Muni is working with the Metropolitan Transportation Commission to get high-value pre-loaded cards to visitors before they enter the city, and hope to distribute them to hotels.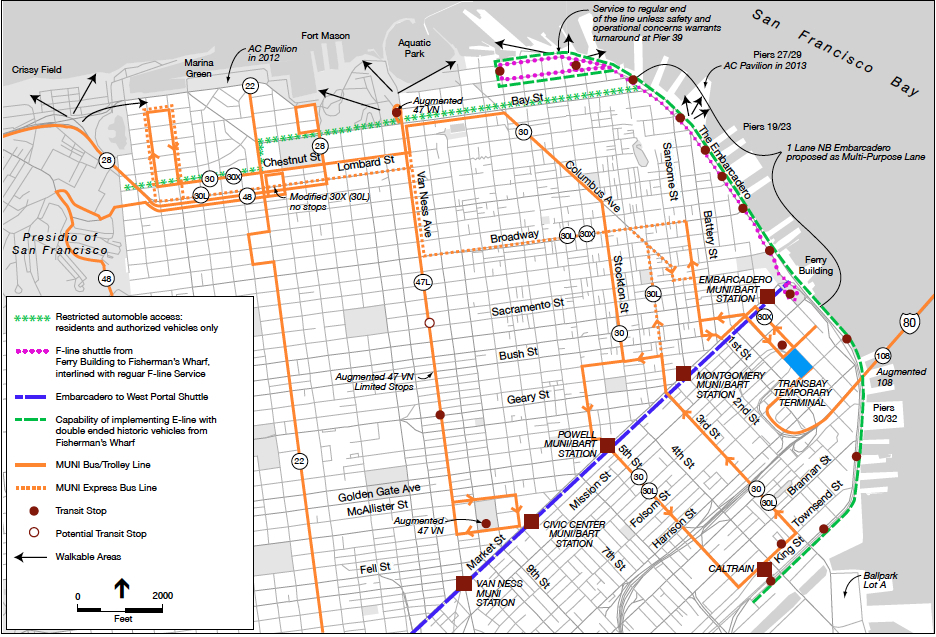 ---