More than four of every five households receiving assistance from the city to cover housing costs have been Latino or African American, the groups hit hardest by COVID-19 infections, public records show.
Philanthropic donors have poured $31.4 million into the Give2SF Fund, $6.3 million of which is targeted at helping people cover housing costs, according to the fund's most recent progress report. To date, 1,443 households have been allocated as much as $5.8 million in housing assistance, with the average grant being $4,000. The Give2SF effort collects privately donated funds that are then distributed by the city and partnering nonprofits.
Sixty-eight percent of the grants went to Latino households, where many speak Spanish as their primary language, even though they make up only about 15% of the city's population. African American households received 13% of the grants, though Black people constitute only about 5% of the population.
"We are facing a human crisis," said José Cartagena, senior program director of Homelessness and Housing Services at Catholic Charities, one of the organizations working with the Mayor's Office of Housing and Economic Development to distribute the money.
Latino residents are hit hard
City staff weighed many factors in deciding who would get the money, such as whether applicants had histories of homelessness and what their pre-pandemic incomes and rent burdens were, said Max Barnes of the Mayor's Office of Housing and Economic Development.
Latino residents have borne about 43% of infections. Many members of this population hold "essential" jobs, which require contact with the public and have continued during shelter-in-place orders. A post-Thanksgiving study by UCSF and the Latino Task Force found that 79% of Latinos who tested positive were low-income and worked in food and beverage service, or were day laborers.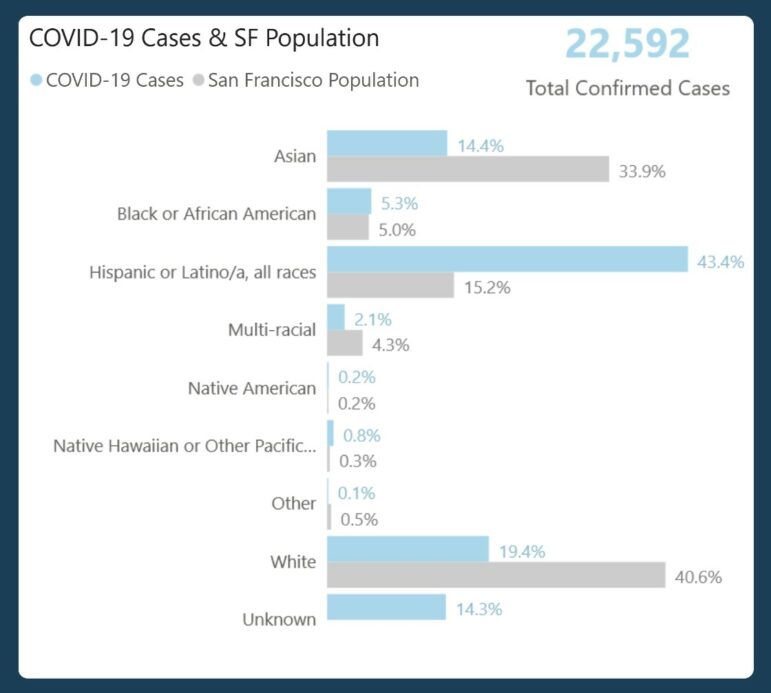 African American residents make up 5% of San Francisco's population, and about the same percentage of COVID-19 cases. While proportionally lower than in the Latino population, the infection rate among African Americans is significantly worse than among other ethnic groups. White residents, for example, make up about 41% of the city's population but about 19% of cases. Similarly, Asian people constitute about 34% of the population and about 14% of cases.
Nearly a third of housing-assistance recipients reported working in the leisure and hospitality industry, such as in bars, restaurant and hotels, which has been decimated by the pandemic.
From November 2019 to November 2020, employment in that industry declined 32.5% in the San Francisco area, according to data from the California Employment Development Department, which includes San Mateo County in the estimate.
"By the beginning of December, probably at the end of November, we were hopeful that the pandemic was in the way of improving," Cartagena said. "But now we have this big skyrocketing of the cases," and Mayor London Breed has ordered restaurants to cease on-site dining to slow the spread of the disease.
Rent assistance a relief for some
Many people have not been working since the pandemic initially touched down in San Francisco. That includes Maricela Lozano, 53, a Lyft driver who has not turned on her app since February.
"If you're Lyfting, you get a lot of calls from the airport," she said, recalling her most recent shift. "So, I was scared, and I just stopped."
Lozano has been tempted to return to work because her unemployment checks have barely covered living expenses for herself, her husband and daughter, who live together in subsidized housing. "But no, it's not worth dying for," she said. "So, I just stretch the food as much as I can."
Lozano applied for rent assistance this spring, and last week got notice that she would receive $2,500 from the Give2SF Fund.
"This is awesome," she said, calculating that it would cover about two of the three months' of rent that she owes. "It's just a relief. Just one stress less, besides being cooped up in the house."
Not enough money to help everyone
About 9,000 people have applied to the city for housing assistance through the Give2SF Fund — far more than the money will cover. The Mayor's Office this month closed the web portal to new applications.
Applicants have requested money for multiple months of rent, but Cartagena said his organization often cannot comply. Catholic Charities has sought to stretch the fund's dollars, giving households at least enough financial assistance to avoid eviction — by activating protections state lawmakers established in August.
Under the legislation, tenants can't be evicted for unpaid rents that were due from March 1 to August 31, 2020, though that debt is still owed and landlords can seek repayment through the courts. San Francisco renters are protected through Sept. 30, thanks to local legislation. Tenants are protected from eviction in subsequent months, up to Jan. 31, if they pay at least 25% of the rent due in those months.
Cartagena said his staff does its best to get households beyond that threshold and tells recipients they will need to resume paying rent in February when the protections expire.
That is when he expects a second wave of applications for rent assistance, he said, which Catholic Charities will try to address with their other funding sources. "Because then we're going to have landlords that legally will be able to pursue the eviction orders for nonpayment."
"We will cross the bridge when we get to February," he said.