The Bay Area Reporter distributed its first edition on April 1, 1971. While publisher Bob Aaron Ross may have chosen April Fool's Day as a light-hearted start for the gay community's latest bar "rag," the newspaper would go on to do serious journalism, covering the major events of the post-Stonewall era.
Editor Cynthia Laird told "Civic" that type of coverage began surprisingly early. "While it kind of started out as a gossip rag, it quickly pivoted to covering gay news," she said. "We ran a cover — I think it was our fifth issue — of people picketing in front of the federal building, holding signs like Gay Rights Now."
Publisher Michael Yamashita said that over time, the newspaper developed a greater commitment to journalism. "There was a concerted effort to professionalize the reporting to hire people who actually had journalism backgrounds and degrees and experience in media."
The newspaper went on to chronicle the rise of lesbian and gay political activism in the 1970s. The era would see the successful statewide battle to defeat the Briggs Initiative, which would have banned lesbian and gay teachers from the classroom, and the election of San Francisco Supervisor Harvey Milk, followed by his and Mayor George Moscone's assassination by former Supervisor Dan White.
The early 1980s brought the AIDS crisis, when the paper became a source for information on the growing pandemic. Yamashita said the newspaper would publish free obituaries: "We almost always insisted that the obituaries were turned in with a picture. Because a lot of times you would recognize people in the community or in the bars, but not necessarily know their names. We would run several pages of obituaries, which today seems very shocking, but it seemed to be a normal thing: three pages of obituaries at the height of it."
The Reporter ran a famous headline "No Obits" on Aug. 13, 1998, that marked a turning point in the pandemic when the famous drug cocktail started to reverse the decline of many HIV patients, Laird said.
"I just remember Mike Salinas, the editor at the time, just constantly going downstairs to see if any obituaries had come in," he said. "We were very careful to point out that it certainly didn't mean nobody died that week. It just meant that no one had turned in an obituary. And it did give a lot of people hope. It's probably our most famous headline."
In the first decade of this century same-sex marriage dominated the paper's headlines. "We had the state cases and then we had Proposition 8, which we covered extensively in 2008. That was kind of a bittersweet election, because Barack Obama won the presidency, but gays lost the right to get married in California. It was a very strange election night. But then, you know, of course, that case went through the courts. And ultimately, the Supreme Court restored the same-sex marriage rights for Californians in 2013. And then, two years later, the Supreme Court legalized it nationwide."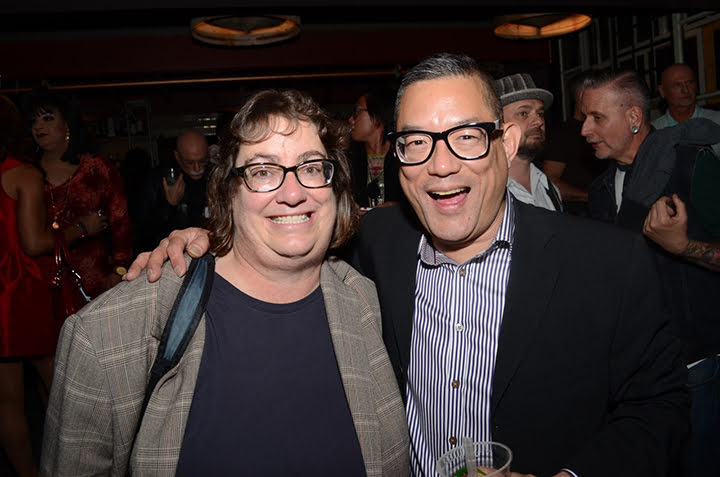 Many of today's headlines are about expanding the spectrum of issues of concern to those of gender nonconforming individuals and the fight for transgender equality.
The Reporter began during a time when the movement used the term gay to mean both gay men and lesbians, and now uses the acronym LGBTQ to include a broader understanding of gender expressions and emotional attraction. It has also had to evolve from the age of classified ads, paid print advertising and newsprint to the digital era dominated by social media.
The paper has continued to publish a weekly newspaper during the pandemic, despite having to lay off an editor and an administrative staff member.
The newspaper has generated over $33,000 in a public fundraising campaign and begun a monthly membership program. The pandemic has also caused it to try new digital strategies, including a morning newsletter, a YouTube channel and a more robust social media campaign.
Yamashita said he is also reaching out to other newsrooms. "We're also collaborating quite vigorously with other publications in the city, in the state, and also LGBT publications nationally," he said. "So we're really solidifying our relationships with these different tiers of publications, especially here in San Francisco. Because we found that there's strength in numbers. We're also sharing advertising sales, which is something that we should have been doing, frankly, a long time ago."
"I can't tell you what's going to happen to our industry in the future," he added. "But I really believe that we will survive."
A segment from our radio show and podcast, "Civic." Listen at 8 a.m. and 6 p.m. Tuesdays and Thursdays at 102.5 FM in San Francisco, or online at ksfp.fm, and subscribe on Apple, Google, Spotify or Stitcher.