Groups that feed the hungry face obstacles, and possible charges, from tighter regulations
Under a golden September sky, surrounded by the endless Mission District din, nine hungry people lined up behind a white table at the 16th Street BART station, waiting for a Thursday evening meal.
Cecylian Tiogone, a Food Not Bombs volunteer, smiled as she pushed a grocery cart full of rattling pots into the southwest corner of the plaza, setting up to share the week's free offering: sautéed veggies, white rice, lentils, bread, green salad, fruit salad and baked pears encrusted with granola.
The all-volunteer global movement collects surplus food from grocery stores, bakeries, markets and local farmers, sharing free vegan or vegetarian meals as a protest against war and poverty.
Many city residents who are not housed or are food insecure depend on this humanitarian aid to survive. But state regulations taking effect in January jeopardize Food Not Bombs' 35-year mission of sharing food outside the confines of government bureaucracy.
A Response to Claims of Illness
Gov. Jerry Brown signed Assembly Bill 2178 into law on Sept. 18. It forbids so-called limited service charitable organizations from serving food in plazas, parks and other public spaces without a permit. Local officials may confiscate the food and cite the organization with a misdemeanor.
Assembly member Monique Limon, D-Santa Barbara, introduced the bill in response to complaints to local health departments about community groups feeding the hungry and making people ill. Opponents, including Hunger Action LA, argued unsuccessfully that no data backed up the claims of widespread food-borne illnesses.
The law expands the definition of a food facility, which is regulated under the Retail Food Code, to include charitable groups "whose purpose is to feed food-insecure individuals."
Excluded from the law are food banks, cottage food operations, churches, private clubs or nonprofits that give away or sell food no more than three days in any 90-day period.
Other exclusions cover "temporary food facilities" that operate from a fixed location or a swap meet, and "nonprofit charitable temporary food facilities" in which student clubs or organizations operate under the authorization of a school or other educational facility.
Eschewing Label as 'Charity'
In addition, food sharing is limited to distributing whole, uncut produce and food inside its original packing, reheating commercially prepared foods and distributing commercially prepared cold or frozen foods. Home-cooked meals not prepared in a commercial kitchen are forbidden.
But Food Not Bombs does not define itself as a "charitable organization" and meets none of the requirements for an exemption. The volunteers bear the costs for feeding the unsheltered, unless the group collaborates with a local food bank and works under the food bank's permit and supervision.
As the name suggests, Food Not Bombs "is a criticism and protest of the grossly misguided priorities of the political economy," said Eddie Steele, coordinator for the San Francisco chapter. The group shares food "in order to fulfill a basic human need currently unmet by U.S. society."
On the chapter's website he writes that the new law "is potentially a weapon for those who want to erase the homeless from the streets and punish people who are helping the homeless. These groups are filling a critical gap, and criminalizing their volunteerism will only add to the misery that the state itself is struggling to find the resources to address."
Steele noted an apparent double standard.
"You can have a barbecue and share with others in the park, and you don't have the health department telling you to stop," he said in an interview. "It doesn't make any sense."
Fighting for an Exemption
Steele added that "there has never been a report of food poisoning or other illness" resulting from the group's operations.
Food Not Bombs is fighting for an exemption. The last Senate amendment before final passage in August might make its case.
Senators deleted language that would have allowed local health officials to "temporarily suspend the registration of limited service charitable feeding operations during a state of emergency." San Francisco declared a Homeless State of Emergency in 2016, and other Bay Area cities have followed.
Food Not Bombs chapters in California met in Oakland over the Veterans Day weekend to strategize a statewide response to the new law.
In San Francisco, there are 196 food pantries that serve 12 percent of the city's population, according to the 2013 Assessment of Food Security in San Francisco report. But the demand outstrips supply. Nonprofit food programs are at capacity and always vulnerable to funding cuts from the government and private donors.
Funding is also scarce for federally funded programs like CalFresh, which aids low-income California residents, providing some relief so they can buy healthy groceries. But CalFresh was designed to be a supplemental program and not made to sustain an individual. In 2012, the average individual CalFresh benefit was $149.05 per month, or $1.06 per meal, states the 2013 food security report.
The San Francisco Department of Public Health had not released its 2018 report by mid-November, when this article went to press. The Public Press reached out to the health department for comment on this new permit process and policy change, but did not receive a response. At present, there is no procedure to implement.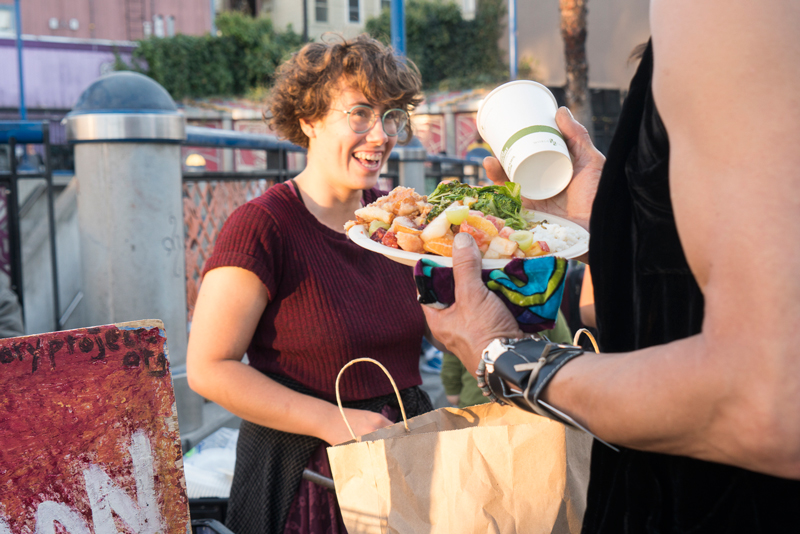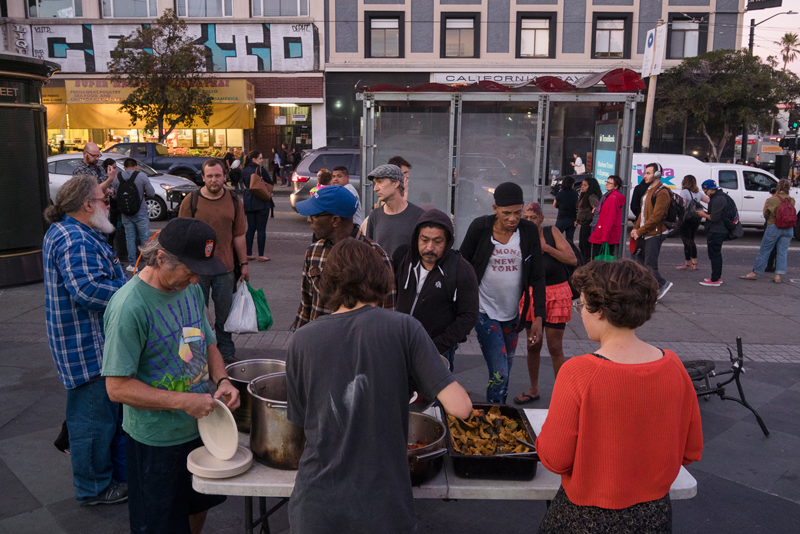 ---