The sun pried through the morning fog and splashed across Leif Skorochod's unshaven face as he sifted hurriedly through the pile of bike parts in his tent, picking out the rejects and tossing them into the back of a public works truck.
Like most of the homeless residents on Willow Street Tuesday morning, Skorochod was headed for either a city-sanctioned tent camp or the barracks-style homeless shelter at Moscone Convention Center after city workers arrived early that morning and gave them a choice: accept shelter or leave.  
Homeless Outreach Team members discussed placement options with tent residents while Public Works crews tossed items into truck beds. At least two residents received hotel rooms because they have underlying health conditions. The rest of those the Public Press spoke to were either headed to Moscone or a sanctioned camp site.
Skorochod was nervous about being exposed to coronavirus or other illnesses at Moscone, he said, and would likely opt to stay outdoors at a sanctioned camp instead.
City workers continue to place residents at the Moscone shelter despite concern from advocates for the homeless who fear that inconsistent testing and a lack of social distancing enforcement at large shelters could lead to another COVID-19 outbreak. In April, the Multi-Service Center South homeless shelter experienced one of the largest shelter outbreaks in the country when more than 100 shelters residents and staff tested positive for coronavirus.
"I'm kind of disappointed because we were hoping to go into hotels," Skorochod said, adding that he had heard from two friends who live at the camp on Fulton Street that conditions were better at the sanctioned camp than at Moscone.
"I would rather have my own room, but they said they ran out," said Rebeccah Franklin, who had been living on Willow Street a couple of days before city workers rousted her. Franklin had chosen to move into Moscone.
"It's better than on the street," she said. "I heard that they feed you."
Moscone Center provides meals to those who are housed there, three residents confirmed.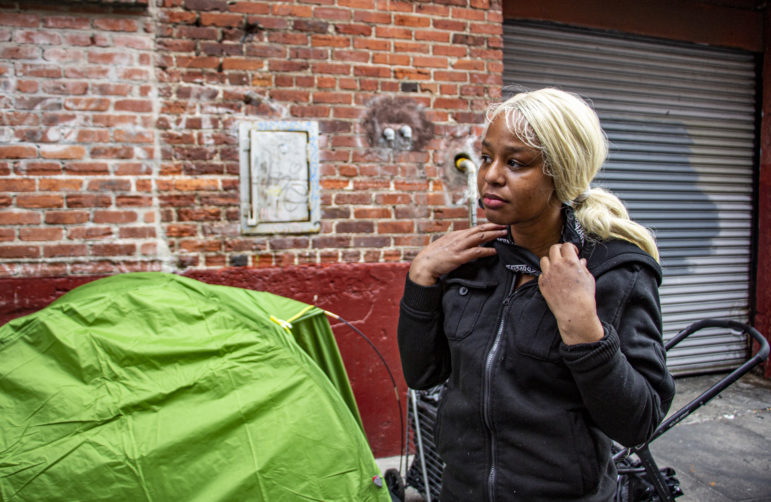 Changing shelter protocols
In April, the Department of Homelessness and Supportive Housing told the San Francisco Chronicle that Moscone Center would hold no more than 200 people who had tested negative for the virus and undergone a 14-day quarantine period. All residents would live in small cubicles and be encouraged to practice social distancing at the shelter.
The Department of Emergency Management assured the Public Press in July that the city was working with shelters to ensure public health guidelines were followed when they reopened, though testing residents before they entered the shelter was not recommended by the federal Centers for Disease Control and therefore not required. Instead, shelters perform temperature and symptom checks on everyone who enters the shelters and the health department recommends bi-weekly testing of staff and monthly testing of shelter residents after entry.
As of July 20, Moscone had 115 residents, according to the emergency department. The emergency department did not respond to a request for an update on the city's group shelter population by publication time.
Brian Edwards, a Coalition on Homelessness organizer and member of the Shelter Monitoring Committee, the city's homeless shelter oversight board, said he had mixed feelings about Tuesday morning's operation.
"While I question the safety of congregate shelters, I respect the right of people to make their own decisions," he said of some alley residents' decision to accept placement at Moscone.
Matt, a housed resident who lives on Willow Street and declined to divulge his last name, said the shelter placements were "a blessing, and long overdue."
"We treat animals better than the unhoused," he said, adding that he and neighbors had been asking the city to do something for the alley's residents for months and he, too, had experienced homelessness before. Neighborhood residents have been vocal about deteriorating conditions in the Tenderloin — particularly on Willow Street — since the neighborhood saw an explosion of homeless residents in the aftermath of the MSC South outbreak, which prompted the city to thin shelter populations or shutter them entirely.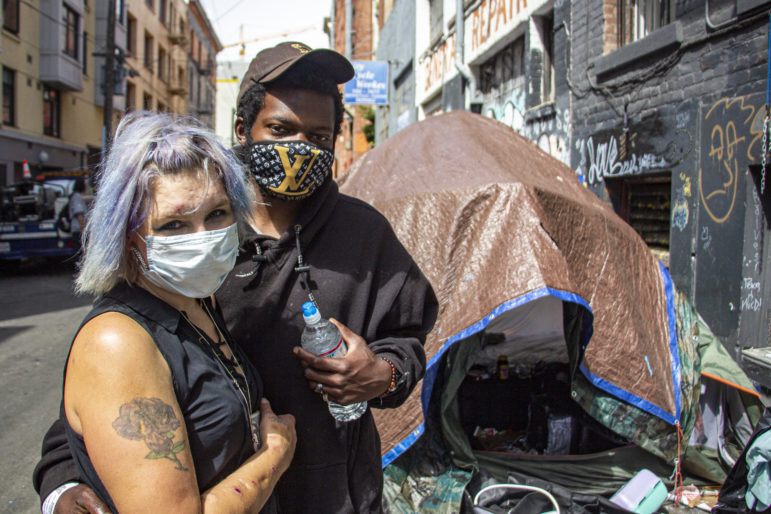 Tara Lowe and her partner, Dashaun Jackson, traded jokes as they packed up their belongings. They were the only two Willow Street residents who received a hotel room Tuesday that the Public Press could locate. Lowe said she is HIV positive and Jackson said he suffers from congestive heart failure, making them both eligible according to the city's hotel placement criteria, which allows only homeless residents over the age of 60 or with underlying health conditions to be placed in hotels.
"I'm juiced," Lowe said about moving into a hotel room. "I can't wait."
Lowe would not accept placement at Moscone or a sanctioned camp because she thought residents wouldn't have as much privacy or freedom of movement as those in hotel rooms or on the street, she said.
"I'd rather be right here," Lowe said, nodding to the tents around her. "I need a place where I can do my thing and not get messed with."