At a Blacks Lives Matter protest, a young woman stares boldly into the camera's lens, hoisting a sign that reads, "George Floyd isn't a wake-up call. The same alarm has been ringing since 1619. Y'all just keep hitting snooze."
The last time the alarm rang this loudly may have been when the Black Panthers built a nationwide movement.
What distinguishes the Black Lives Matter movement from the Black Panther Party, which brought national attention to police brutality and racial injustice more than half a century ago, is widespread appeal, said one early member of the Black Panthers. His simple advice for the younger generation: Stick with it.
"I see Black Lives Matter trying to avoid the mistakes we made," said Henry "Hank" Jones, who was active in the San Francisco chapter starting in 1968. "We allowed ourselves to be marginalized. We had ego issues, went to the gun too soon, and allowed the government to label us as gun-crazy criminals."
The Black Panther Party for Self-Defense, as it was initially known, was founded in 1966 to challenge police violence against African Americans in part by protecting Oakland's Black communities with armed organized patrols. At the time, California residents were legally allowed to carry weapons openly. After the Panthers began to take advantage of this law, the state Legislature passed a law banning the open carry of loaded weapons by anyone outside of law enforcement or others with explicit authorization to do so. The National Rifle Association, which vehemently opposes gun control, supported the law.
Today's activists need patience, said Jones, who at 85 doesn't expect to see radical change in his or possibly in his grandchildren's lifetimes. "We were trying to make a revolution in our lifetime," he said. "You can't rush things."
Other former Black Panther Party members similarly connected the dots, outlining how the Black Lives Matter protests against police brutality serves as an extension not just of their own struggle in the 1960s and '70s, but also of struggles stretching much farther back.
"We have all been encouraged by the energy of the Black masses and our allies in protesting the murder of George Floyd, but as each of you are well aware the murder and brutality visited upon our people is nothing aberrational or new," said 17 former party members in an open letter to hip-hop artists published June 10.
"The butchering, torture, and dehumanization of Black people extends to the bullwhips, castrations, and mass rape on the plantations of America's European 'founding fathers' and continues to this day," said the letter from the party members, including Kathleen Cleaver, former communications secretary and organizer of the campaign from 1968 to 1970 to free co-founder Huey Newton from jail. "This is the legacy from which modern law enforcement in America derived its overarching purpose, the protection of property and wealth, not people — especially not Black people."
While the Black Panthers worked to connect history to the realities of police violence and structural discrimination they faced, they gained widespread notoriety — and support from activists — when armed members marched into the California state Capitol to protest the bill that later became the Mulford Act, banning the open carry of weapons.
These days, Black Lives Matter activists and their allies are using phones instead of firearms, recording videos of police killings and other brutality that have gone viral repeatedly. The resulting waves of outrage, amplified by immediate access to millions of viewers via social media, culminated in the current movement of daily protests that have spread around the world over the last month.
From 'Pony Express' to social media posts
"Back then, we didn't have the technology that Black Lives Matter has," said Jones. "Our news and information were transmitted by Pony Express. You couldn't flick your finger across a screen and have information immediately at your disposal."
Today's activists — including one in my own family — recognize the huge advantage modern organizing tools give them to control and distribute their message.
"One of the big issues of the late '60s and '70s was limited opportunities to present themselves to the country," said Kamel Jacot-Bell, a San Francisco-based activist who is also my nephew. His understanding of how the Black Panthers worked and how they compare with the current movement come in large part from his father, Herman Bell (my brother-in-law), a former member of the Black Liberation Army and the Black Panther Party, who served almost 45 years in prison after being convicted inthe killings of two New York City police officers.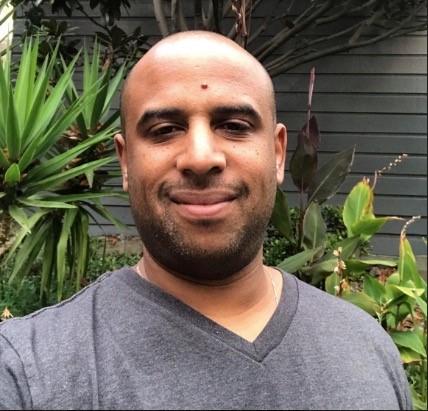 "They had the Black Panther Party Newspaper, but that had a limited circulation," said Jacot-Bell. "They had few other tools to get their message out beyond television, which was owned by the corporate structure and the state who distorted their intentions."
While some former party members laud the "wonderful consciousness" they see behind the current protests, they also question whether the Black Lives Matter movement will have staying power without a set platform, programming and goals.
"Black Lives Matter has adopted some of the same policies the Black Panther Party put forth as far as police community review boards, observers and calling for the dismantling of the police," Jones said. But their methods might need more "teeth" or strategies for community building beyond the protests, he added.
The Black Panthers, co-founded by Newton and Bobby Seale, developed a 10-point program articulating their demands and philosophy. It declared their independence from a racist society and outlined ideals, modes of operation and organizational structure.
Community building as social and political strategy
Though they are often remembered for their gun-toting activism and were depicted in mainstream media as a Black militant militia, the Black Panthers created more than 60 programs to aid the community, some of which have been emulated by governmental, private and nonprofit organizations.
The Black Panthers sponsored a free hot breakfast program in 19 cities that fed more than 20,000 children in 1969. From storefronts, trailers and tenuously constructed shacks, their People's Free Medical Center offered screenings for high blood pressure, lead poisoning, tuberculosis, diabetes and cancer, physical exams, immunizations and other primary care services. These centers predated President Bill Clinton's attempt at universal health care and President Barack Obama's affordable health care program.
Other programs included the People's Free Ambulance Service, a food pantry for the poor and the Black Student Alliance, which provided mentoring and support for Bay Area college students. The mission of the latter program can be seen in modern day Black male and minority mentoring programs at universities. Finally, the Black Panther Party newspaper kept the community apprised of the party's initiatives, issues and ideologies as well as struggles affecting the black community.
"We were about nation building for blacks," Jones said. "That meant you didn't call the police when you had an issue. People called the Black Panther Party to settle their issues." Members were known to carry guns in one hand and a law book in the other to protect and advise Black people who had been stopped or harassed by the police.
"There was ownership in the community," he added. "You didn't have to call in outsiders."
The power of multiracial campaigns and modern tools
Black Lives Matter protests have taken a different tack, shutting down major business and retail districts, blocking traffic on major throughways in major U.S. cities and bleeding over from primarily minority communities into integrated and predominantly white communities as well.
With mass mobilization reminiscent of the civil rights era, the movement's far-reaching, influential social media awareness-building campaigns and largely peaceful protests have succeeded in changing the national conversation and spurring progress.
After worldwide demonstrations, all four officers involved in Floyd's death were arrested and charged. Charges against Derek Chauvin, the police officer seen with his knee on Floyd's neck, were upgraded from third- to second-degree murder. Afterward, Minneapolis announced plans to disband its police department. Several other cities, including New York and Los Angeles, have announced plans to redirect part of their police departments' budgets to youth and social services. San Francisco Mayor London Breed on June 11 announced a plan to redirect some police funding to the African American community and institute other police reforms.
Louisville's Metro Council is considering a law, named in honor of Breonna Taylor, to limit the use of "no knock" search warrants. Taylor was shot and killed in her home by Louisville police after they used a no-knock warrant to enter her apartment. Elsewhere, statues of racists and Confederate monuments are being torn down. Even popular racecar circuit NASCAR will now prohibit the display of the Confederate flag at its events.
"The next step is for people to organize within themselves in various aspects, like providing actionable steps to defund the police, creating alternative options for security and safety in our community, economic blocs and ways to create ownership and equity within our communities," Jacot-Bell said.
Despite their achievements, all revolutions or movements have arcs that can go from success to dormancy if participants are not careful, some former Black Panthers said. To avoid that, they said long-range planning is essential.
Jones emphasized the importance of continued pressure to eliminate structural racism. "This generation is amazing. It's the generation after the Black Panther Party who dropped the ball," he said. "They thought they were free. They thought hard work and following the rules would gain acceptance. Racism knocked that out."
Now that the movement has spread around the globe, it's important to think ahead and be deliberate, he suggested. "Black Lives Matters has to be in this for the long haul."