It took two cops closing in from opposite directions to nab Charles Donovan outside Coffee to the People on the corner of Haight and Masonic streets. Dressed in camouflage and carrying a sign that read, "Need food," Donovan was whisked away, ordered to remove his sunglasses and duly patted down.
The officers told him he was being detained. A barista saw the scene and ran outside to intervene. Donovan, eventually, was let go with a warning as the cops wrote down his name in their notebooks. His offense? Reclining on a large backpack against a tree outside the coffee house, an activity that stands in violation of San Francisco's newly enacted "sit-lie" ordinance.
The ordinance — approved by 54 percent of city voters in November — prohibits people from sitting or lying on sidewalks from 7 a.m. to 11 p.m. barring medical necessity or patronage of a business.
Donovan, a self-proclaimed radical activist who said he has been homeless his entire adult life, might have been fined between $50 and $100 for what amounted to his first-time offense.
He doesn't worry about having to pay a fine — except, of course, the time it would take him to raise the money. "I live as cheaply as I can already," he said. "There is nothing left to sacrifice."
Dozens of others haven't gotten off as easily as Donovan since the city started enforcing the law in February. None, yet, have gone to jail for a repeat offense; but that could soon change in the coming months, eventually costing the city nearly $4,000 per arrest after the third offense.
City Controller Ben Rosenfield, in the 2010 election pamphlet, stated that the ordinance "would not affect the cost of government." The office's threshold for a significant cost is more than $100,000.
"Typically, the city's cost is significant only if there's jail time," said Peggy Stevenson, the city performance director in the controller's office. "The likelihood of a person staying a night in jail is almost none."
But anybody who is repeatedly cited could face up to 30 days of jail time, adding significantly to city costs. While the offenders themselves can only be fined a maximum of $500, the city faces potential outlays of $3,900 per jailed person. Based on the Sheriff Department's estimated cost of $130 per day, San Francisco could end up spending more than $8 million per month filling its 2,200 prisoner county jail to capacity.
Strikingly, that cost "is the same to us if the person was booked on a murder charge or a sit-lie violation," said Eileen Hirst, spokesperson for Sheriff Michael Hennessey.
According to latest data available, police issued 57 warnings and two citations from Feb. 1, when the law's enforcement began, through Mar. 23. Park Station, which has jurisdiction over the Haight, was among the leading stations in issuing warnings and citations. It ran third behind the Central — which covers the Tenderloin, Nob Hill, North Beach and Financial District — and Richmond stations.
Five arrests on unrelated charges have resulted from the law's enforcement, Park Station Commander Capt. Denis O'Leary told a crowd of about 30 at an April 14 neighborhood meeting. Although no arraignments based on sit-lie have taken place, O'Leary said the City Attorney's Office already anticipates litigation fighting the new law.
"Where it is going to be defined is in the courts," O'Leary said.
San Francisco's ordinance is modeled after a similar one in Seattle, which has already withstood legal challenges. The costs of any possible litigation here would add to the city's financial liability, officials say.
Colleen Rivecca, advocacy coordinator for Homeless Youth Alliance, said her organization now devotes most of its time to telling youths where to go to pay various ticket fines rather than how to access homeless services. She said many of San Francisco's homeless would rather stay in the Haight than shift to more dangerous neighborhoods like the Tenderloin or South of Market.
"Youth feel safe in the Haight," Rivecca told the audience at Park Station.
Another result of the law could be to drive more homeless deeper into Golden Gate Park – where, even if they avoid the park's sidewalk areas, they can still be cited for other violations.
Even if the ordinance's legality is affirmed in the courts, Donovan said he believes enforcement might be its undoing.
"The easiest way to bring the law to a halt is civil disobedience — make them ticket us over and over again," he said. "Make it unenforceable by the sheer force of our numbers."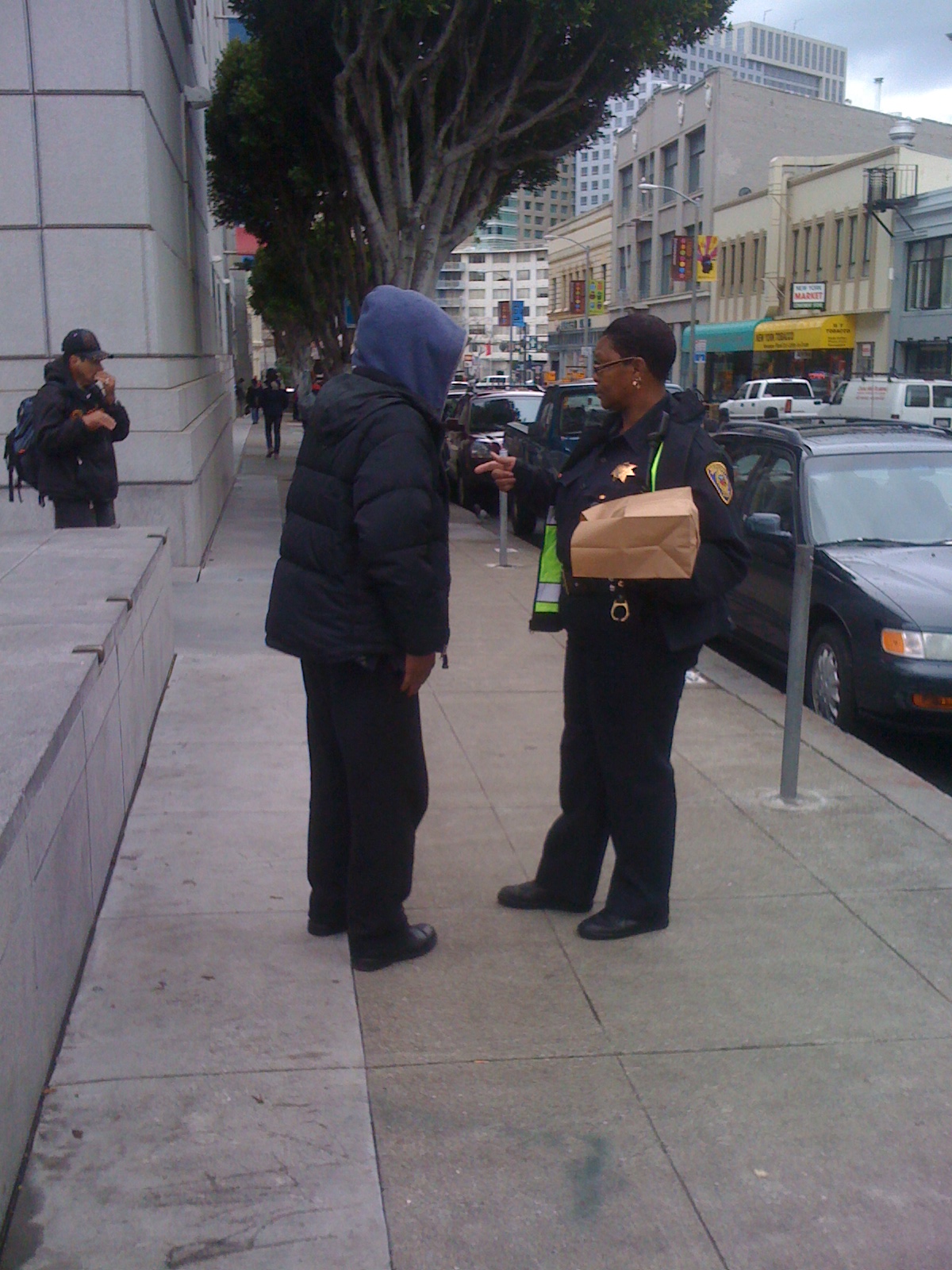 ---