(UPDATE: A reform slate of candidates won victory in the election. For details, see Kevin Stark's blog).
Whoever wins the election at Northern California's largest public-sector union this weekend will inherit a troubled labor local damaged by internal conflict and controversial negotiations in San Francisco that cost the union hundreds of jobs last year.
Just months ago, city officials slashed both jobs and salaries of members of the Service Employees International Union at city-run clinics, hospitals and schools, while stepping away from a plan to save jobs with new taxes. The union lost at least 546 jobs as Mayor Gavin Newsom and his allies on the Board of Supervisors sought to pare back more than $400 million last fiscal year.
Now members of SEIU Local 1021 will sit across the table again to negotiate and they are hoping for a better outcome.
No one yet knows precisely what's in store for the budget year beginning in July. Department heads have only recently submitted proposed budgets in their attempt to bridge what is projected to be an unprecedented $522 million deficit. If expected cuts in state funds are realized, the city's deficit could balloon to $682 million.
Nerves are still raw from last summer, when a closed-door deal between SEIU and the mayor's office fell apart. Even after the union conceded jobs, Newsom refused to follow up on what the union thought was his responsibility in a May memorandum of understanding. The agreement said the city and SEIU were "committed to working with other stakeholders" to "develop and support" revenue measures for the November 2009 local ballot. After reviewing mixed polling data, Newsom considered but rejected the idea.
But while negotiators from the union were gambling with the mayor, clerical staff and nursing assistants protested furiously. For months, the rank and file held scores of raucous rallies at City Hall, staged sit-ins and protested at Newsom's gubernatorial campaign fund-raisers. Some expressed disappointment with their own leaders.
Ken Jacobs, chair of the Labor Center at the University of California at Berkeley, said unions can demonstrate their capacity through smart negotiations with employers, but have trouble doing so when they are disorganized internally.
"Good relationships help in difficult economic times," Jacobs said, "but relative power is the most important fact."
Cutting pensions
This year, Newsom has floated one idea: scaling back the hours and pay of 10,000 public-sector employees. The deal, which would save the city $50 million and cost workers a pay cut of 6.25 percent, has yet to be negotiated. The mayor has had only a few meetings with union heads recently, which Supervisor Bevan Dufty characterized as "complicated."
The parties have not entered negotiations, but have been meeting to discuss a recent proposal by Supervisor Sean Elsbernd for an amendment to the city charter to reform city pensions. SEIU, which opposes pieces of the legislation, has found an ally in Supervisor Eric Mar, who has proposed his own amendment to the pension plan.
Elsbernd's proposal does several things. First, it would force SEIU workers and transit operators to contribute 7.5 percent of their paychecks to their own pensions. Other union workers, including police and firefighters, have been paying into their own pensions since 2006. While Elsbernd argues that the legislation levels the playing field for other city workers, the police and fire pension shift followed a 7 percent pay increase that same year. That option, known as a "retirement flip," is not being considered for SEIU members because it would cost the city between $13 million and $16 million. But the city might be willing to offer a 5 percent or 6 percent pay increase, the union said.
Second, the proposal attempts to eliminate pension "spiking," in which a city employee receives a promotion and raise the year before retiring, increasing pension benefits and wages. Currently pensions are based on an employee's last year of pay. The proposal would change it to the average of the last two years.
Sin Yee Poon, a candidate for chief elected officer of the union, said the proposal won't solve the spiking problem, but instead would trim everyone's pensions.
"It will affect the new hires," she said. "Over the years the city has done tremendous cutting to new hires. It would take a new worker 20 years to gain the same health benefits that are given to current workers."
Women, minorities hurt
While SEIU is pressing hard to protect jobs this spring and summer, it is also continuing to press its charge of discrimination against the city. The workers most affected last year were disproportionately women and minorities. Nursing assistants employed by the city were 97 percent ethnic minority and 80 percent women workers, according to a 2008 city study.
"Yes, these layoffs are discriminatory," said Supervisor Chris Daly, an SEIU supporter. "The cuts are disproportionately affecting women of color."
The charge is still being reviewed by the city's Department on the Status of Women.
Emily Murase, the department's executive director, said the city is still analyzing the layoff data, and it will take months to determine whether the layoffs were in fact discriminatory. "Every department does look at the data in terms of gender and race," Murase said. City officials, in turn. accuse the union leadership of not prioritizing workers' jobs when they agreed merely to delay layoffs for six months, so long as other conditions, such as consideration of the revenue vote, were met.
Dufty said the political relationship between the parties was "bad" before last year's negotiations, but after last year's budget season, the relations have disintegrated.
"There is a lot of finger-pointing," said Roxanne Sanchez, who is running for president of the local. "The workers feel devastated. They are paying the price, and they are losing their jobs. We can rebuild our relationship with the mayor. He must be willing to sit down and negotiate with us."
The mayor's office did not respond to repeated requests for comment on this topic. Sanchez said that in the 2007 merger that created Local 1021, many employees were shuffled around within the union. Stern replaced many of the elected heads of Local 790 in San Francisco with a handpicked team that included Damita Davis-Howard, now president of Local 1021. Sanchez called the process "disorganized."
"The relationships weren't there," she said. "It was very difficult to negotiate, with the difficult economy, and with so many changes within SEIU. It was rocking the boat during a time when we needed to be steady."
Poon defended the local. "To some degree, disorganization is always going to be there," she said.
Carlos Rivera, a spokesman for the union's current management, said the bargaining team in the San Francisco talks involved experienced negotiators.
The union's leadership election, which ends Friday, is the first since Local 1021 was created in 2007, when 10 Northern California divisions of the Service Employees International Union merged into one. Local 1021 is now an agglomeration of 54,000 members across the region, straining the meaning of the word "local."
The shift — which proponents hoped would strengthen the negotiating clout of health care, clerical and other workers — was part of a statewide initiative organized by Andy Stern, the union's national president. The move reduced the number of the union's affiliates in California by nearly half, at a time when local government austerity measures became a leading threat to members' livelihoods.
A year of hard feelings
As early as January 2009, there were signs the city was facing a significant deficit. The mayor's office set out to work with the San Francisco Labor Council, the Board of Supervisors and the Department of Human Resources to save as many jobs as possible.
From May through September, the city issued 3,230 layoff notices to save $50 million and bridge a $538 million deficit. The city was ultimately able to rescind the notices sent to more than 2,000 of these workers.
In May, union rank and file rejected an agreement the SEIU bargaining team had negotiated with the mayor's office in which they would have given up holiday pay.
Failing to garner member approval for a concessions package is evidence of "transitional issues," said Jacobs of the Labor Center.
"Post-merger, you have a larger union. It played out with last year's vote." But to blame the union for the job losses would be unfair, he said. "Given the economic situation of the city, it isn't clear that other tactics would have changed the outcome. To the degree that the merger created less focus, it is possible that in terms of what was achievable politically, there could have been more."
Union members in June did approve a second concession proposal. In this agreement, union members agreed to take unpaid holidays and give back $38 million in exchange for the city not issuing pink slips to workers for six months. The document was signed by Ed Warshauer, chief negotiator for the union, and Mary Hao, a representative of the Department of Human Resources.
Taxes to the rescue?
New taxes were supposed to be the union's savior. But the idea never had very strong support in City Hall.
In June, the Labor Council conducted a poll of San Franciscans to determine which taxes or fees had popular support. The results were not extremely encouraging to labor. A utility tax and a dedicated parcel tax polled at less than 50 percent approval, while a payroll tax and a sales tax were both under the two-thirds approval needed, said Tim Paulson, executive director of the Labor Council. But a few measures, including a possible additional hotel fee and an alcohol tax, polled positively.
For months, city officials cited this poll as a reason both sides didn't push for taxes to save jobs. Newsom did not want to push for the measures that had only a small chance of success, said Robert Haaland, a political organizer for the union.
"Without strong mayoral support, we couldn't pass measures," Haaland said. In June, the mayor's office canceled several meetings with the union to discuss revenue options. In July, the union abandoned the effort, Haaland said. Newsom's office insisted that the agreement only required the city explore the possibility of additional revenue, not necessarily to follow through on that idea. Haaland said the mayor's refusal to meet was a political jab.
Some political consultants with experience running campaigns said a few of the revenue options could have passed. "San Francisco missed a great opportunity to have a revenue measure on the ballot," said John Whitehurst, founder of the campaign strategy organization Whitehurst and Mosher.
Setting priorities
Others suggested that the union did not do enough during the budget season to save the jobs. The workers, mainly certified nursing assistants, clerical staff and school secretaries, were not on SEIU's restoration priority list, which included preventing outsourcing of security guards and jail health workers.
After the mayor proposes a budget in June, the Board of Supervisors has one month to restore or "add back" funds to cut programs. Several nonprofit service providers lobbied heavily to receive $43 million in restorations. With those funds, the city saved 65 jobs — most of which were union priorities.
Leaders balk at claims that the union didn't show sufficient support for its members from the start.
"That is not true at all," Haaland said. "The workers were not on the union's restoration list because of the June agreement the union made with the city."
For the 289 workers who did lose their jobs or were immediately rehired into lower-paying jobs, the cutbacks meant disrupted lives for workers and their patients.
Fired, rehired and fired up
Solita Magsalin was a nursing assistant at Laguna Honda Hospital for 19 years, working with patients who had dementia, when she received a layoff notice in September. A seniority clause in the union contract meant she was laid off and rehired for less pay. She worries about keeping her household together.
"For me, 25 percent of my paycheck (is) a hell of a lot of money," Magsalin said. "I'm a single mother. I'm the sole breadwinner. Right now, I go paycheck to paycheck. I might lose my house."
Carmen Rutherford has been a nursing assistant at Laguna Honda Hospital for 18 years and was also forced to take a 25 percent pay reduction. She said the cuts were hurting workers and patients.
"I don't think whoever is making the decisions is thinking about the patients," Rutherford said. "They definitely are not thinking about me."
Members of the Board of Supervisors who are politically aligned with the union are still working to save some of these jobs. The board delayed layoffs until Jan. 1, in hopes of finding federal and state funds to prevent cutbacks, but the delay was to no avail. The layoffs went forward last month.
The sting of losses in last year's bargaining is still a "live wound," for city workers, Poon said. She added that the union has filed a grievance with the Department of Public Health and is looking into a possible lawsuit.
"We want to see thoughtful, responsible agreements," Sanchez said. "No politics — what is best for the public and the public-sector workers. We need to not come with, 'what can we get,' but what is publicly responsible and what is fair."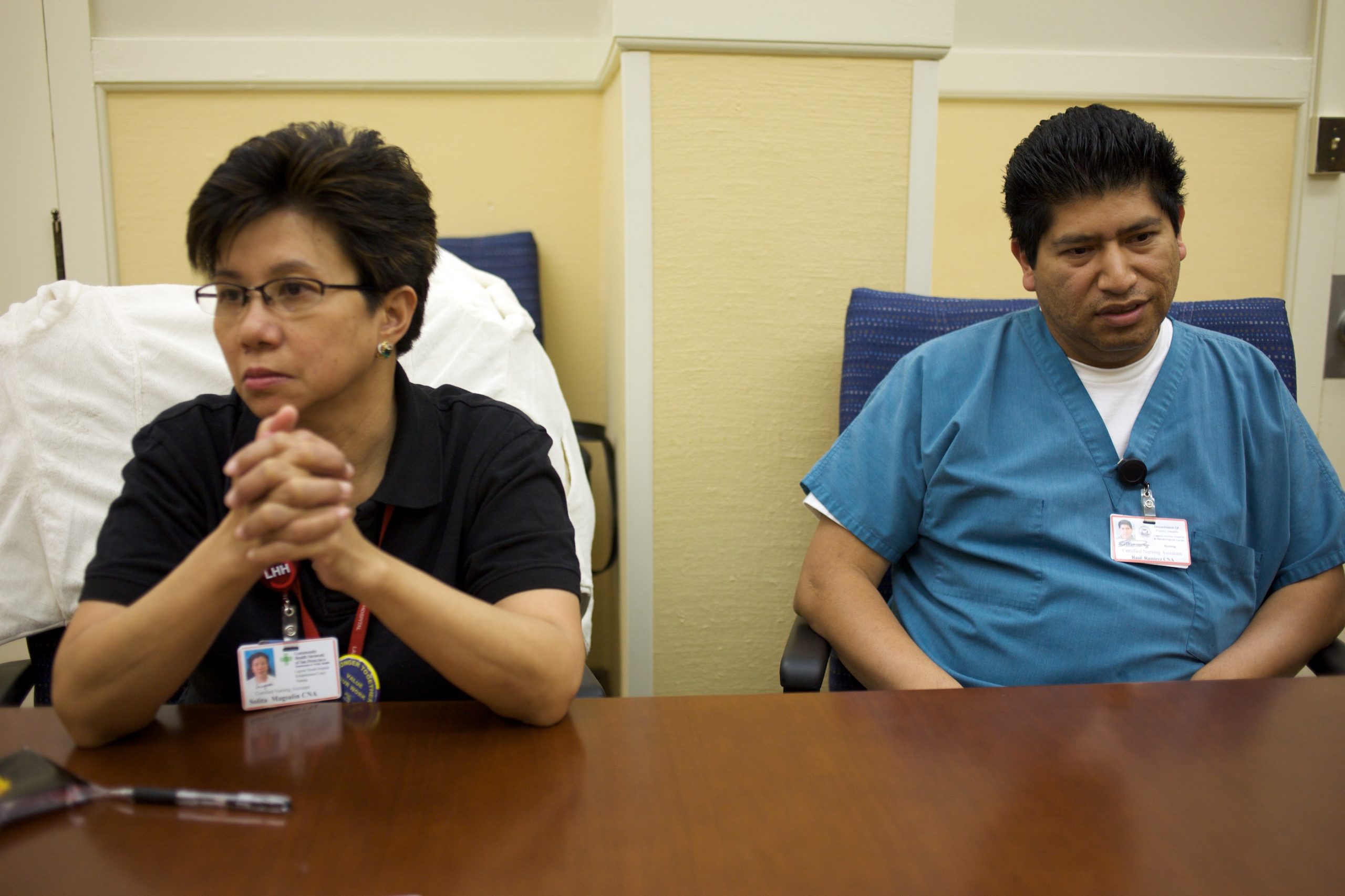 ---