Every Saturday afternoon, Maria Watanabe takes the stage in Japantown's Peace Plaza to sing and dance as the anime character Sailor Moon despite her fear of crowds. Watanabe says the anxiety causes her to cry before performances, but she believes her shows are worth the trouble because anime is such an important part of Japanese culture — and she admits her alternate persona is "addictive."
"I feel like I'm connecting with kids when I see them smile," said Watanabe, who's so into her character that she refuses to state her age, hoping to maintain Sailor Moon's 14-year-old identity. (Watanabe appears to be in her late 30s or early 40s.) "Feeling people happy makes me happy and I want to do it again." She added that she wants to show young people that Japanese culture and speaking Japanese is "cool."
Watanabe is part of a growing number of otaku (anime fanatics) in the Bay Area and the United States. Over the past few decades, attendance at anime (animated movies) and manga (comic books) conventions has skyrocketed.
San Jose's FanimeCon
alone grew from 200 attendees in 1994 to about 15,000 in 2009.
Watanabe, who moved to San Francisco from Tokyo when she was 13, performs weekly at 1 p.m. during her break from working at Japan Video and Media. She emerges from the Kintetsu Mall wearing Sailor Moon's signature outfit, from the blue wig all the way to the black knee-high stockings, and red ribbon around the neck.
After pressing play on her boombox, Watanabe moves slowly at first and then gains speed as the music continues and her voice begins to carry. People stop and stare. Some laugh, some take pictures and soon children are crawling up the steps of the Peace Pagoda to imitate Sailor Moon's dance moves.

"I don't know what's happening," Toby Ferleman said to his friends as they pass by, "but I like that it is happening."
Origins of cosplaying
Americans were introduced to anime in the form of "Astroboy" in 1964. More anime followed, such as "Speed Racer" and "Voltron." Cosplaying, with "cos" being short for costume, began in Tokyo in the mid-1980s and made its way to the United States a few years later. As cosplay became more popular, the first anime convention in the United States, Project A-Kon, took place in 1990 in Dallas with 380 people in attendance. The convention now draws upwards of 15,000.
Watanabe learned about the power of manga while working for Americorps in Oakland in 1989. Children averse to reading would suddenly gain interest when presented with manga.
Over the next 18 years, she maintained her interest in anime but said her life was too serious, as she worked for Sony at the San Francisco Metreon doing robot doll demos.
In 2007, Watanabe thought she needed a change so she attended the San Francisco Animation on Display convention, launching her cosplaying passion.
"I liked to become someone else," she said.
As Watanabe began her current job, she began to cosplay with friends under the Peace Pagoda. Her first public performance was for the 2007 Japantown Cherry Blossom Festival, making her a relative newcomer to the cosplay scene.
Takeshi Onishi, who organizes the anime portion of the parade and lobbied to have it included in the festival 11 years ago, said he appreciates Watanabe's active role.
"We need to appeal to all kinds of people," said Onishi, who is also Watanabe's boss. "Anime really represents a big part of contemporary Japanese culture."
But Seiko Fujimoto, who sits on the executive board of the festival, is not sold on cosplaying. She criticizes the cosplayers' skimpy outfits and notes that some Issei (first-generation Japanese immigrants) are dismayed that Watanabe performs her weekly routine underneath the pagoda, which she describes as "sacred."
"Anime is not a big part of Japanese culture and not a part we want to present to people," Fujimoto said. "I think they should make their own festival."
Heroes joining forces
Watanabe believes she's a role model for other cosplayers, as well as for all children.
To further the beneficial influence of cosplay, Watanabe has created the group Animemyu, a practice group for cosplayers who want to audition for public performances at events like parades, festivals and parties.
The group includes people like Meiling McCann, a freshman at the College of San Mateo. Sara Ou, a freshman at City College of San Francisco, has yet to secure an Animemyu position but is a staple at practices and events.
Cosplay "is like another world," McCann explained.
"School is so boring," Ou added. "All people care about is partying. I don't."
Instead, Ou and McCann rehearse with Watanabe every weekend.
In addition to cosplay, Animemyu has bylaws that dictate that members must participate in community service and avoid alcohol, cigarettes and drugs. Ou and McCann said the rules are well worth the sacrifice because cosplaying is what they enjoy the most.
"Some are so into their character, they want to be the character," Watanabe said. "They're becoming real-life superheroes by helping people."
Mapping a cosplaying future
As much as Watanabe enjoys staging her performances, she could never cosplay for a career as some do in Japan, as cosplay models sell a variety of products.
"I don't want to do it for a living," she said. "If I was paid, I don't think I would enjoy it as much."
How long Watanabe continues cosplaying in the Peace Plaza is still to be determined.
"As long as the kids want it, I'll keep doing it," she said.
But Watanabe thinks she's found the ideal place to continue to pursue her calling.
"In San Francisco, you can walk around in your costume," Watanabe said. "And people barely notice."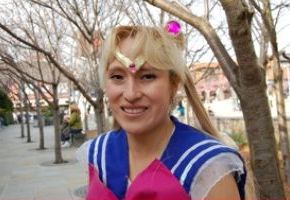 ---