A group that worked with San Francisco on a public program to allocate rental relief funds is keeping a list of thousands of applicants from city staff, an official confirmed Friday. That has made it impossible for city officials to follow up with the applicants and give them additional help.
Q Foundation created the web application tool for rent assistance through San Francisco's Give2SF COVID-19 Response and Recovery Fund. Those seeking help had to submit demographic, income and other information to the organization, rather than to the city. Many applicants were from vulnerable populations and faced potential eviction for pandemic-caused rent debts.
The Mayor's Office and other nonprofits involved in the Give2SF program "have been trying for months to engage in good-faith data sharing but have been unsuccessful due to Q Foundation's reluctance to allow the City access to applicant data," Max Barnes, a spokesperson for the Mayor's Office of Housing and Community Development, said in an email.
Q Foundation has cited "proprietary reasons" for withholding the information, Barnes said. He added that his office "was familiar with the Q Foundation platform and we are confident that data security protocols are in place."
"We are trying to work with the Mayor's Office of Housing," said Brian Basinger, the organization's founder and executive director, in a phone call. He then hung up.
Q Foundation was one of five groups the Mayor's Office tapped to distribute rent assistance to the city's most vulnerable applicants, based on information like income level and race. About 9,000 people applied for the program, and 1,443 received rent assistance, according to an April 12 report by the Office of the Controller.
Basinger has not responded to direct requests to share even subsets of the total applicant data, said Martina Cucullu Lim, an attorney and the executive director of the Eviction Defense Collaborative, one of the groups that implemented the city program.
She said she first requested the information from Basinger in late 2020. She would later make at least two other attempts.
"I have yet to receive a response," she said.
"We have the money to help them, and it is criminal to not help them," Cucullu Lim said of the applicants, referring to financial and legal resources at her organization's disposal. She later clarified that to her knowledge no law had been broken.
"It makes me cry and it makes me really angry," she said. "We're talking about individuals who are undocumented immigrants, who might have a past criminal record, who might have a language or a disability issue — the most vulnerable people."
"We also knew there were more funds coming down the pipeline," she said, referring to the possibility that governments would approve future financial assistance programs as the pandemic continued to batter the economy and workplaces remained closed.
And that's exactly what has happened: San Francisco is slated to open a new rent-assistance program in May. It will deliver about $24 million in federally funded housing aid to residents.
If city staff had the names of those who weren't chosen to receive Give2SF money, it might have been possible to run their applications through this and other programs as well, Cucullu Lim said.
"That's a scary process, for them, to put their name into an application like this. It is terrifying," she said. "And the idea that we would force them to do it all over again?"
Barnes said this would not happen again.
The forthcoming rent-relief program will have "strict applicant data security provisions and the City will have unchallenged access to that data," he said.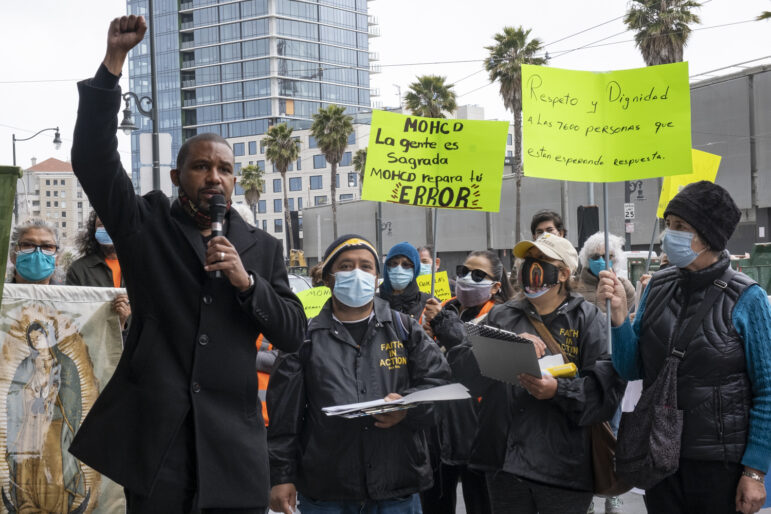 On Friday, Faith in Action, a group of religious congregations and community organizations, held a sit-in at City Hall in protest against the Mayor's Office for requiring people to apply yet again for the new program. The sit-in was scheduled to take place before Barnes told the Public Press that Q Foundation was withholding the applicant list.
Supervisor Shamann Walton joined the protesters. He said he "supports families needing family relief" and asks the city to "take into consideration people already on the list. They already have expressed the need, and now we need to help them."
The sit-in's goal was to draw public attention to how it would be problematic if people had to apply a second time, said Matt Alexander, a Faith in Action organizer and member of the San Francisco school board.
"We're not trying to create conflict, but we just honestly don't know what else to do," Alexander said.
— Additional reporting from Yesica Prado