City workers have moved more than 140 homeless Tenderloin residents into hotel rooms and city-sanctioned tent encampments over the last eight days in response to a legal settlement between San Francisco and the University of California Hastings College of the Law.
The agreement requires the city to remove the majority of homeless tents from the neighborhood by late July, with the goal of eventually reducing the tents, which numbered 415 on June 5, according to a city count, to zero. That tent count doesn't include the more than 20 tents at a city-sanctioned encampment at 180 Jones Street. The plan specifies no timeline for reaching a tent count of zero.
As of Thursday afternoon, the homeless outreach team, fire department, public works and police had placed between 149 and 174 people in hotels, said Jeff Kositsky, manager of the Healthy Streets Operations Center, the multi-agency homelessness task force spearheading the operation.
"This is really challenging work for a variety of reasons," he said. "People have been out here for a while. They're kind of dug in."
The settlement dictates that the city remove 300 tents from the Tenderloin by July 20, starting with the neighborhood's most vulnerable citizens, and will take measures to prevent more tents from being moved into the neighborhood afterward. Kositsky predicted that, in spite of the challenges inherent to coordinating such a large operation, the city would finish ahead of schedule.
"We'll be done by July 3," he said. "It's not like we're having a hard time finding people." But Kositsky was skeptical of the settlement's long-term goal of eliminating all tents. "If we can get back to 100, that would be good," he said.
UC Hastings dean David Faigman considers the goal of zero tents in the Tenderloin a fair one, especially when comparing the neighborhood to more affluent parts of the city.
"The number of tents on Nob Hill is probably zero," he said. "The number of tents on Russian Hill is probably zero. I don't understand why the Tenderloin would be any different."
Tensions between the city, the university and homeless activists have flared in recent weeks over what many have called abhorrent conditions in the Tenderloin since the coronavirus pandemic reached the city.
A group of advocacy organizations, which have been monitoring city workers relocating tent dwellers this week, asked to be added as a party to the lawsuit so they could be included in settlement negotiations. The settlement has not been approved by the Board of Supervisors, so it is not yet legally binding. The groups argued the city's plan to use "enforcement measures" to persuade residents to accept hotel placements is similar to pre-coronavirus sweeps, or instances in which people's belongings were confiscated by city workers with little to no warning in an effort to force them out of areas where housed residents complained the most.
Kelley Cutler, an organizer for the Coalition on Homelessness, said the plan for enforcement measures was unnecessary. "People are desperate for hotel rooms, for shelter," she said. "It's not about having to convince people. The reality is there's not enough for the need that's out there."
According to its data tracker, the city has acquired 2,532 hotel and recreational vehicle units to house vulnerable people, including unhoused residents, during the pandemic. A 2019 census found more than 8,000 unsheltered homeless people in the city.
The offers of hotel rooms and sanctioned tent camp spots put the city in compliance with the precedent set by Martin v. Boise, a Ninth Circuit Court of Appeals case that makes it illegal for a city to punish the homeless for sleeping outside without offering an alternative, Faigman said.
"I don't really see the basis for their concern, other than speculation that the city is not going to get it right," he said of the coalition and other groups. "The settlement itself has language in it that provides that the city under the settlement agreement will respect the rights of the unhoused."
Voices from the streets
The San Francisco Public Press spoke to unhoused people near two encampments where city workers were moving camp residents into hotels. They come from varied backgrounds and became homeless for different reasons, but they all had one thing in common: the hope that a hotel room will lead to permanent housing and a new life.
Eugene Bowden
Eugene Bowden's bloodshot eyes and calloused fingers betray his long history of homelessness. A child runaway, the 52-year-old Bayview native spent his youth in and out of group homes.
More recently, he has spent his middle age in and out of hospitals with a skin condition that makes him prone to infection. Abscesses line his left leg. He had just left the hospital the day before the Public Press spoke to him. "I couldn't take the smell no more," he said.
A lifetime of homelessness has worn Bowden down.
"I've been in tents so long, I just want to do something better with my life," he said. "I can't take care of myself." He hopes his time in the hotel will lead to a permanent home and he wants Mayor London Breed to know that he appreciates her for what she's done for him, he said.
While waiting to be placed in a room Wednesday, he wobbled away, leaning on his cane and saying he needed to get his daily methadone supplement before he left for his new room. He was last seen saying goodbye to friends who lived in tents nearby.
Terrance Tolliver
Dreadlocks bounce across the worried creases framing Terrance Tolliver's eyes. He locked two children's bikes to a tree before making his way to Golden Gate Avenue and Leavenworth Street Wednesday, hoping to get a hotel room from the homeless outreach team that had arrived that morning. City workers will give rooms only to people camping on the block they visit that day, and Tolliver lives several blocks from Golden Gate and Leavenworth, but he headed straight to the intersection anyway after a graveyard shift as an attendant at one of the city's public restrooms and sanitation stations. He had to try, he said.
The 33-year-old spent a year in San Mateo County Jail for possession of cocaine and crystal meth. His connection with his four children has suffered since then, but he was hoping that if he managed to get a hotel room, he could then find long-term housing and begin to rekindle his relationship with them, he said.
"I want them to come stay with me, do the family thing," he said of his kids, aged 11, 7, 6, and 1. "I'm doing the best I can do to show I'm a suitable father."
Asked what he thought of the idea that homeless people were coming from other neighborhoods to get into hotel rooms, Tolliver grew frustrated. "I understand that there are people who are willing to seize the opportunity, but that's not me," he said. "If I don't need it, I'm not going to take it," he continued. "I'm really going through this. Every day I have to humble myself."
Hotel room recipients have to show the outreach team their tent in order to get a room, and Tolliver didn't have a tent on the block where they were working, so the team didn't offer him one. He disappeared before the Public Press could ask him what he would do next.
Thomas Dunlap
Thomas Dunlap's dimpled grin makes an appearance after a few moments of conversation, melting the tough guy façade of facial tattoos and a stern expression. The young man came to San Francisco from Baltimore three years ago, on the lam from a warrant, he said, adding that he has since squashed his legal troubles. He has been homeless the entire time he has lived here.
"After being in this situation, I'll never judge another person again," Dunlap said. "Some people are here because they're sick; some people are here because they lost a job; some people are here because they're on the run. Nobody's here because they want to be here."
Dunlap hopes his hotel placement will lead to permanent housing, then to school. He plans to enroll at a local community college as soon as he has a stable place to live.
"I want to learn how to speak Spanish," he said. "I want to increase my value."
As he waited to be transported to his hotel room, Dunlap showed off his shoes and made plans. His first order of business once he had his room? A bath. "After that, I'm going to shower," he said, flashing that grin again.
Tracy Humphrey and Hilmar Ellner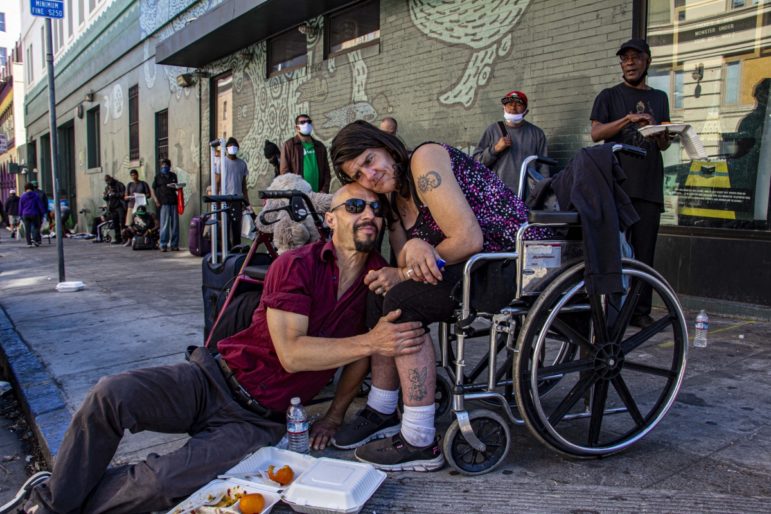 "We had lives before this happened," said Tracy Humphrey, an Iowa native with a long stare and a Tinkerbell ankle tattoo who moved to San Francisco six years ago with her ex-husband. They lived with her ex-husband's friend for a while, but his violent streak prompted the friend to take out a restraining order. The order forced the couple onto the streets.
Her husband grew more violent after that, Humphrey said as she rolled up her left pant leg to reveal a long, brutal scar running vertically across her knee.
"He tried chopping my leg off with an axe," she said. Later, he took a hammer to her left ankle, breaking her leg and leaving it unusable. Now she uses a wheelchair.
Hilmar Ellner is quick to smile and speaks freely about his life. The Angeleno moved to San Francisco in 1995 to care for his sick mother. After she died, Ellner moved in with his sister, but they had a falling out and Ellner left to live on the streets, where he met Humphrey. He protected Humphrey from her ex, he said. He's fought the ex "dozens of times," Ellner said.
Ellner and Humphrey came to the corner of Golden Gate and Leavenworth on Wednesday morning to ask to be transferred to a hotel from their current home: a tent at the sanctioned encampment at 180 Jones St.
"It's better than the street, but you can't really say it's safe," Ellner said of the sanctioned camp, where the couple has been staying for two weeks.
City workers told them that since they already have a place at a sanctioned camp, people still on the street have priority, Ellner said. The couple waited across the street from those on their way to hotels, hoping for a change of heart from city workers — and a room.